When you are planning to start a business importing product from China, the first thing you need to do is define what your business model is going to be. Many ask us for advice on the type of business that can be set up between Asia and target markets.
We're not the typical guru you find in Facebook ads telling you you'll get rich in 5 minutes ... No, we're sorry, it doesn't work that way.
In general, if you want to make money to have a good salary and to be able to live off it, you should invest at least double what you want to make annually. Make simple and quick figures, if you want a salary of 1000 € / month with your business you should think about investing around 24000 € / year, having a good product with good margins and avoiding unpleasant surprises ... It would even be more realistic to use a figure of € 32,000 / year to have a salary of € 1,000.
Does this mean that if I don't have € 24,000 I will not be able to start an import business? No, we didn't say that... But don't expect to have a salary of $ 1000 / month by investing a small amount.
The reality is that setting up an import business requires very little investment, provided you know that you are going to start earning little, very little ... and that it will take a long time to get one salary of 1000 € / month.
Today we are going to introduce you to 3 business models that you can consider when starting an import business. And we will list them according to their profitability.
Create your own business in China
It is the company that has the most potential for the future. In recent years, we have created two brands that are distributed online and offline. Either way, that must be your long term goal if you want to survive in this industry (except in exceptional cases).
It's a long process, you are going to need high investment and the process can take up to 6 months. But the game is worth the candle!
If you manage to find the perfect doghouse, you will undoubtedly have located your goose that lays the golden eggs.
We're not saying it's easy, it's really not easy. But we are at the best time in history to develop this type of business so take advantage of it!
Benefits of creating your own brand
You set the price. If you are able to differentiate yourself from the competition enough and add value, the price is set by you, not by your competition.
High margins. Following the previous point. If you can successfully differentiate yourself and add value, your margins can exceed 100%, that is, you can double the cost price.
Exclusivity. You are creating a unique product. No one will be able to compare you to a similar product because your product is unique.
You will create followers of your brand. If you do it right, you will have loyal customers for your own brand. With what it means.
Disadvantages of creating your own brand
High investment. Creating your own brand requires a high investment. There is no hard number, but below $ 5,000 you are not going to create a decent brand.
Time investment. Besides the economic investment, you should also count the investment of your time. After all, your time is money.
Long-term return on investment. You have to be realistic, there is a lot of competition both online and offline. It takes time to carve out a place for yourself in the market. You should allow at least a year to start seeing results, although there are exceptions results take a long time to arrive.
DocShipper Advice : You should always keep in mind that DocShipper will always work on optimizing the logistic processes in order to maximize your results, your costs and will also support you throughout the purchasing process: supplier research, negotiation, quality control.
Large-scale purchases and sales
This is what DocShipper has been specializing in for a few years.
Our company is dedicated to purchasing large quantities from Chinese (and Asian) suppliers and selling full containers directly without middlemen to manufacturers and wholesalers in Europe and North America.
We focused on the machine sector for example, in particular on industrial machines. But there is room for everyone. If you are a good salesperson, this might be the best business model for you.
The important thing is that you know the market you are going to enter. If, for example, you have been trading for a shoe company for the past 10 years, you can consider trading for a good Chinese company and get a good commission on all the containers you sell. You don't have to buy and sell right away. You can start working as a commission agent and set up the trading company later.
Benefits of bulk purchasing
Large volumes. Orders are generally high. These are full containers, so the profit per container is generally high.
Profit per container. Depending on the type of item you import, the profit per container may exceed $ 10,000.
Autopilot Sales. Once you build customer loyalty, you won't have to spend a lot of time in the business.
Disadvantages of wholesale purchases
High watering. If you decide to buy and sell, you need to have everything tied up really well so that you don't have issues with the supplier or your customer's non-payment. If you work as a commission agent, your risk is greatly minimized.
Very low margins. Obviously, those who work with large volumes tend to have very low margins. Usually greater than 3% and less than 10%.
Time-consuming. You will have to spend a lot of time visiting customers and contacting the best suppliers in China. You should visit your suppliers in China at least once a year (or just pass through our services!).
DocShipper Tips : You don't have to worry about your logistical routing and the conformity of your electrical products, you can count on our 3PL (Third Party Logistics) to handle the entire process safely. Do not hesitate to contact our agents!
This business model is not for everyone. First of all, you need to know yourself. You are a good salesperson? Can you get a company to give it a try and buy half a container of the product from you? It is really very difficult.
The important thing in this business is to be able to offer security to the customer and this security is to guarantee the customer that he will receive the goods without any problem and at the agreed price. To do this, you need to partner with good quality control companies in China to make sure that the goods leaving China to arrive at your customer in perfect condition. There is nothing better than quality control in China.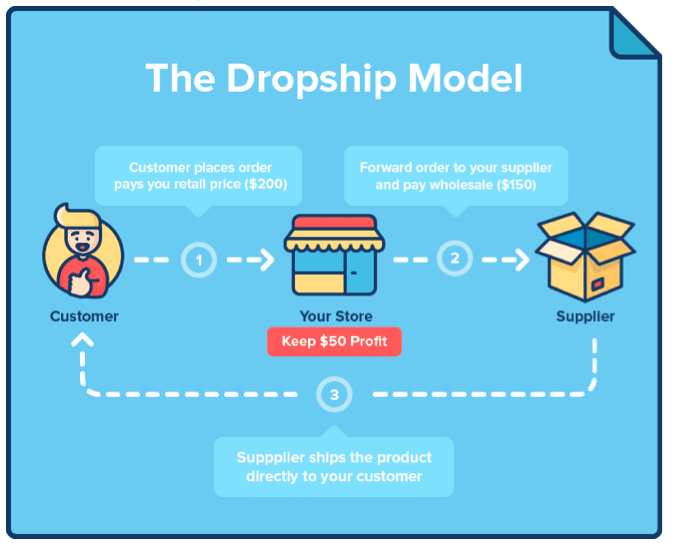 Dropshipping for your own E-Commerce
It is the business model that requires the least investment. And you can have it in less than a week (if not in less than 24 hours!)
For those who don't know what dropshipping is, we can tell you that dropshipping means making sales through your website without having any inventory.
Instead of sending the products from your warehouse (or our 3PL distribution center), you only sell through your website and the supplier is responsible for sending the product to your customer. Your customer receives the goods and the name of the supplier does not appear anywhere.
Benefits of dropshipping
You have no inventory. It is your suppliers who have the inventory.
You are not responsible for managing shipments. Your suppliers are the ones who will ship the goods to your customer.
Very low investment.
Low maintenance costs. You only need to pay for monthly hosting and annual domain.
Disadvantages of dropshipping
Very low margins. Since you don't have to manage inventory or ship. Your margins will be around 10-20% at best.
Tariffs and Taxes. If you are dropshipping with suppliers from China. You should keep in mind that if the cost price is over 22 €, you have a good chance that your package will be detained in customs. And if this happens, the customs will contact the recipient of the package and oblige them to pay the duty, VAT, and customs clearance. And it won't be fun for your client (unless you've made it clear on your website).
Complaints and Returns. You are the visible face, so if your customer has a complaint about your product it will be directed to you and you should deal with the complaint with your supplier. Therefore, you should find good suppliers if you don't want complaints issues and spend the day with the phone in your hand listening to angry customers.
What are the steps to follow in dropshipping?
First of all, you need to contact the suppliers who offer the products you want to sell and register as a distributor. For example via the Aliexpress website.
Once you find your niche suppliers, you will have access to hundreds of products to distribute on your website.
Usually, you will have access to product information and product images which will allow you to complete your website in a very short time.
You must find a host and choose your domain
In less than 24 hours, you can have your website in the perfect working niche by generating passive income.
Dropshipping is a great option if you don't have a lot of capital to invest, but as we mentioned at the start, don't expect to get rich sales through your website.
For us, the most important thing about dropshipping is that you can get experience in a specific niche and know what people are really demanding. Once you are clear on what the customer is asking for on a regular basis, you will know which product to invest in and consider starting your own brand in order to earn higher profits.
Do you have any doubts about any of these business models? Leave us your doubts in the comments ....!
FAQ |3 FAST OPERATING BUSINESS MODELS
Where to find dropshipping suppliers for your store?
You can use just about any platform for dropshipping such as Alibaba, Amazon...etc. You can rely on DocShipper sourcing services to provide you with the best reliable suppliers.
Is Dropshipping Legal?
Yes, dropshipping is completely legal. If it wasn't, there wouldn't be all these people setting up dropshipping businesses. But since this is a genuine, valid question that anyone should ask before getting into any sort of business, here's what you need to know about dropshipping legalities.
Is Buying in Bulk Really Cheaper?
The most important thing to look for when buying in bulk is the price-per-unit, whether that's the price per pound, price per ounce, or price per piece. For example, you can purchase an 18-ounce box of name-brand cereal for $3.59. This breaks down to $0.20 per oz. In contrast, you can purchase a 48-ounce box of the same name-brand cereal for $5.99. This breaks down to $0.12 per oz.
What are the disservices of Dropshipping?
Lower Barriers to Entry: Because you needn't bother with capital or a stockroom more individuals drop dispatch which expands rivalry. Lower Margins: Because there are more challenge edges for drop shipping organizations are normally lower. This makes it harder to become right off the bat since you can't bear to promote as a lot to procure a client.
DocShipper info: Do you like our article today? For your business interest, you may like the following useful articles :
DocShipper Advise : We help you with the entire sourcing process so don't hesitate to contact us if you have any questions!
DocShipper Sourcing | Procurement - Quality control - Logistics
Alibaba, Dhgate, made-in-china... Many know of websites to get supplies in Asia, but how many have come across a scam ?! It is very risky to pay an Asian supplier halfway around the world based only on promises! DocShipper offers you complete procurement services integrating logistics needs: purchasing, quality control, customization, licensing, transport...
Communication is important, which is why we strive to discuss in the most suitable way for you!