The imperative trend in e-commerce has already changed the lifestyle of people globally. As a matter of fact, e-commerce revolutionized the retailing industry: no matter speaking from the costumer's side or the retailer's side. The interconnection of the internet has achieved the success of tons of e-commerce platforms such as Alibaba, Amazon, eBay, etc.. Especially due to the impact of COVID-19, the purchasing power from the digital buyers are getting unprecedentedly strong, let's take a look at the data of digital buyer penetration worldwide from 2016 to 2021.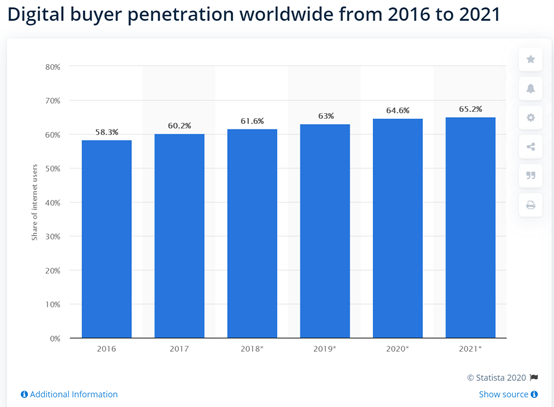 With digital buyer penetration expected to surpass 65 percent of internet users worldwide in 2021, the e-commerce industry is set to evolve and expand. It's not hard to imagine what's the near future of the worldwide impact of e-commerce. The fierce trend for consuming has become a benchmark in business, as long as you're a player in modern business, you must get involved in e-commerce.
What is the performance on E commerce from different regions?
With socio-economic development, per capita purchasing power is constantly increasing; on the other hand, the popularity of the Internet, the optimization and upgrading of the modern intelligent logistics system, as well as the continuous innovation and improvement of the online payment environment and ecosystem have become the driving force for the development of cross-border e-commerce. Therefore, cross-border e-commerce will continue to show rapid development in the foreseeable future and will play an increasingly important role in international import and export trade. Also, it has the clear reason that why e commerce platforms are able to gain much higher sales than bricks and mortars.
Based on the retail e commerce sales report 2020 from eMarketer, it shows the e commerce sales performance in total 6 regions worldwide: Asia-Pacific, North America, Western Europe, Central & Eastern Europe, Latin America and Middle East & Africa.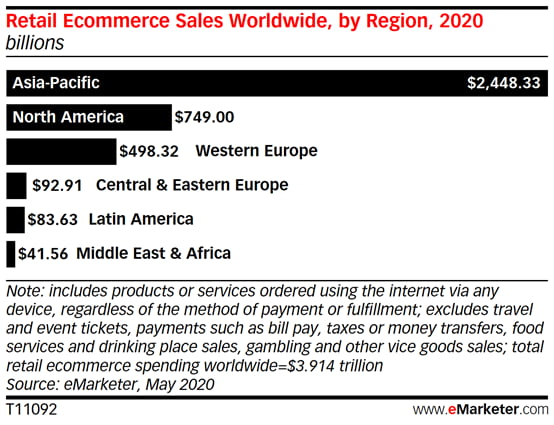 Performance of Asia-Pacific region
As it says, the total amount of the e commerce sales has reached $2,448.33 billion, which is more than 3 times of the sales of North America, ranking at the top 1 place. In this region, China and India have contributed the most powerful digital consumers. As the data from Statista, even though China's economy has been slowing down, as purchasing power and internet penetration increases, especially on mobile devices, the main purchasing power has begun to shift from the United States and Europe to China and Southeast Asia, making e-commerce more accessible to an increasing number of consumers. China was the largest market in 2019 and will remain the leading market until 2024. The Chinese market was worth $862.2 billion in 2019, with fashion being the largest segment. Revenues are expected to grow at a compound annual growth rate of 11.6% by 2024, bringing revenues to $147.42 billion. In other words, the Chinese market is expected to be the fastest-growing of the other regions.
Owing to the promising future of China's e commerce market, that's a perfect sourcing pool as well. Low cost of commodities and huge network of manufacturers is one of the biggest reasons to support the booming of e commerce in China. If you're in e commerce business, we strongly advise you to start to build your supplier partnership in China to gain more advantages in this industry.
Docshipper is a unique international trade company specialized in shipping and sourcing services. The most outstanding feature it has is the whole systematic imports & exports services from A to Z for especially individuals and SMCs (small & medium companies). Such as suppliers network based in Asia (mainly in China) according to your requirements: budget, product specification, delay, compliance, and standards... It's understandable that when you're at the first phase of your business, every part of logistics, suppliers, quality control, distribution, and customs could be overwhelming for you. And Docsihpper is always at your service.
Performance in North-America region
Ranking at the second place, mostly the US and Canada have been playing active roles in e commerce retail sales. As Statista showed in the report 2020, in the U.S., the market will generate revenues of USD 356.4 billion in 2019. From a high CAGR (Compound Annual Growth Rate / average growth rate per year) of 12.4%, the market is expected to generate revenues of over USD 409.9 billion by 2024. Besides, from the data of e commerce B2B market size in North America as below, it also shows a soaring trend from 2016 to estimated 2027.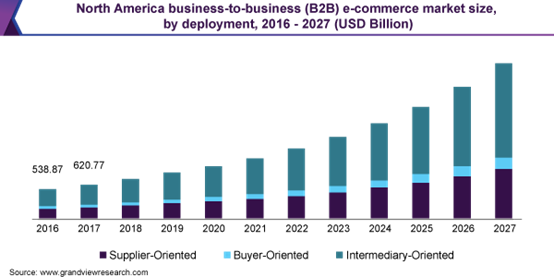 As you can see, in 2020, the B2B e commerce size of intermediary-oriented is around the total amount of the market size of supplier-oriented and buyer-oriented; while as the estimated data in 2027, the part of the intermediary-oriented market will be much more than the other two. According to the trend, the demand from the market is weighing increasingly to the intermediates, who play a vital role in connecting the relationship between buyers and suppliers. No matter which role you're playing in e commerce, the function of intermediates is getting more and more mature and supportive by markets. As one of the intermediates in e commerce, we strongly encourage you to search for professional help from agency like Docshipper when you have needs to build a network in your e commerce business.
Performance in Europe
According to the statistics from 2019, Europe is the third biggest market worldwide, the revenue from e commerce has achieved to 355.26 billion, with an annual growth of 8.8%, which will lead to revenues of $516.2 billion by 2024. Continuing this trend till 2020, the total amount of e commerce sales in the European region is around $591.23 billion, ranking in the third place. Regarding the performance in Latin America, earning the e commerce sales of $83.63 billion, Latin America has contributed its online purchasing power mostly on beauty products and Light industrial products. While for the performance in Middle East and Africa, even though it's ranking at the last, the performance here has achieved $41.56 billion.
As you can see in these three regions, the smoothness of logistics nearly decides that if you'll win the customers or not. Being an in-time solution, to have your own 3PL warehouse will be the ideal way to save your time and cost, in the meanwhile, make sure with the adequate amount of stocks and speed up the delivery to customers. An outstanding agency like Docshipper, who owns its competitive 3PL service, which will offer prompt help with your logistics.
DocShipper Tip: According to the e commerce sales performance in different regions, we've already summarized the outstanding markets for your reference. REMEMBER, The varied consuming habits, preferred products and  main consumer groups will worth more researches, which will give you ideas about sourcing and logstics. (two crucial factors in your e commerce career)
DocShipper Tip: After you compare those e commerce platforms, the next step is to find your product. While you're doing market research, we advise you that never keep a single product in mind. You have to be attentive to all the details. Once you've found a product that works, stay in your swing, and try to sell complementary products. These products will be directly linked to the product you are selling, so you will try to sell several products per order, a way of optimizing profits.
What's the future of e commerce?
When it comes to the future of e commerce, we couldn't ignore the performance that Chinese e commerce has achieved in the world. The convenience and maturity of China's e commerce industry are much-advanced comparing to other countries, and talking from the consumers' side, no one can resist fast and accurate e commerce logistics services. And that's what we intend to learn and improve in the western world. What's the major progress that Chinese e commerce has made for the development of the global industry? Well, let's take a look at sourcing as first.
Sourcing
Recently, Ali has launched a project in Belgium called eWTP Belgian Public Service Platform, which is a platform that allows digital rapid customs clearance. eWTP(electronic World Trade Platform) was conceived by Alibaba founder Jack Ma in 2016, and its initiative is to help SMEs accomplish global businesses, and Belgium is the first European country to join the eWTP. How does it work? At the end of last year, Ali and Belgian customs have built the EU TS90(Temporary Storage 90) policy. During these 90 days, the seller merchant's bonded warehouse stocking on the listing date is duty-free. Buyers place orders to ship with small parcels, under 22 Euros free of customs duty and VAT, under 150 Euros free of customs duty, can also help businesses save a lot of money. The benefits for consumers are not to mention, orders are shipped directly from local warehouses and can arrive in as soon as three days. Sellers who try this model have a five-star rating that is basically 100 percent.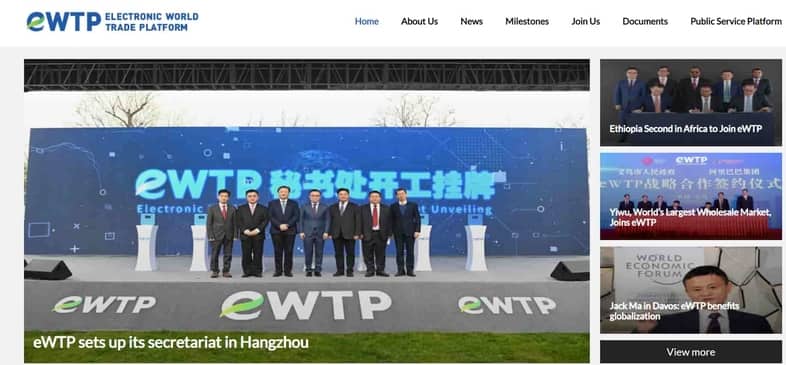 Besides, Ali and Belgium have managed to build a digital customs clearance system, which could help to improve the efficiency a lot. After the local service provider finishes sorting and packing the goods, the parcel information will be inputted into the system, and it will only take two hours a day to complete the customs declaration of all orders of the day. So far, eWTP has developed seven transportation hubs, including Hangzhou, Yiwu, Malaysia, Thailand, Rwanda, Belgium, and Ethiopia. Although the hubs may seem small, they basically cover key markets in Southeast Asia, Africa and Europe. Currently, Hangzhou and Belgium have already launched the eWTP public service platform and will expand to other hubs in the future.
Take Ali's logistics branch, Cainiao for example, over the past two years, from Liège, Belgium as the center, it covers nearly the whole Europe's logistics network. As the heart of Europe, parcels departing from here can be delivered to major markets such as France, the United Kingdom, Germany and Spain in as soon as five hours.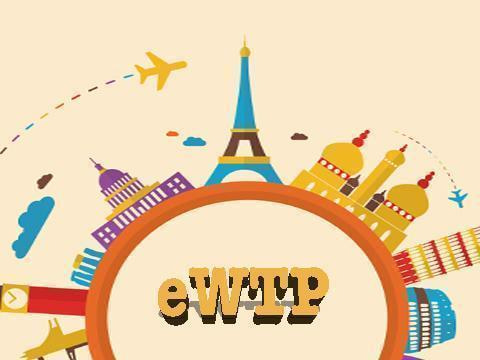 We could say this third-party digital system will definitely be the future trend of e commerce sourcing, and eWTP has shown us an excellent successful case. To some extent, this example has already proved how important that an outstanding 3PL service could be in e commerce logistics.
As a far-sighted freight forwarder, Docshipper has built its own 3PL service warehouse in the north of Italy, in Camporosso, where locates in the heart of Europe greatly facilitates the distribution of your products. We all know it would hard for individuals and SMEs to balance the cost and quality of logistics, while we offer the transparent price on each phase and the best quality of service you would ask for.
Regulations
As the breaking cross-border barriers trend goes, EU rules on e commerce have revised the previous ones and launched those revisions on June 2020, regarding online customer's rights, online platforms' content and the purchasing price. The general situation is weighing more on loosening the digital border restrictions, and this fact is really good news for the near future of global e-commerce.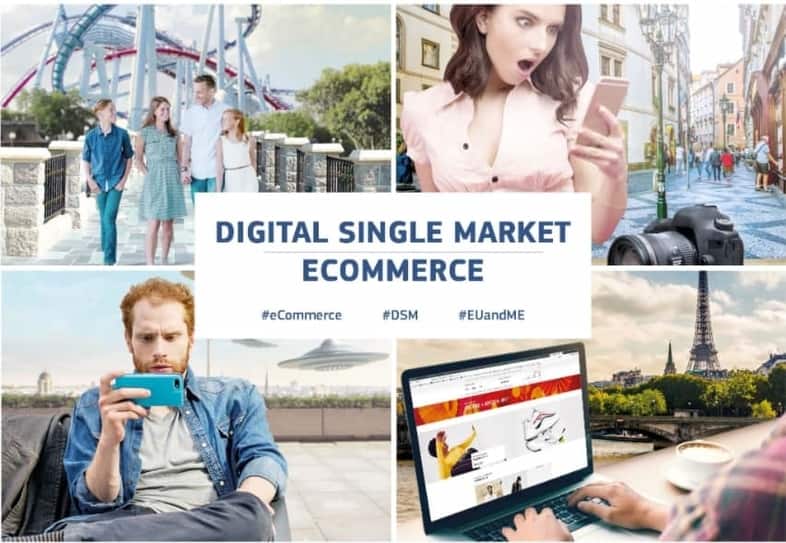 For the global e commerce regulations in general, there are no big changes, while always be cautious about each decision you'll make on your e-commerce business anyway, keep yourself updated wouldn't hurt. Also, if you're not sure about any particular step in your e-commerce business, don't hesitate to inquire about professional consultancy such as Docshipper, your purchase is our mission.
B2B and B2C models in e commerce
At present, cross-border e-commerce B2B model is the mainstream. However, with the development of mobile Internet technology, the popularity of smart phones, the rise of online shopping and online payment, logistics system gradually improved, cross-border e-commerce retail B2C, C2C model is growing strongly.
From the cross-border e-commerce development trend in recent years, it is expected that the global cross-border e-commerce B2C transaction volume in 2020 will be close to 1 trillion U.S. dollars. From the region's perspective, the Asia-Pacific region has the strongest performance regarding the global cross-border e-commerce B2C development; For North America and Western Europe, it is more mature, growth has slowed down; Latin America, Central and Eastern Europe/Central Asia, the Middle East/Africa and other regions have become the emerging market of cross-border e-commerce B2C development, among them, Latin America region with more than 40% annual growth rate to become the fastest-growing region of global cross-border e-commerce B2C.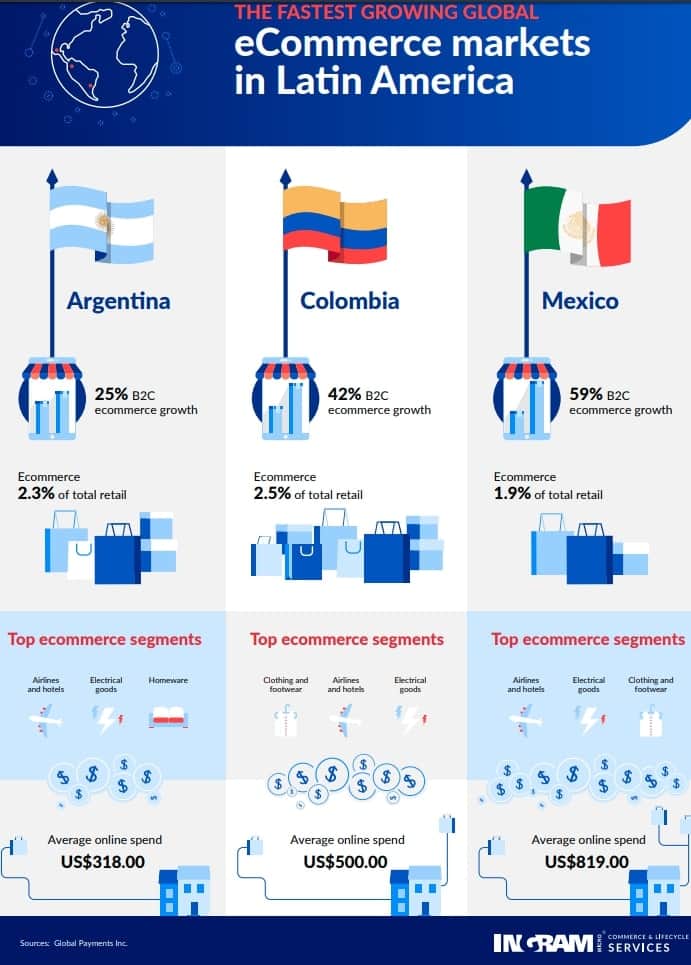 In addition, since Amazon launched unmanned store Amazon Go concept, domestic e-commerce and retail giants have deployed new retail store innovation projects: Walmart launched self-service grocery kiosks; actually home to open unmanned convenience store EAT BOX; rainbow also officially launched unmanned convenience store Well Go. unmanned retail stores with lower operating costs and diversion costs by the advantages of e-commerce platforms. As we can see, the model of "cross-border e-commerce + unmanned retail" would be the speculated future trend of e commerce for further development.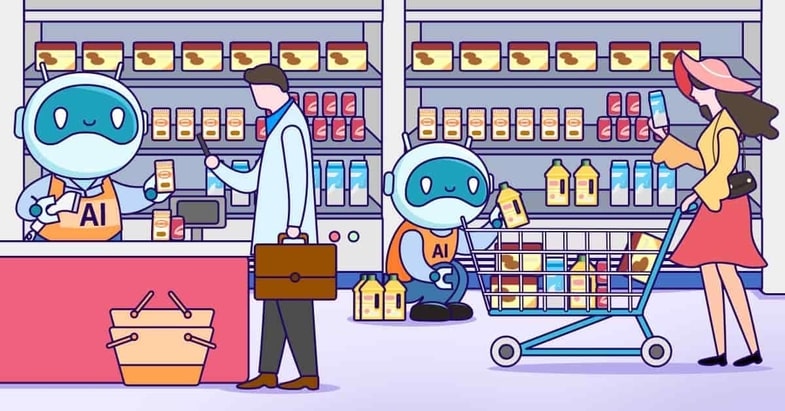 Note DocShipper: Attention! The fittest survive, starting from now, catch the trend of developing your e commerce career.
Professional help from Docshipper
In the international trade industry, sourcing is the process of localizing resources in procurement. You must find that the final procurement directly influences the profits, the impact could be enormous for SMEs and basically for all kinds of corporations. So if you are not familiar with every process of sourcing, try to contact a professional agent like Docshipper. We always provide professional assistance in localizing resources for you, after all, time is money, focus on something more important and leave troublesome affairs to the sophisticated consultancy.
FAQ
👀 How to predict the product trends?
To understand the market size of a category, Google trends could be a reliable tool to search the local keyword about trends, from that, you can also check the customs data, which will offer a very helpful reference for your sourcing.
🔎 How to find flaws on products in advance to avoid bad reviews?
The pre-research on suppliers could be vital. While if you're selling novel products that cannot find enough comparisons among suppliers, then it's better to be much cautious on the product testing process during manufacturing. Slowly but surely, make some samples first and mail them to buyers for their feedback.
💊 During COVID-19, will e commerce be affected?
The answer is positive, while in a good way. As the data we demonstrated in the beginning, the purchasing power from international buyers on e-commerce platforms are extremely strong owing to the restrictions on going out. To stand out, we must say that you need to pay extra attention to the quality control and logistics for better customer retention.
🌐 The international logistics is always the eyesore for e commerce sellers, how to improve it?
Find and build your own reliable 3pl service chain. This service always can help you save time and cost, also it's much more flexible on the stocks. If you're doing or interested in doing international trade in Europe, this service will be crucial. A professional sourcing agency like Docshipper will your best helper, our warehouse is in the north of Italy, where is convenient to transport to anywhere in Europe.
💯 What is the ultimate way to survive in e commerce industry?
The only certain thing is the uncertainty. So our advice would be, always actively change with the changeable trends: the category of products, the quick demand from customers, the regulations, and so on. Remember to inquire about professional agencies like Docshipper regarding the specific questions in trading, we're always happy to help.
DocShipper Advice: We help you with the entire sourcing process so don't hesitate to contact us if you have any questions!
DocShipper Sourcing | Procurement - Quality control - Logistics
Alibaba, Dhgate, made-in-china... Many know of websites to get supplies in Asia, but how many have come across a scam ?! It is very risky to pay an Asian supplier halfway around the world based only on promises! DocShipper offers you complete procurement services integrating logistics needs: purchasing, quality control, customization, licensing, transport...
Communication is important, which is why we strive to discuss in the most suitable way for you!