Strategic sourcing is all about identifying the potential vendors, negotiating and engaging with them through purchasing agreements for the goods and services that meet the procurement needs of an organization.
Simply put strategic sourcing is all about increasing profitability through effective procurement process.
We all know that companies are always on a look out for products or services which are of:
These are the two basic pillars of any sourcing for a company.
Steps involved in strategic sourcing 
Strategic sourcing helps the procurement and supply chain processes to evolve; it also builds relationship with the suppliers. Businesses now see strategic sourcing to make their traditional procurement processes less shortsighted and more focused on price. 
An efficient sourcing plan helps companies to develop a system which contributes to the value of business in the long term.

Below are few general steps which most of the companies follow in strategic sourcing: 
Analyze product categories used by the business, spending patterns, processes and the departments involved.
Develop a sourcing strategy based on the respective business goals.
Quickly analyze the supplier market and create a supplier portfolio.
Clearly define request for proposal criteria and the templates.
Strategically negotiate with suppliers and select them.
Integrate the selected suppliers into existing processes and onboard new vendors and get them into the company's procurement software system.
Regularly track performance metrics of vendors and optimize the sourcing plan, as needed.
Benefits of strategic sourcing
The top drivers for strategic sourcing are increased productivity and savings through automation. In the long term, implementing strategic sourcing can facilitate strong relationships with suppliers, identify potential improvements and provide justifications for changes to improve efficiency throughout the entire supply chain processes.
While strategic sourcing and procurement are part of supply chain management there is growing evidence that companies that focus on improving supply chain performance achieve much better financial and operational results. According to  2013 Price Waterhouse Coopers survey companies which optimize their supply chain perform70% better than their bottom counter parts.
Here are few benefits of strategic sourcing:
Double digit cost savings
By identifying the right suppliers which provide the highest value and cost savings an organization can work towards saving lots of money. 
Improving relationship with suppliers
Through procurement software an organization can efficiently work towards better co- ordination and communication with suppliers. This will lead to robust relationship with them and a company can deal efficiently with them.
Positive impact on quality of products and services
Strategic sourcing facilitates bulk buying and an organization can surely benefit from economy of scale as well as enhanced quality of products and services. A company can list down the basic quality expectations from a vendor. Regular vendor audits helps to keep a check on the vendor quality of supply.
Standardization of processes
Strategic sourcing helps in procuring goods through a channelized approach. Since each and every process in procurement management software is outlined, it is further facilitated through procurement software. Due to standardization of processes an organization benefits from resource efficiency and the overall transparency which helps in plugging of major issues.
Reduction of traditional cycle times
We all agree that manual procurement is a painful and lengthy process involving risks and unforeseen challenges. Strategic sourcing through procurement software helps reduce this time by planning and controlling each activity. For example one of the features of procurement software is tracking of goods, this makes it very easy for any organization to have control over delivery time. Many successful companies have reduced the procurement cycle time, enabling them to stay ahead of their competitors.
Better use of cross-functional teams
Strategic sourcing is all about making the best use of every resource in every department. Through procurement management co-ordination between these teams acts as a very important link in delivering the best service. For example, an efficient procurement software enables raising of purchase order from any department and then making it available to the approver. Since there are no physical boundaries involved, a person can approve request coming from anywhere in the world. This way there are no bottlenecks in raising and approving of purchase requests from any department located in any geography.   
Strategic sourcing facilitates quality improvements in both procurement as well as the output of the product. Procurement management facilitates entire supply chain making sure that the best is procured and due to this even the final product is of optimum quality. 
Availability when supply scarce
Generally there are market patterns which are followed by organizations. Analysts study these patterns and try to gauge the best time to procure goods or services. Procuring the goods at the right time, with the least cost and best quality is the goal of this activity. Strategic sourcing is further facilitated by procurement software which helps an organization make buying decisions. Based on market cycles and previous buying patterns goods can be made available before any major events or cycles that would disturb the availability of goods or services.     
Many organizations are using strategic sourcing to achieve their goals. This means to be at the right place and at the right time to procure the best goods or services at lower prices.
DocShipper Info: Interested in our services? Need personalized information? Our experts will answer you within 24 hours. Contact us
Challenges of Strategic Sourcing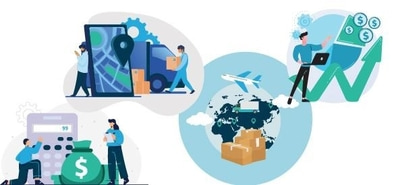 Now that we know about the features and advantages of strategic sourcing, let's move ahead and know the challenges which prevent implementation of strategic sourcing for most companies:
Variables Vs Invoice price
While taking sourcing decision invoice cost is taken as the base cost and business owners take this into account. It is even easy to calculate the invoice costs. But in actual scenario, there are overhead costs to this base invoice costs. These costs like freight, inventory, installation cost, and other such duties including the trade barrier costs, all adds up in the invoice costs making it to swell and become more complicated for any business. This keeps many companies away from strategic sourcing. 
Geographical challenges
Suppliers from large companies are scattered as per the geographic region and off shoring might not be the right answer in every situation. Here the cost of goods or raw materials is not the only consideration. While near-shoring cuts down the lead time and transportation costs, off shoring has the opposite effect. In off shoring there are cultural and language barriers too. For example a US company might consider importing goods from China due to lower costs but a strategic decision of near shoring its production to labour cheap Mexico can be a major game changer as the company will cut the transit time and even the cultural barriers.
`The more the merrier
'
rule
While managing bunch of suppliers the more the merrier rule does not apply. While a company may have many vendors but it's a good practice for every company to check vendor profiles at regular intervals. A company can start analyzing current profile of vendors by:
Checking for any redundancy 

  calculate the lead time taken by each vendor

 final price of the delivered product or service

  check if the vendors provide any highly customized products
Basis the above checks,  a company can identify if multiple vendors are producing the same parts simultaneously. If yes, then the company may rationalize the vendor base to a level in which there is not much dependency on a single vendor.
Accurate demand forecasting
Every company has to walk the tight rope of not overstocking and avoid being under stock. Many companies still rely majorly on guesses or they simply replicate past orders. Accurate forecasting still remains a bottleneck for companies who have not yet adopted procurement software.
Combating challenges in Strategic Sourcing 
While strategic sourcing means procuring the products at the best possible price, it is important to understand that price is not the only driving factor behind strategic sourcing. A company should take certain risks into consideration and act accordingly. These risks exists for most businesses and solving them proactively through procurement software will surely benefit the company in the long run.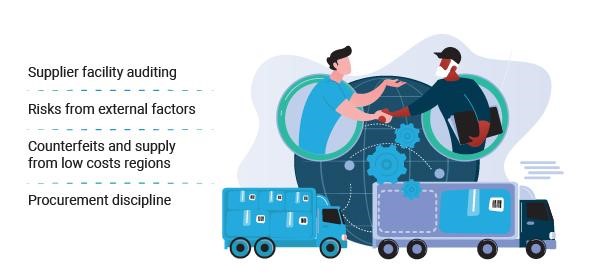 Below are few challenges which procurement companies face and how they combat with them:
Supplier facility auditing
While there is emphasis on the vendor-company relationship there are few activities which will further grow this relationship. One of such activity is auditing of supplier facility. This will give the company a chance to look into the processes involved and solve issues that may not be seen externally. Most of the suppliers allow companies to give feedback on their existing processes so that they can improve their delivery time and be the most preferred vendor in the long run.
Risks from external factors
While there exists internal risks, there are external risks such as natural disasters, financial, geopolitical, legal, environmental, technological, news, weather conditions etc which every  business should consider. These risks can be covered through business continuity practices and through multi location facilities.
Counterfeits and supply from low costs regions
While low cost countries or procurement from off shoring is a blessing, every company should have rigorous incoming inspections, quality agreements with suppliers and safety stock. These are few practices which have proven to be beneficial in the long run.
Procurement discipline
While most of the companies follow the best practices for procurement it is important for every organization to follow procurement discipline in the long run. In simple terms it means putting the procurement strategy and procurement software into procedures and systems so that people follow them without any supervision. The procurement software makes it easy to follow resulting in better profits as well as improved bottom line.
DocShipper tip: Interested in our services? Need personalized information? Our experts will get back to you within 24 hours. Contact us
Delivering customer value through strategic sourcing
In an effort to provide the best service every company is in a constant search of what can be done constantly to keep the company always on top.
One of the approaches which a company should follow is design supply networks from customer backward rather than factory outward. This new approach view the customer not at the end of the supply network but at its beginning.
The level of customer value that it delivers in the chosen market will determine the success or failure of any business.
In the book by Walter Wallace- Delivering Customer Value through Procurement and Strategic Sourcing, customer value is defined as the difference between the perceived benefits generated from a purchase or a service relationship and the total cost incurred in performing the transaction.
In simple terms it can be expressed as:
Customer Value=Perception of benefits / Total Cost of ownership
Here we should take into consideration that in B2B markets buyers become increasingly sophisticated where the total cost of ownership is a critical factor in the purchasing decision.
Well here the golden question is:
"How do I deliver more customer value than my counterparts"
The answer is:
"through procurement management."
Procurement management has the ability to impact customer value as illustrated below.
Customer Value = (Quality X Service) / (Cost X Time)
Here Procurement management has the ability to impact both the numerator as well as denominator.
Let's quickly study the four elements from the above equation:
Quality: the reliability of the features, functions and performance of the offer.
Service: the availability, support, service and commitment provided by the offer.
Cost: the buyers transaction and life cycle costs including price.
Time: time taken to respond to customers' requirements.
To ensure continued competitive advantage each of the above four elements requires constant monitoring and continuous program improvement, innovation and investment by the procurement team. Here procurement software can play a major part.
Defining customer service: the availability factor
In simple words customer service is all about making the goods or service available in the hands of the customer at the right time and place. You'd agree with the fact that there is no value of the goods or service until it's in the hands of the customer. So until a company has a strong procurement and distribution function it cannot provide a good customer service.
Customer service includes factors such as:
Delivery frequency
Reliability
Service levels
Order cycle times
If you have a close look at the above factors, these are the extended functions of procurement and distribution functions.
Ultimately customer service is the interaction of all these factors that affects the process of providing products and services to the marketplace.
Identifying different customers through their unique service needs
We all know that no two customers are the same in service requirements. However the fall in categories which has huge similarities. These grouping can be done with the help of procurement planner. Through the planner organizations can address these service issues.
To quote an example, stock availability is an internal measure of performance, even the customers perspective is on time delivery. Therefore it is important to develop a service criteria meaningful of our identified segment.
This segmentation can be broken into three steps:
Identifying the key components from the customers perspective
Establishing the service component to the customer
Identifying clusters of the customers based on their preferences
While these factors are of vital importance, it is on the company to study these specific components and customer preferences through market research. Here procurement software plays an important role to understand the customer demand patterns based on respective data insights. Here the software acts as a bridge between procurement and customer service. Procurement software is thus a great tool to provide customer service and stay ahead in competition.
FAQ | Strategic Sourcing: The finest approach to procurement management
What are the strategic approaches to procurement? What are tools of strategic procurement?
Strategic procurement is about identifying ways to add value to the procurement process. It also involves identifying key areas of spend. Below are 5 best procurement tools:
- Approval tracking
- Automation
- Multi team collaboration
A good procurement software will have all the above tools which makes the procurement process much simpler.
What is strategic procurement plan?
Strategic procurement plan means timely supply of goods and services. It aims to maintain long term relationship with the suppliers, improve procedures and logistics, face dynamic competition, all aligned with organizational strategy.
How is implementation of strategic procurement done?
Strategic implementation can be done in below steps: -Analyze your organizations spend -Determine the need through analysis -Assess the current market conditions -Set clear business objectives -Define a clear procurement policy -Add a smart procurement software
What are the new approaches of strategic sourcing in procurement management?
Organizations that follow a refined sourcing strategy are better at managing sourcing requirements and more equipped at handling disruptions. The new approach harness the power of automation to make strategic sourcing more high performing, data driven and effective. Here Procurement software plays an important role.
Info DocShipper  : Vous avez aimé cet article ? Vous aimerez probablement les suivants :
Conseil DocShipper : Nous vous aidons sur l'ensemble de la procédure d'approvisionnement alors n'hésitez pas à nous contacter si vous avez la moindre question !
DocShipper Sourcing | Approvisionnement - Contrôle qualité - Logistique
Alibaba, Dhgate, made-in-china... Beaucoup connaissent des sites internet pour s'approvisionner en Asie mais combien tombe sur une arnaque ?! Il est très risqué de payer un fournisseur Asiatique à l'autre bout du monde en se basant uniquement sur des promesses ! DocShipper vous propose des services d'approvisionnement complet intégrant les besoins logistiques : achat, contrôle qualité, personnalisation, obtention des license, transport...
La communication est importante, c'est pourquoi nous nous efforçons de discuter de la manière la plus appropriée pour vous!