After the Industrial Revolution in England in the 1860s, by 1968, more than 30 percent of British adults did not have a single natural tooth. The years 1870-1890, known as the golden 20 years of the American economy, were marked by dental diseases, such as cavities, in almost every household. High-sugar foods are everywhere. In addition to obvious sugary foods like candy sauces and milk tea, there is an increasing number of invisible foods high in sugar, including take-out. According to Scientific American, the sugar in processed foods and beverages is becoming increasingly addictive to humans.
When the orthodontic treatment has been popularized to wider age groups, the clear aligners are getting increasingly attractive for people who have aesthetic needs for their dental solutions. Maybe you didn't notice, but think about it for a minute, is it more and more people around you wearing braces? The transparent removable braces are not only a beauty revolution on orthodontics, but also a promising blue ocean for exploring business opportunities.
How come?
We've organized the latest data and researches as always, let's go find out!
Why there are such huge demands of Invisalign?
Unlike traditional braces, Invisalign aligners are made of clear elastic polymer, are more aesthetically pleasing, and use computer science to allow doctors and patients to anticipate each step of the process in advance, which makes the process predictable and can improve the efficiency of orthodontics.
As the creator of invisible braces, more than 5 million people have been treated by Invisalign until today. Through a large number of cases and rich experience in treatment, Invisalign has unique advantages in invisible orthodontics, as well as many patents to protect. The advantages are mainly in four dimensions.
1. Material science, using materials called Smart Track, proprietary products.
2.  Software, that helps predict the directional movement of teeth.
3.  The science of biomechanics. The dentist needs to know what direction the teeth are moving in, how fast they can move, etc. If the patient is getting a new set of braces every one to two weeks, then they need to know where each tooth is moving to ensure that the teeth are correctly stressed in the right way.
4. 3D printing technology. Invisalign produces hundreds of thousands of custom-made braces every day, and the only way to do so is through 3D printing, using the iTero oral scanner.  Each brace is supported by a model printed in 3D.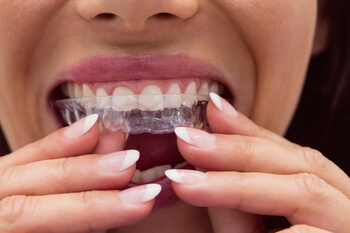 In addition, given the fact that teenagers have demonstrated higher demands in the Invisalign users in Align Technology's annual report, it gradually has become an investment of "graduation" for the parents. To protect your children's beautiful adolescence(nobody wants to get bullied by nicknames), it seems a wiser choice for them to invest more money on transparent aligners instead of traditional braces. For people who have needs at work to communicate with all kinds of clients, they will care more about their appearance, then it's a worthy investment.
Who are the industry leaders?
According to the source of Mordor Intelligence, in the left diagram, there are 5 active major players in clear aligners industry, and we will choose three to give a short introduction about them. Don't ever think those giants will take all the profits, as the right diagram shows, consolidated market concentration is taken roughly 25% by major players, correspondingly the fragmented market is taken similarly 25%, the orthodontic supplies market still has the biggest part in the middle, nearly 50%. In that case, it could be a powerful support for the blue ocean in clear aligners market, don't miss the chance to take a position in it.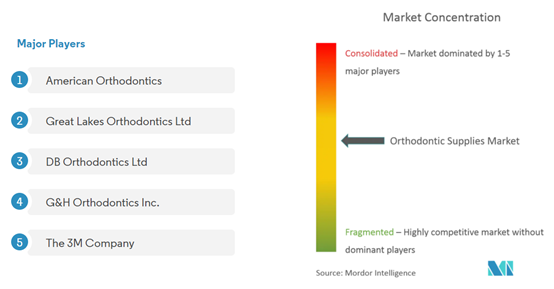 Let's take a look at the industry leaders:
Align Technology
Align Technology manufactures the world's most advanced invisible appliance system, the Invisalign system, providing the iTero intraoral scanner and related services, as well as CAD/CAM software. Invisalign, a brand of Align Technology, has more than eight million users. The iTero intraoral scanner and Exocad's CAD/CAM software drive the development of digital dentistry, creating a digital orthodontic and restorative process that transforms modern dental treatment to help dental professionals improve efficiency and optimize the patient experience.  With a recognized brand name in orthodontics, global capabilities and scale of operations, proprietary products, technical expertise and results, and today's advanced end-to-end digital processes based on the iTero intraoral scanner and Invisalign products, Align Technology is a leading provider of orthodontics products and services.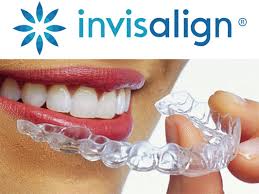 With the rise of the middle class and increasing public awareness of oral health, the Chinese market is presenting tremendous opportunities. "When we opened our first Chinese office in Shanghai in 2011, we had just 13 employees. Since then, we have invested heavily in the training and development of our China team, and today we have seven offices in China, two training centers and a manufacturing plant in Chengdu and Shanghai, and more than 1,200 employees." Julie Tay, Senior Vice President and Managing Director, Asia Pacific, has said.
In the 2019 Annual Report, Align Technology mentioned, "Compared to the same period last year, our sales of Invisalign in international regions (excluding the Americas) increased by 34.0%, mainly due to increased adoption in EMEA (Europe, Middle East and Africa) and APAC (Asia Pacific) regions, as well as an expanded customer base." And Invisalign expects revenue growth from outside the Americas to continue to increase due to its continued investments in these regions. In early 2020, Align Technology announced that it had served more than 8 million patients. Today, Align Technology has a total market capitalization of nearly $25 billion and gross sales margins in excess of 70% annually.
Henry Schien
On May 4, 2018, Henry Schien, the world's largest dental distributor, introduced their patented SLX™ Invisible Orthodontic System at the American Association of Orthodontists AAO Annual Meeting in Washington, D.C., announcing to the world that they have officially joined the burgeoning market for invisible orthodontics. The SLX™ Orthodontic System incorporates the patented Sagittal First/Motion 3D technology of Henry Schien Orthodontics, HSO, a division of Henry Schien Orthodontics, for a complete orthodontic solution.


This innovative orthodontic system provides clinicians and patients with an intuitive and streamlined treatment process, and according to Dr. Dave Paquette, the company's Chief Clinical Advisor, the Sagittal First/Motion 3D technology significantly reduces the number of orthodontic brace replacements in typical orthodontic cases, resulting in a tangible reduction in treatment intervals for both clinical dentists and patients. The SLX™ Invisible Orthodontic System is now FDA-approved, using a patented manufacturing process that not only provides greater clarity in orthodontic braces, but also provides a precise fit for improved patient comfort and orthodontic outcomes. The official SLX™ Invisible Orthodontics website accepts digital STL images derived from the leading advanced oral scanning devices on the market today and incorporates an open-source platform that allows for a high level of customization inclusiveness. The advent of the SLX™ Invisible Orthodontic System not only provides patients with new solutions for effective and aesthetically pleasing orthodontic treatment, but also provides clinical orthodontists with a more convenient case submission and treatment plan customization process, resulting in high-quality orthodontic outcomes. "Now that invisible orthodontics has gained considerable acceptance among clinicians and the general public, we are pleased to also enter a segment of the market that brings a new set of orthodontic options to patients and orthodontists alike," said Ted Dreifuss, General Manager of Henry Schien Orthodontics. "With our easy-to-use, intuitive interactive interface, we are confident that physicians will spend less time submitting their cases and planning accordingly."
The 3M Company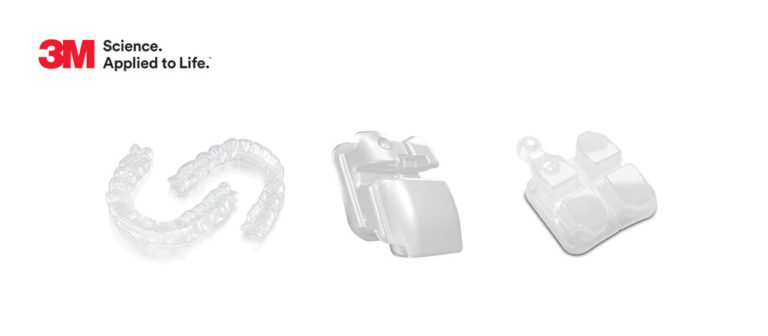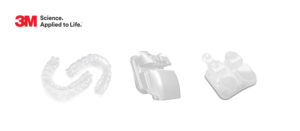 Also at the AAO Annual Meeting, another pivotal player in the orthodontic industry, 3M Oral Care announced the launch of the Clarity™ Invisible Orthodontic System brand, as well as a demonstration of the 3M™ Oral Care Portal and uLab software, marking 3M's official entry into the invisible orthodontic market. "With our extensive experience and long history in orthodontics, and the fact that we have been one of the market leaders, we also have a deep understanding of the need for new, more aesthetically pleasing options in the orthodontic market," said Sebastian Arana, president and general manager of 3M Oral Care. "Orthodontists and patients will really feel the depth of our work with materials, and the Clarity™ Invisible Orthodontic System will provide them with a new option they can trust." According to 3M, they provide clinical orthodontists with software called 3M™ Oral Care Portal, which allows them to create an orthodontic plan and order an orthodontic appliance for their patients anytime, anywhere, as long as they have internet access, reducing the process to as little as 10 minutes. The 3M™ Oral Care Portal is designed as an open platform with the participation of multiple orthodontists and is HIPPA compliant, allowing clinicians the flexibility to choose their preferred oral scanning device.
As you can see, the most crucial reason to make those three major players taking a big part of clear aligner industry, is that they controlled the technology to shorten the time on building the teeth model for patients right away. Still, due to the same reason, the high cost nearly makes it a luxury, while more than 60% of it will belong to the manufacturers for the clear aligners are the essential role, comparing to orthodontists' consultancy. That's good news for suppliers, from the percentage of costs, this kind of dental device has been embodied with "commodity traits", which give you more space to control business. Besides, the high cost also helps target the customers, then you will have more room to play the pricy strategy when you want to knock down your competitors.
DocShipper Advice : You should always keep in mind that DocShipper will always work on optimizing the logistic processes in order to maximize your results, your costs and will also support you throughout the purchasing process: supplier research, negotiation, quality control.
What's the blue ocean in it?
Although the current market share of invisible orthodontics is only about 15% of the overall orthodontic market, its market demand is rising, according to industry research, the next four years, this field will be rapidly expanding at an annual growth rate of 12%. To find out what's the potential in clear aligners market, we'll talk about 3 aspects as follows for your further understanding.
The broad market
According to the global invisible orthodontics market from the 2018-2020 report, the estimated growth of invisible aligners from 2017 till 2022 will be $1,129.49 mn. For the dental and orthodontic clinics, 70% market share is from invisible aligners, and solely in America, it contributes 61% of the growth.  According to some statistics, the global orthodontic market currently has about 500 million customers and market capacity of $945 billion. Among them, the U.S. orthodontic market accounts for about a quarter of the market, and the market is easily around $234 billion, so the market prospect is huge. Meanwhile, in China, the orthodontic market is also flourishing. According to Ping An Securities, the orthodontic market in China is currently around 25 billion yuan, and in the long run, the potential space can reach 200 billion yuan.
Of course, you may wonder if the new digital business pattern may affect the regulations and compliance of the materials, and that would be the main direction that suppliers would pursue. American orthodontics, another powerful player in America, could show you some ideas regarding the regulatory certificates they've gained. Besides, the risk classification of orthodontics suppliant materials will take into consideration as well, and FDA's regulation from the US may give you a reference.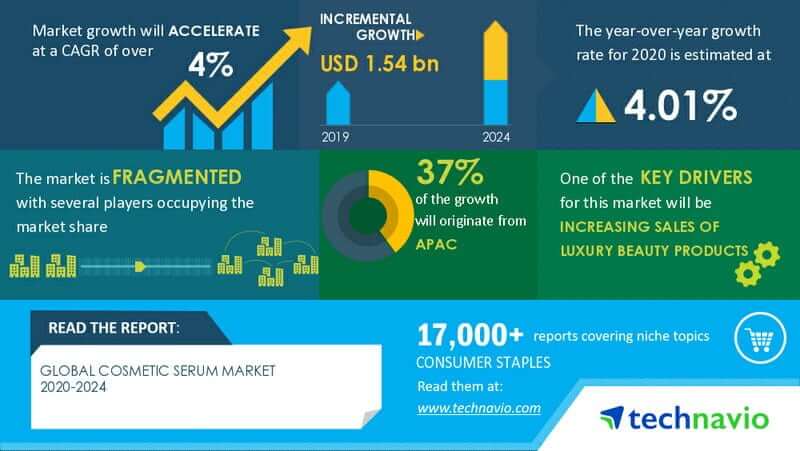 Low market access thresholds for startups
Invisalign's 40+ patent expiration issues, while not enough to shake its position as a market leader, have at least given a great opportunity for a number of startups to enter the industry who are not as deep as the giants in terms of technology accumulation, but who can also make patients happy for orthodontic cases that are not as complex. As the table shows underneath, there are 4 start-ups from our introduction listing their competencies for comparisons. The loose management of licensed orthodontics specialists is offering more and more newcomers chances to step in this industry and share the cake. Therefore, taking it as a pure business, practitioners will naturally pay more attention to the easiest way-payments for attracting customers(patients). From the four samples, they've implemented different installments of payment to relieve the pressure that high cost brings to patients. In that case, this may make up other factors or capabilities that couldn't gain advantages from major players, even though the support from 3D technology still decides the final success. Then to make the first move means everything.
Recently, our hearts were broken for the disastrous explosion in Lebanon, and that aggravated the economic crisis that happened 2 years ago. However, there's a cheering example, a young entrepreneur stands out and continues to grow his small business, bringing orthodontics into the digital age. Cherif Massoud, who stems from a long tradition of orthodontists, is always looking to further develop his field by embracing new technologies. In 2018, he launched Crystalign, a 3D-printed system of invisible aligners and clear braces, which he offers to a number of practices in the Middle East. Last March, he created Basma, a complete home impression kit that provides invisible aligners to his clients. The affordable solution puts a smile on the faces of his patients, especially in a pandemic where social distance is key. This ambitious entrepreneur positions Basma as a telephoto dental reference for opportunities in the Middle East and North Africa. 
With this example, we can easily tell that it's not only about clinging to the trend of clear aligners, but also pay extra attention to geographical regions for launching a new market. Also, how to make your research on different regions' international logistics?  No matter if it's your sourcing budgets, quality standards, regulatory requirements, or shipping service, Docshipper is devoted to offering the whole cycle of consultant services just for your needs.
High demands for lower-cost products
These companies are leveraging digital healthcare technology and paperless workflows to reduce costs and are expected to reduce the current price of invisible orthodontic products to less than half of the current market price. The emergence of new companies has also breathed life into the invisible orthodontics market, giving more options to more potential users, thus accelerating the expansion of the market.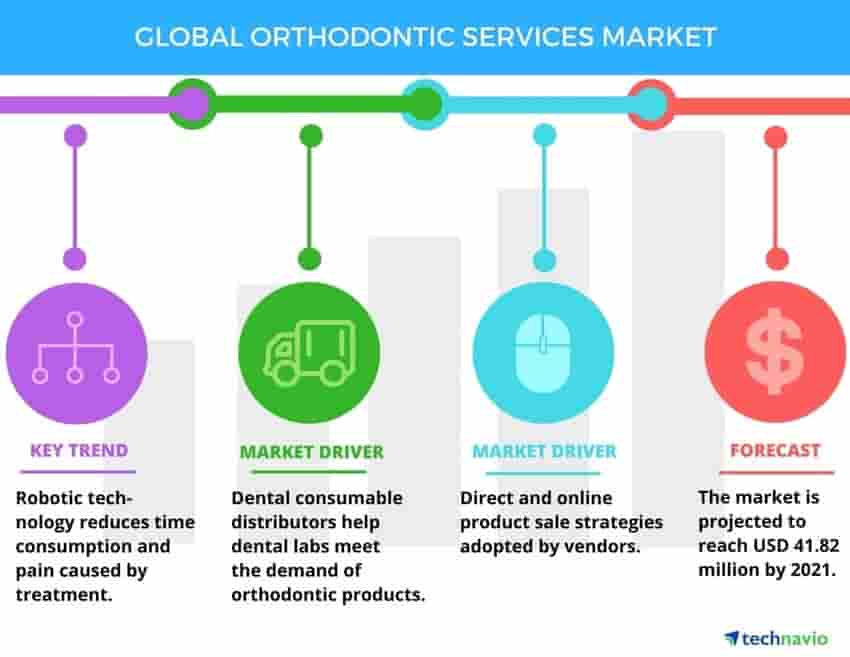 According to Technavio, there're four dimensions for measuring the edges in clear aligners business from key trend, market driver, market driver and forecast. The idea of the Internet lowers the cost of customer acquisition and treatment, and allows users to communicate with doctors online and follow up with them. And it impacts the pricing system and service standards of Invisalign. More options for the patients depending on their financial situation, and that's the chance for start-ups and their suppliers. According to a reliable source, in China, a major market for Invisalign, the package price of Invisalign is basically no less than 40,000 yuan, of which the material cost to Invisalign is about 10,000 to 20,000 yuan, which means that distributors, hospitals, doctors have nearly half of the profit margin in it. Never underestimate the profit from a single case, which will lead to a pile of gold, the resource is the key.
DocShipper Advise: You don't have to worry about your logistical routing and the conformity of your electrical products, you can count on our 3PL (Third Party Logistics) to handle the entire process safely. Do not hesitate to contact our agents!
How to get into transparent braces business?
The emergence of new companies has also breathed life into the invisible orthodontic market, giving more options to more potential users, thus accelerating the expansion of the market. These companies are taking full advantage of digital health technology and paperless workflows to reduce costs and are expected to reduce the price of invisible orthodontic products to less than half of the current market price. Besides, talking from the supplier's perspective, if you're interested in sourcing transparent braces for the long run, it's more possible to start with building partnerships with start-ups.  Currently, how many start-ups in transparent braces business can be as representatives? Here's a list that we've organized as followings:
Average cost: $1,850-$2,665
Corporate financing: $60 million
Founded in 2014, Smile Direct Club's service model allows patients to have their teeth molded at home or at any of the company's 75 stores across the U.S. The feedback is given to the company and then the orthodontist customizes the orthodontic appliance and mails it to the consumer, saving the patient the hassle of going back and forth between the dentist and the office.
Average cost: $1,900-$2,100
Corporate financing: $15 million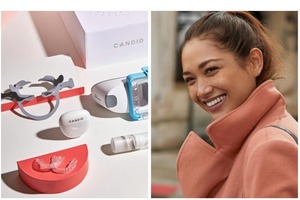 Candid is a much younger company, founded in 2017, its founder Nick Greenfield was a Lyft executive, when he was young had good straight teeth, but with age but gradually disorderly teeth, when he went to the orthodontist only to find that the entire orthodontic process up to $ 8,000, thus the idea of providing consumers with a cheaper means of orthodontics. Only founded for around one year, its sales have exceeded hundreds of millions of dollars and are growing rapidly. Their products start at $1,900 and support 24 installments, making them a good deal compared to Invisalign.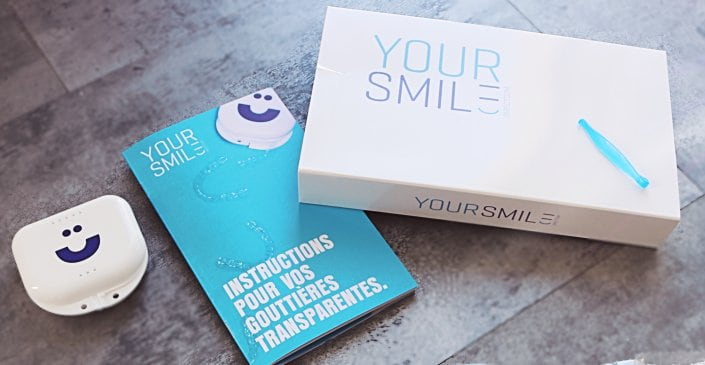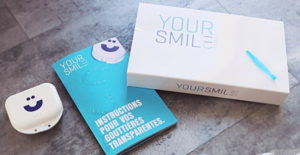 Average cost: $2100-2480
Corporate financing: $2.5 million
Located in Dublin, Ireland, YourSmileDirect is one of the rare European invisible orthodontic startups. Likewise, they offer their patients the opportunity to take their molds at home, as well as visit their six stores in Ireland, Italy, the UK and France.
Average cost: $3,500
Corporate financing: unknown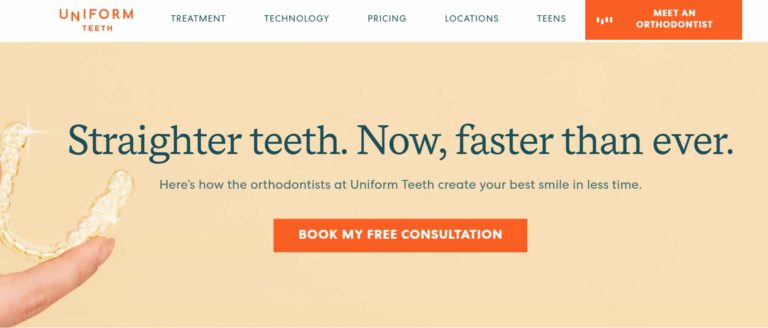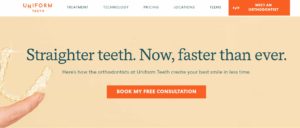 Uniform Teeth is headquartered in California and was founded by orthodontist Kjeld Aamodt. Unlike its competitors, the company doesn't exclude orthodontists from the service process. Patients can be matched with an orthodontist through a special app, communicate online, and have their orthodontic appliances handled by an orthodontist, but this service requires an additional $1,000 fee.
Orthly
Average cost: $1,900-$2,600
Corporate financing: unknown
Founded in his parents' garage by Patrick Lee, a 20-year-old current Duke University student, Orthly allows patients to pick the right orthodontist through the app, though their invisible orthodontic appliances are still delivered by mail, they get a close examination by a doctor and fewer demands on the users themselves.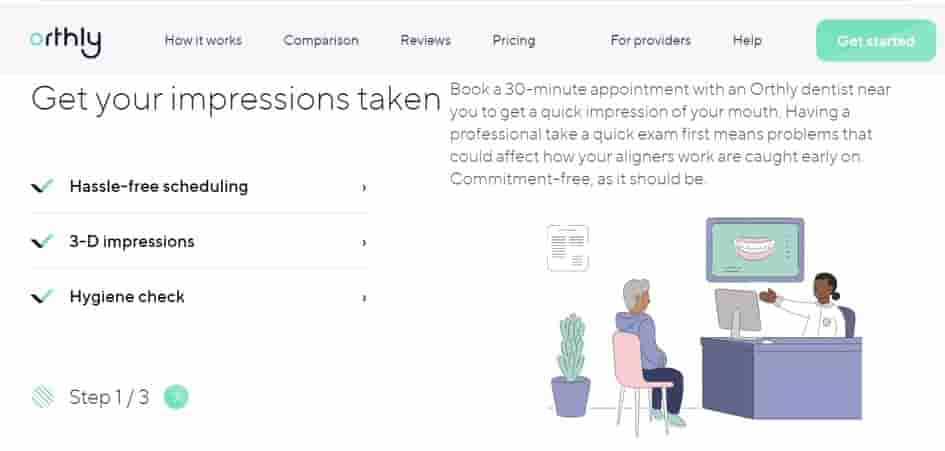 As you can see, those start-ups almost hold a similar business model---low time & money(installments) pressure+high-tech support, then in that case, the smoothness of logistics on supplying of aligners would be very vital to guarantee their pattern. Other than a reliable supplier, what you will need is to find your own agency which offers 3PL services to build your trust with orthodontics start-ups. What makes an agency offer the best 3PL service? A transparent record of input and output stock management, a perfect storage service, a great location to control efficiency of logistics, or all of them? Docshipper operates 3PL service in Northern Italy (Camporosso) allows us to distribute your products at unbeatable prices, which leaves you more room for profits.
DocShipper Advise: The cost of outsourcing apparently varies in different regions, remember to check the details among each area. If you have any questions remember to contact us!
Professional help from Docshipper
In the international trade industry, sourcing is the process of localizing resources in procurement. You must find that the final procurement directly influences the profits, the impact could be enormous for SMEs and basically for all kinds of corporations. So if you are not familiar with every process of sourcing, try to contact a professional agent like Docshipper. We always provide professional assistance in localizing resources for you, after all, time is money, focus on something more important and leave troublesome affairs to the sophisticated consultancy.
FAQ Transparent Braces Business Guide | Market - Suppliers - Prices - Import
How to find a supplier to source clear aligners?
Usually, if you want to build your own sourcing network, you could try Alibaba platform for the preliminary research. Also, as we mentioned, the current business model in clear aligners has become "the direct customized sale" to patients(customers). So we'd like to advise you source complementary products of clear aligners, or raw plastic or rubber materials for manufacturers according to the relative regulations.
What's the relative regulations for clear aligners and complementary products?
As the orthodontic products have the traits of abrasion resistance and food-grade safety, you take the material regulations from the U.S FDA as a reference.
Where to find your niche in clear aligners business?
As a supplier, the existing trend is to lower your cost on materials without losing its quality, in the meantime, shorten the lead time(it would be hard without the support of more advanced technology), or improve the efficiency of your logistics.
What is the Align Technology?
Align Technology manufactures the Invisalign system, the world's most sophisticated invisible appliance system, as well as the iTero intraoral scanner and related services, as well as CAD/CAM software. Align Technology's Invisalign brand has over eight million users. The iTero intraoral scanner and Exocad's CAD/CAM software are driving the development of digital dentistry, resulting in a digital orthodontic and restorative procedure that helps dental practitioners enhance productivity and improve the patient experience.
DocShipper info: Do you like our article today? For your business interest, you may like the following useful articles :
DocShipper Advise : We help you with the entire sourcing process so don't hesitate to contact us if you have any questions!
DocShipper Sourcing | Procurement - Quality control - Logistics
Alibaba, Dhgate, made-in-china... Many know of websites to get supplies in Asia, but how many have come across a scam ?! It is very risky to pay an Asian supplier halfway around the world based only on promises! DocShipper offers you complete procurement services integrating logistics needs: purchasing, quality control, customization, licensing, transport...
Communication is important, which is why we strive to discuss in the most suitable way for you!