The textile sector is indeed strong and has been growing considerably over the years. The garment sector is also vital for the global economy due to the way it fosters trade, creates employment opportunities, and drives innovation.
In this article, we gathered significant information about the textile market with a list of the most affordable sourcing fabric and garment destinations and additional details about each location's particular features.
This resource will assist you in locating the most affordable supplier, whether you are a manufacturer or an e-commerce company, in order to optimize your supply chain, reduce costs, and eventually offer products that appeal to more of your target audience.
Sourcing fabric and garment: let's explore the textile market
Growing costumers demand, the development of technical textiles, globalization and trade, worries related to sustainability, technological advances, and the impact of e-commerce and digitalization all contribute to the textile market's ongoing growth. In addition, the need for innovative and modern textiles is continually driven by fashion trends and evolving consumer preferences. These elements work together to produce a vibrant and growing market for textiles.
Since textiles are the 7th most traded products in the world, let's explore some key indicators.
The market size
The size of the textile industry market was calculated at $959.87B in 2022 and will exceed $1371.84B by 2030, expanding at a CAGR of 4.05 percent from 2023 to 2030, according to a study of verified market research. The statistics show the major economic impact of this field.
The picture below clearly shows countries on the top of textile international trade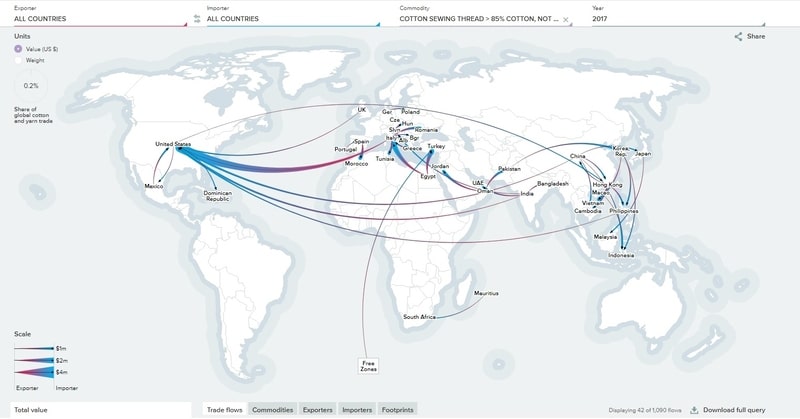 Impact of the fabric industry on employment
Millions of people are employed worldwide in the textile sector in a variety of positions, including designers, technologists, machine operators, quality control inspectors, and logistical staff. Its connections to other industries like agriculture, fashion, retail, and others have an even greater positive effect on employment. Overall, the industry's extensive operations serve local communities, promote economic progress, and create jobs at various skill levels. 
A study of Clean Clothes and Dr. Sheng Lu, University of Delaware gathers data about the cheapest countries in terms of monthly minimum wages for garment workers. According to Dr. Sheng Lu, University of Delaware, Ethiopia holds the lowest wages in the 3 last years with only €23 per month. Moreover, in 2019, New York University published a study revealing that well-known apparel companies like H&M, PVH (on the head of Tommy Hilfiger and Calvin Klein), are employing thousands of workers in Ethiopia. 
Meanwhile, the monthly earnings in Asia are still low, but they are marginally higher: 85 euros in Pakistan, 83 euros in Bangladesh, and 48 euros in Madagascar.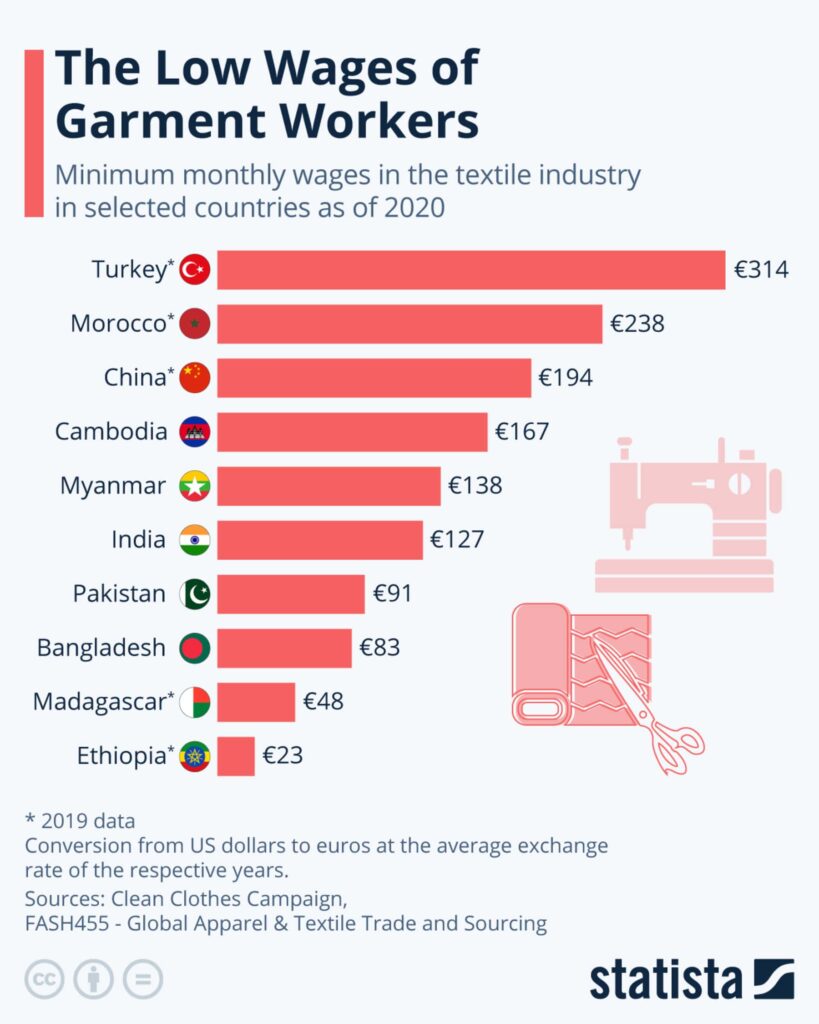 Top 10 best destinations for sourcing fabric based on export value
The following illustration exposes the top exporting countries in Asia with $882B In 2021. This ranking is based on export value and contribution to the global market.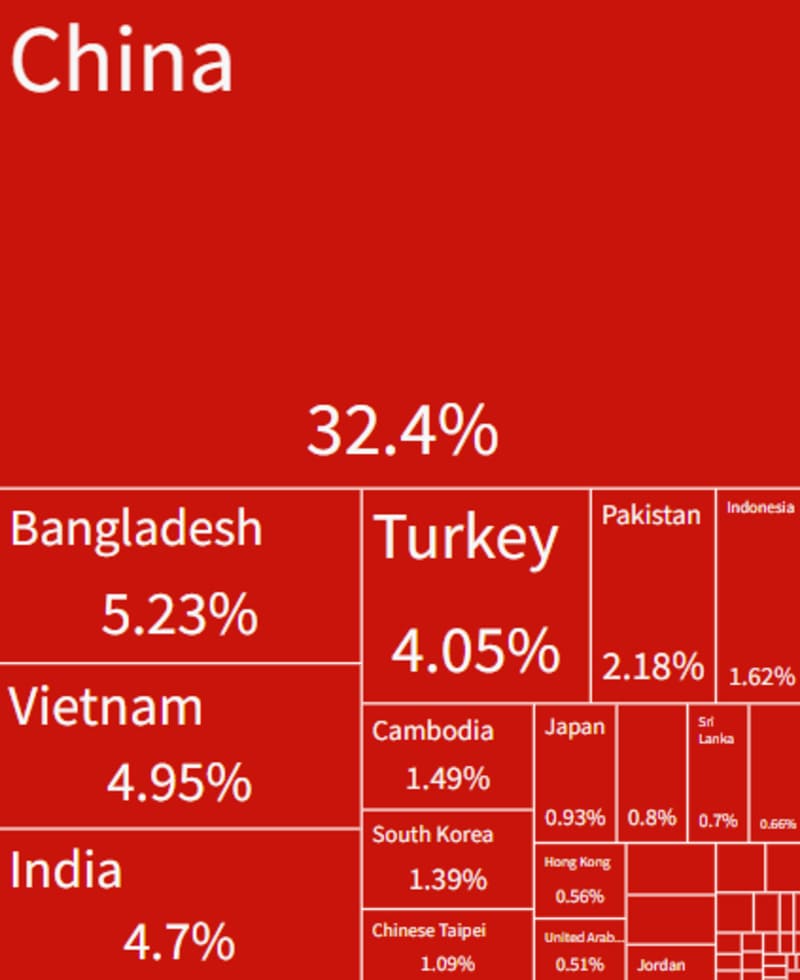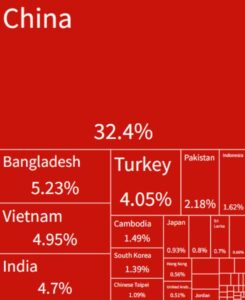 1. China: The biggest market for textiles
China excels in producing various fabrics, including traditional materials like cotton, silk, and wool, as well as synthetic fibers and specialized textiles.
The essential sourcing guide of Investment monitor reveals that after two decades of joining the World Trade Organization (WTO), and over two years of the pandemic Covid-19, China's textile sectors seem to be in a better position. The guide shows also that the country remains the world's largest apparel exporter, supplying over 40% of the world market in 2020. 
Concerning monthly wages, China continues to be the world's top exporter of apparel, and in 2019 the industry's minimum monthly wage (based on the national average) was 200 euros.
The following table shows more key indicators for China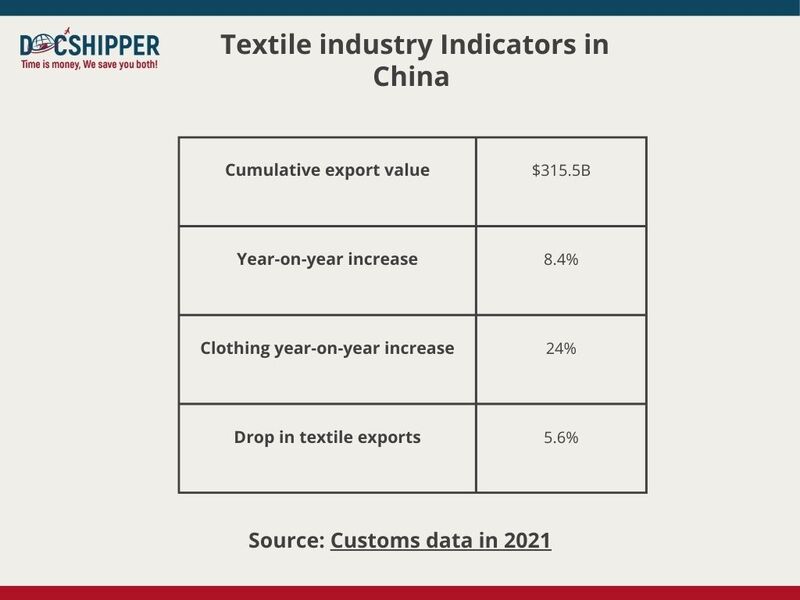 Moreover, the main important markets in China are illustrated in the map below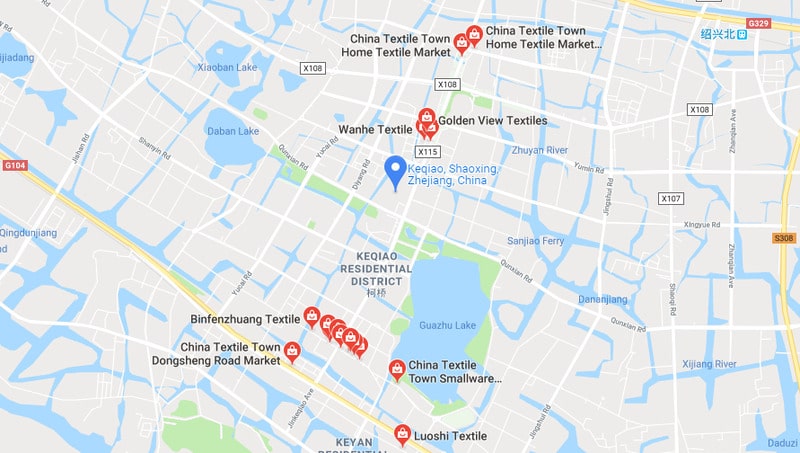 Textile production area in China
China's vertical integration within the industry ensures streamlined operations, quality control, and cost optimization. The presence of textile manufacturing clusters and hosting trade fairs and exhibitions further contribute to China's position as a prominent fabric-sourcing hub.
Numerous well-known exhibition halls frequently host trade exhibitions for the textile and fabric industries. Here are some well-known show facilities that frequently host fabric-sourcing events, while specific events may vary:
DocShipper info : DocShipper is a reliable procurement agent that connects individuals and small businesses with reputable suppliers. You may save time and money by using our broad network to get the best products at the best prices. Let us handle your sourcing requirements, so you can concentrate on what really matters. If you are sourcing fabric from Asia, check out DocShipper's sourcing and suppliers quotation and feel the power of effective procurement today. Want to contact us? Fill out our form or call us directly.
2. Bangladesh: a significant participant in the apparel industry
Despite ongoing compliance issues, Bangladesh has made investments in its infrastructure and has a strong supply network. 
The sector has grown to include value-added items and has been significant in empowering women and encouraging sustainability. Thus, the country exported $46.2B value of textiles in 2021, making up 5.23% of the world's total. Such as woven materials, cotton, polyester, denim, and so on.
List of Top 10 Fabric Manufacturers and Exporters in Bangladesh in 2020
Shasha Denims Ltd

Nice Denim Mills Limited

Ha-Meem Denim Ltd.

Envoy Textiles Ltd

Paramount Textile Limited

NZ Fabrics Ltd

Sister Denim Composite Ltd

Square denims Ltd

Amber Denim Mills Limited

Argon Denims Ltd
3. Vietnam: a popular destination with affordable prices
Vietnam offers a variety of possibilities at affordable pricing, making it an economical place to source fabric. With $43.7B, Vietnam's textile sector made up part of the global export at 4.95%. 
High-quality cotton, polyester, rayon, silk, knitwear, denim, and synthetic blend fabrics are among the products that the nation is renowned for making. Vietnamese polyester materials are strong and low-maintenance, while cotton fabrics offer diversity. The country is especially known and distinguished for its comfortable fabrics: shantung Taffeta, Bengaline Fabric, and Ebony Satin. Meanwhile, Vietnam is also making progress in denim manufacture. 
Note: As a supply management expert, Docshipper not only offers procurement services in Asia, especially in Vietnam but also helps businesses in freight forwarding to and from the country. If you are interested in further information about our service, contact us now or call us directly.
4. India: a large market with a wide variety of textiles
The textile sector in India has a reputation for offering a wide range of materials at reasonable costs, including traditional Indian textiles. Fabrics like silk, cotton, wool, and jute, which have a long history of traditional handicraft, highlight the cultural diversity of India. Additionally, a vast variety of fabrics, including top-notch brocades, chiffons, georgettes, and handwoven textiles, are produced in India. 
India has also become well-known for producing organic and sustainable textiles and for encouraging environmentally friendly activities like organic cotton farming and water conservation. India's textile industry thrives by maintaining its traditional craftsmanship while satisfying the global demand for a variety of diversified, reasonably priced, and sustainable materials thanks to a thriving handloom sector that supports skilled craftsmen and a sizable presence in textile exports.
In 2021, India had achieved $41.4B and contributed with 4.7% to the global textile export.
For instance, according to knnindia knowledge and news, the textile industry in India contributed 7% of the country's GDP and employed 45 million people over the previous three years.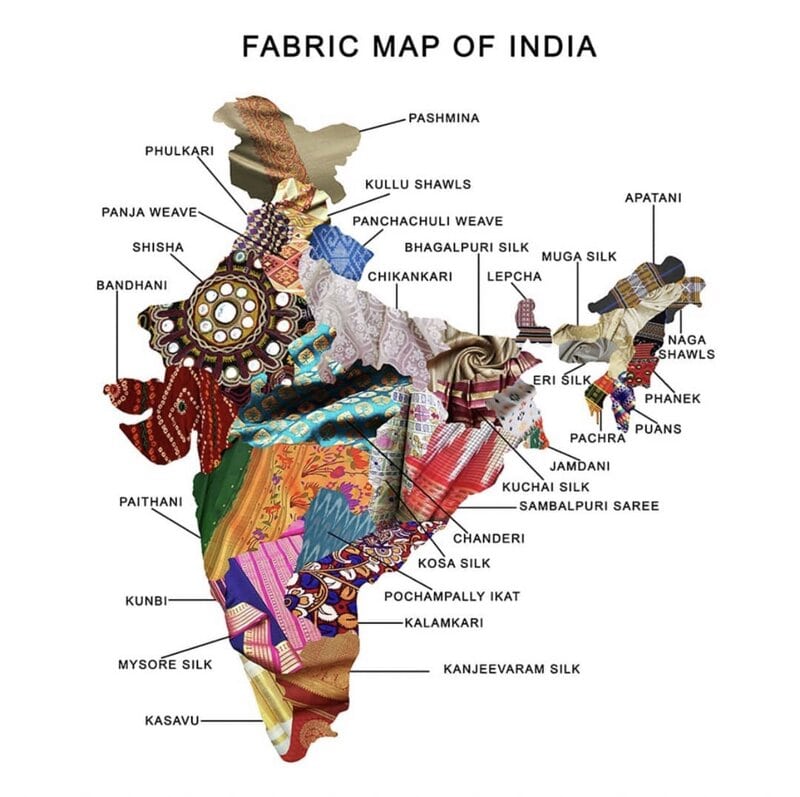 Source: Reddit.com
5. Turkey: a robust textile sector
With $286 billion in exports in the last year, Turkey's textile and fabric sector is about 4.05 percent of world exports in 2021.
Turkey is the more interesting country for sourcing fabric for the European and American continents, states the Middle East and Africa textile portal. 
This growing sector is indeed recognized for the range variety of types of fabric such as: 
Chiffon

Cotton

Crepe

Denim

Lace

Leather

Linen

Satin

Silk

Synthetics

Velvet

Wool

recycled fabric
Turkish textile enterprises were able to boost their exports to their maximum level of the fifth top exporter of textile goods around the world in 2021, according to studies by the Middle East and Africa Textile Portal and the Observatory of Economic Complexity.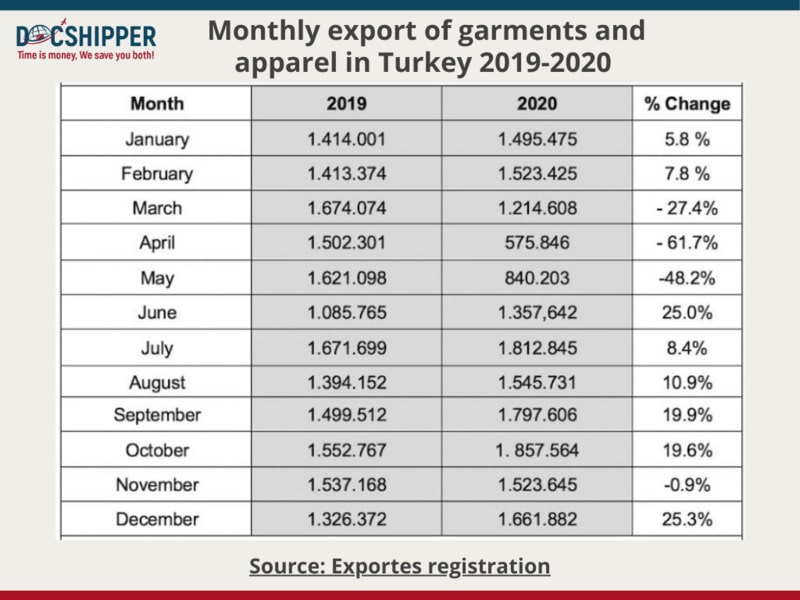 6. Pakistan: affordable fabrics and a range of garment production options
Pakistan is an interesting destination to consider when sourcing fabric thanks to its unique qualities and particular textiles that are highly sought-after.
With $19.2B export value and 2.18% of the global export value, Pakistani cotton is a popular option for apparel and household textiles because of its high caliber, suppleness, and durability. With its beautiful patterns and decorations and lightweight and breathable qualities, lawn fabric is perfect for summer clothing. Pakistani denim materials display toughness and adaptability, while the luxurious texture and delicate drape of Pakistani silk are generally praised. In the market, linen fabrics are also widely used because of their natural texture and cooling properties. 
Vinazgarment presented a report collecting information on Pakistan's best-rated fabric producers:
Nishat Mills Limited is one of the largest Pakistan fabric manufacturers : 
Sapphire Textile Mills Limited is one of the prominent Pakistan fabric manufacturers:

 renowned for their innovative designs.

Gul Ahmed Textile Mills Limited is one of the renowned Pakistan fabric manufacturers:

recognized for their unique designs and long-lasting quality.

Alkaram Textile Mills is one of the well-established Pakistan fabric manufacturers:

famous for their modern styles and dedication to quality.

ChenOne is one of the famous Pakistan fabric manufacturers:

renowned for its innovative styles and superior-quality products.
7. Indonesia: cost-effective to source fabrics and garments
Indonesia afforded $14,3B in 2021 contributing 1.62 % to the global textile export and is renowned as an affordable destination for sourcing fabric. This country is recognized for its production of traditional handwoven fabrics, such as ikat and songket. These fabrics showcase meticulous craftsmanship and are rich in cultural heritage. In terms of natural fibers, Indonesia offers options like cotton and silk, which are commonly used in various industries. Furthermore, the country's textile industry produces a wide array of affordable synthetic fabrics, including polyester and rayon, which are favored for their versatility and cost-effectiveness. With its diverse fabric offerings and competitive pricing, Indonesia proves to be an attractive sourcing destination for those seeking affordable and unique fabrics.
9. South Korea
With $12.2B export value and 1.39% of global export, specially skilled weaving and stitching are hallmarks of South Korean textiles. Cotton, silk, and hemp are examples of special use materials. Important techniques include nubijang (quilting), jogakbo (patchwork quilts), jasujang (embroidery), and bojagi (wrapped cloth).
10. Japan
$8.23B value export with 0.93% of global export value.
As the West began to recognize the beauty and usefulness of Japanese fabrics and their long lifespan, there was a rise in demand for them everywhere. The fact that well-known Japanese designers like Yohji Yamamoto, Issey Miyake, Kenzo Takada, and Hiroshi Fujiwara showed their collections during international Fashion Weeks helped to accelerate this fact even further.
Here is a list of some of the most well-known Japanese fabrics that are used by designers around the world.
Kasuri

Noragi 

Sashiko

Zanshi 

Sakiori
Top 10 countries for sourcing fabric based on many combined criteria
From another perspective, Just Style developed a thorough analysis based on 15 criteria to determine the results of the garment sourcing:
Ability to offer Free/Freight on Board (FOB), the most popular shipping arrangement for exporting clothing.

Price

Tax advantages

Compliance/sustainability

Quality of the product Efficiency

lead period

Reliability

the capacity to produce simple goods

monetary security

Ability to integrate vertically and acquire new materials

Political steadfastness

flexibility in terms of order size

Ingenuity and the capacity to create things with consumers

Ability to produce items with value-added
Issues to consider if you are sourcing fabric 
Businesses must be aware of the inherent threats associated with sourcing fabric. Navigating these hurdles is essential, from potential supply chain delays and variable material costs to quality differences and compliance issues. Ignoring these risks can result in monetary losses, reputational damage, and weakened product integrity. Businesses may reduce any negative effects and ensure a more efficient and effective procurement process by proactively identifying and resolving the risks connected with fabric sourcing.
Be aware of scammers
The disadvantage of online purchasing is that you might be scammed. This does not mean that, for example, alibaba.com or Amazon are unsafe platforms. But, the online environment stays limited despite its countless advantages.
In fact, shopping online not only saves us time but also virtually allows us to cross international borders. Simple, quick, comfortable, and money-saving is the process, you don't need to go to China to source products or make transactions. However, there are measures that you must take to purchase your merchandise safely. For example, if you are purchasing goods from an Alibaba supplier, here is a list of things you must ask him before taking the decision.
DocShipper Advice : DocShipper provides an extensive database of trustworthy suppliers across the world. We carry out in-depth supplier research, narrow down the top candidates, and ensure quality, conformance, and affordable price. Join us today to speed up your procurement process! Do you want to know more? Contact us or call us directly.
Quality assurance challenges in sourcing fabric 
Ensuring consistent fabric quality can be a major hurdle for businesses in the freight forwarding industry. Without stringent quality assurance measures, companies may encounter various issues that can undermine customer satisfaction and harm their reputation. From substandard materials to defective products, compromising on fabric quality can lead to costly returns, dissatisfied customers, and diminished competitiveness in the market.
In summary, addressing quality assurance challenges in fabric sourcing for freight forwarding businesses requires a strategic approach. Firstly, conduct a thorough supplier evaluation, considering factors such as reputation, certifications, and past performance.
Transitioning to sample testing, carefully assess fabric samples for key quality parameters and compare them against specific requirements. Implementing a comprehensive inspection and monitoring process at various supply chain stages helps identify and rectify any quality deviations or defects. Lastly, foster collaboration and open communication with fabric suppliers to ensure shared commitment to delivering high-quality fabric.
By implementing these strategies, businesses can overcome quality assurance hurdles and enhance customer satisfaction while maintaining a competitive edge in the market.
Language does really matter
Language constraints present substantial obstacles to successful collaboration and decision-making in the sourcing and freight forwarding industries. These issues can cause misunderstandings, delays, and mistakes when working with manufacturers, suppliers, and logistical partners from various nations and regions. 
The effectiveness of the sourcing and freight forwarding procedures may be compromised by these obstacles, which may have an impact on the caliber of the items, client satisfaction, and overall operational efficiency. To accurately express requirements, directions, and specifications, communication must be clear and effective. 
The need for language instruction, translation services, and multilingual communication technologies is further exacerbated by cultural differences and complicated documentation. Businesses should actively handle language barriers in order to boost teamwork, reduce errors, and maximize their sourcing and freight forwarding processes in order to compete in a market that is getting more and more globalized.
DocShipper Alert : Do you need assistance with suppliers who speak Chinese, Vietnamese, or any other Asian language? Don't worry! Our multilingual team will bridge the communication gap and handle all the interactions and negotiations with your fabric suppliers, ensuring a seamless and successful partnership. Fill out the form to contact us or call us directly.
Legal and compliance issues when sourcing fabric
Imagine the irrevocable damage to your brand's reputation if you mistakenly used cloth from unethical sources or broke laws pertaining to environmental sustainability. Make sure to adhere to compliance standards like CE, ROHS, CEE. Reach In addition to potential legal consequences, there could be severe reviews and consumer backlash. Customers expect transparency and moral behavior from the brands they support in today's socially conscious environment. Ignoring fabric sourcing compliance might put your whole company in danger.
FAQ |
Top 10 countries for sourcing fabric and garments
What criteria should I consider when sourcing Fabric from China?
To ensure that you acquire high-quality and secure items, there are a few crucial questions you must ask when purchasing fabrics. The answers to these queries will also give you a better notion of the cost, accessibility, and sort of materials you wish to buy. When looking for cloth, you should consider many criteria like Minimum Order Quantity, length Per Roll, quotation for sample and mass production and quotation Unit, the fabric Composition, lead time, stock item or made to order item.
What Fabric defects have I to check when fabric sourcing?
Before finishing your order, you must thoroughly check the sample cloth for the following defects. Such as, shade variation is the term for when the shade or color depth varies from roll to roll or piece to piece of cloth or horizontal Lines, when the cloth has observable, wavy lines that run horizontally. You should also verify if there are any patch or place on the fabric that has an undesirable hue is called a stain or uneven Patches, when the cloth surface, may have fairly observable irregular coloring or printing marks. Finally, pay attention to drop stitches, when there are missing stitches, which may cause fabric holes.
What are restrictions or regulations when sourcing fabric from Vietnam?
This is all you should know about restrictions and regulations when sourcing fabric from Vietnam. First, Import Duties-Standards and Procedures: the Ministry of Industry and Trade, or MOIT, limits the contents of certain dyes and chemicals, such as formaldehyde. Second, Import Duties-Labeling. Third, import tariffs: typically assessed based on the cost, insurance, and freight value of the goods.
How much are the US Import tax and duties?
The country from which the items are imported determines the amount of import tax and taxes that must be paid. The range of duty tax rates is 0 to 37.5%, with the average rate being 5.63%. E-commerce purchases that exceed the US import tax threshold restrictions are subject to a flat charge of 3%.
DocShipper info: Do you like our article today? For your business interest, you may like the following useful articles :
DocShipper Advise : We help you with the entire sourcing process so don't hesitate to contact us if you have any questions!
DocShipper Sourcing | Procurement - Quality control - Logistics
Alibaba, Dhgate, made-in-china... Many know of websites to get supplies in Asia, but how many have come across a scam ?! It is very risky to pay an Asian supplier halfway around the world based only on promises! DocShipper offers you complete procurement services integrating logistics needs: purchasing, quality control, customization, licensing, transport...
Communication is important, which is why we strive to discuss in the most suitable way for you!