If you're in the business, no matter you're a senior or a newbie, you must know the fact that due to the unique feature of being in international trade, the whole process may take 2-3 months to close one deal. With all the risks in between, especially under COVID-19 situation, you may lose confidence in the final margin.
Don't.
All the uncertainty will be possible to increase the risks, it also will create the space for more opportunities.
Try to look at things in a longer run, if the current situation disappoints you, wait a bit and look for different ways to definite it. Something uncertain perhaps brings pains, but also gains.
Sourcing strategies are one of the surprises, as long as you master the skills.
What's a complete sourcing process?
Well, first of all, the way of visual is much enlightening than literal. we'll show you a picture to conclude the several phases of the sourcing process.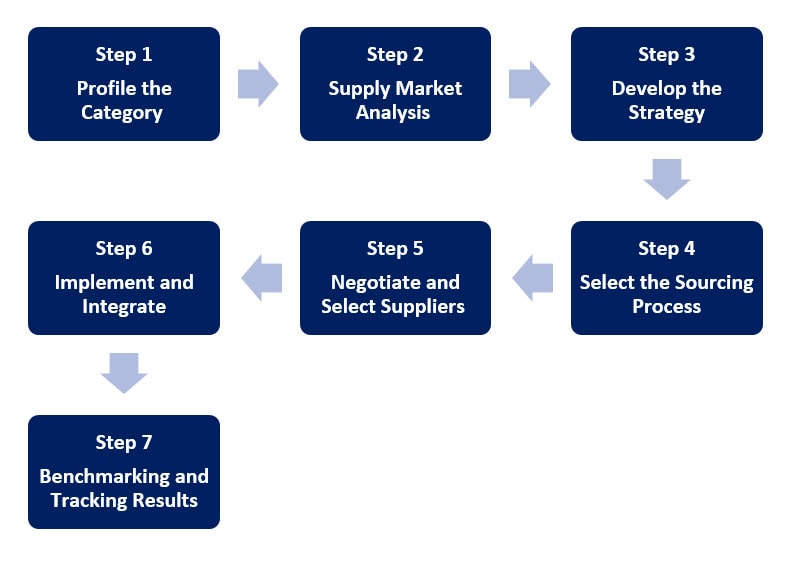 The 7 steps would explain very clearly about the whole process and emphasize the important point you should keep in mind. Sourcing is the stage before purchasing and can be considered as a subpart of the purchasing department. Before purchasing materials from suppliers, you must first find and vet those suppliers. When you have an effective strategic sourcing process in place, you will find reliable, affordable, and quality suppliers to provide the goods you need. Exceptional work can make the sourcing process more streamlined and efficient.
Sourcing is about finding a balance between raw material quality and affordability. The less money you can spend on materials, the more profit your business can make. However, if you are too cheap and buy poor quality materials, the quality of the end product will be lower. It's important to maintain quality standards because your customers need quality too!
Also, sourcing is a balancing act. It is the process of requesting quotes for new products, obtaining supplier information and uploading it to your purchasing software, determining lead times, pricing, minimum order quantities, etc. Usually, this is performed once for each supplier, in addition to updating pricing information. However, because it's important to have one or two alternate suppliers in case one supplier can't meet your needs for some reason, the purchasing department is always busy. With global sourcing, you may find that the more expensive supplier is more reliable and can handle larger volumes than your preferred cheaper alternative. Or, due to supply chain risks, you may need to identify alternative suppliers.
Before you start sourcing, you must assess your sourcing needs, develop a plan, conduct market research and identify potential suppliers. Once you have completed all of these steps, you will evaluate your suppliers and then select the most appropriate supplier for your needs. Then, repeat the process for all other purchasing needs until the vendor is ready for all the items you must purchase.
DocShipper Advice : You should always keep in mind that DocShipper will always work on optimizing the logistic processes in order to maximize your results, your costs and will also support you throughout the purchasing process: supplier research, negotiation, quality control.
What are the main channels to source for your business?
Sourcing by your own network
If you don't have enough investment on building your own supplier network right away, you may choose start from the scratch by yourself. Then please believe in the power of social media.
Where would be the heaven for low-cost products with the widest range? Chinese websites. If you can think about it, then you wouldn't ignore Alibaba. As the biggest digital shopping platform, you would get your hands on easily just though one website. Search for what you need and try to get prepared from videos on Youtube.
From the offline side, start with the yellow pages. Try to contact the local factory which manufacturing the products you need, get some samples in a small amount and test the market feedback as a trial order. Other than that, buy yourself a ticket to a big trade affair, in that way, you might find some allies on those events through the name cards. When you accumulate the experience, you will compare the price and build your network after tons of practices. But I assure you that the sense of satisfaction of seeing your empire has been built on your own would be incredible.
In addition, you may get fooled due to a lack of experience on the website, we've organized some tips for you to recognize the fake products or not.
Asking for help from the sourcing agency
This channel would be a time-saving approach to get in touch with more resources of suppliers, and the professional authority from them would settle the paperwork process for you, and that's the most tricky part I'm sure. For those advantages, it's a nice deal to have those services in case you make mistakes on unfamiliar affairs. The first round of selection you may start with is that target the industry you're in and find the corresponding agency to help you.
According to DataFox survey report, in recent years, there're only four competitive B2B(sourcing agency) companies focused on individuals and SMEs in the United States, including Kinnek, BuyersBestFriend, SupplyBid and SupplyHog, each one is doing different vertical targeted industries, such as SupplyHog is the construction industry B2B, while Kinnek was previously mainly involved in restaurants, pubs and food manufacturing industry, so the competition between each other is not fierce. It would be better for you to choose the agency which can help you the most in your industry.
For those of you in international trade, maybe you're an SME or an individual SOHO.
If you want to find a reliable foreign trade agent company, the following points are certain to pay attention to.
Now the market is a mixed bag, some agents with no professional qualification, but under the slogan of the free service fee, the customer will sign, in the foreign remittance, but after the payment of goods, they vanish. It not only affects the agency themselves in credibility, their own loss will be in vain, and consume energy and time. It can be said that every penny counts, pick a strong company with a good reputation, save time to develop more customers.
Is it an authentic agent? 
If you found out that your funds received foreign exchange, and the cooperated agent indeed delayed payment to the factory, or changed to the time of the tax rebate indeed delayed tax rebate to the account, you should be careful that if your cooperated import and export agents are self-supporting components of the company, not an authentic agent. if the funds were occupied, their own passive gesture would be very much affecting the progress of their own business.
There is no confidentiality clause?
Be sure that there are no confidentiality clauses on the contract, or at least a contractual guarantee in case there is no guarantee that the import/export agent you are working with is ethical. Protection of their own rights and interests and customer information is not disclosed, but also a kind of protection of their own labor.
Is it professional enough? 
Carefully ask the contact from the agency whether they have professional knowledge, whether they can guarantee, whether they can agree with the terms and conditions.
Will they often be checked? 
For those who are in the international business, the most you're worried about is that there will be a variety of losses, resulting in not only their own interests are damaged, there would also be the trust issue between you and your customers. So if you cooperate with the agent under regular inspection, and that would affect the export time, that's why please pay attention to the agency's regulation as well.
Can you help with reasonable tax advances and quick tax refunds?
The urgent need for capital turnover of the trading company, the original expectation to be able to refund the tax quickly to the account, but there are self-managed international trade agency bias will have to postpone a long time, then at the beginning of the cooperation, not just in the contract agreement to set up terms, but pay attention to the contract signed as overdue how to pay compensation. The tax rebate time has high requirements of the trading company or should avoid and capital strength of the import and export agency company cooperation, so think twice before,  also the decision to find an agency needs to be fully prepared, sometimes even do a background investigation.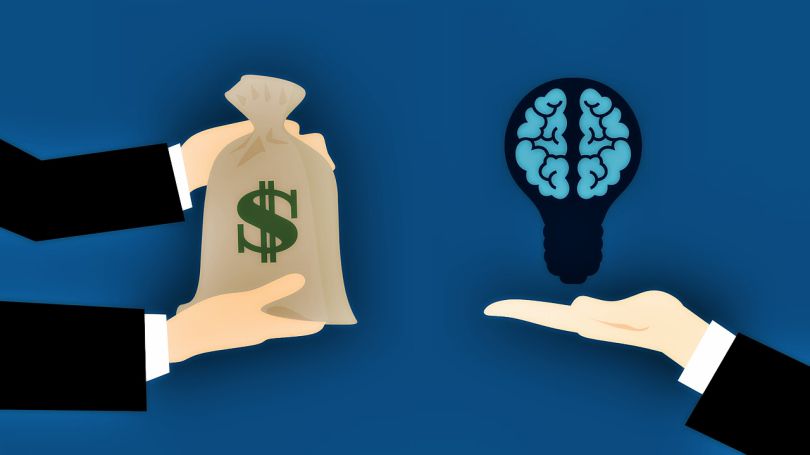 How to increase your margin by adjusting sourcing?
To achieve this purpose, we have different strategies that would provide for you depending on your condition: sourcing by yourself or sourcing through an agency.
Tips for brave and clever individuals
It must be a familiar journey for you to always deal with things on your own, those challenges have already made you sophisticated and tough, those useful tips will be the icing on the cake. Also for the newbies, you will be learning faster with proper approaches.
So rule no.1, always remember the eternal law- you sell and I buy, but I don't always buy what you sell. Based on this logic, there would be 4 kinds of strategies:
Usually, what we encounter most is the "competition strategy", in which suppliers and purchasers are often locked in a battle of wits in the face of higher interests without in-depth strategic cooperation between supply and demand, suspicion, and other forms of cooperation. Some of the resources that are not urgent are given up in exchange for resources that are urgently needed, and these resources are exchanged for chips.
The purpose of negotiation is to facilitate cooperation, not to achieve a you-and-me result, and the win-win strategy is to mutually get the resources and conditions you need.
The win-win strategy is relatively perfect, good supplier relationship management, having common interest base, mostly seen in strategic cooperation, in-depth cooperation, supply and demand sides based on a goal to work together, is a very rare result in procurement cooperation, not only need negotiation "tictac", but also need professional knowledge as the background, to complete the supply and demand relationship "synergy".
In this case, Toyota is certainly one of the best users of win-win strategies. To set 15% profit for suppliers, and through the engineering team to the supplier site for cost reduction movement, not only to improve the competitiveness of suppliers, but also for the procurement cost to establish a competitive barrier, such a supply chain cooperation model, in order to make Toyota in the market base long-lasting, establish a solid supply chain cooperation relationship.
When we find that it is more important to maintain the supplier relationship, and for some modules of lesser interest, it is appropriate to make concessions. Concessions do not mean "surrender", but in exchange for other needed resources, there is no real winner or loser in the negotiation, but otherwise the respective goals and strategic objectives are achieved.
In some cases, the benefits are small and the relationships are poor, and in these cases, the cost of negotiating a purchase can actually outweigh the benefits. Just as procurement does not need to go to great lengths to negotiate for sporadic purchases, in many cases it is an opportunity cost protection to adopt an evasion strategy.
Tricks to observe and negotiate with your agent
The first thing you have to understand is that, the agency is there to offer services to you. So no matter you have concerns about the price or the paperwork, you have to do some researches to know their quality of services.
Look into the reviews on Google
It may be deceptive, but you could leave a comment to the reviewers and check if the company's address is authentic. All the channels you could give it a try, if you can find the same agency's name in Linkedin, Google and the have an official website, you could guard off since the scams wouldn't have the capabilities to cover all the usual channels, if so, the police will find them before you.
Have an idea about how the agency charges
The sourcing agent fees vary greatly according to the service scope, the cooperation methods, the product category, and the amount of the order. Usually, there would be several common ways of charges: 1)Fixed salary for each project or a certain period, 2) No extra charge but gain from the price difference and 3) Percentage service fee based on product value. Regardless of the method of charging, it should be assessed whether the agent can reduce overall procurement costs, improve procurement efficiency and ensure the quality of goods, etc. 
A small trial order to test the agency first
Forget about how fascinating their commercials would be, just keep in mind that the service ranges they're able to cover and test them one by one through your small orders from your manufacturer, in that way, you would get an answer to trust your supplier and the agency or not. Wisely use the budget under control to do the job!
Docshipper Tip : You are looking for automatizing your packaging process and you're looking for machines such as wrapping machines ? Contact our sourcing agents thanks to our contact form, they will be able to help you find suppliers
Where to tell that it's a good sign for your margin?
Never only regard the final income as the victory on the margin, there're plenty of forms of "margin" and big victories.
The good signs are hidden in the details. There're 3 main stakeholders for your business you would pay extra attention to: The sourcing agency(if you hired one), your supplier and your customers. 
The sourcing agency
As we mentioned above, you will test the quality of their services. Accordingly, you will get the precious resources from them about dealing with the sourcing, quality control, custom documents, logistics and the warehousing. Selecting 2 reliable suppliers for 1 product may require you to contact more than 10 suppliers. Let's say you are looking for 10 products, then you need to contact and verify with at least 100 suppliers. In this case, the sourcing agent/company can not only do the tedious work more efficiently, but can also consolidate all the products you need. The time you saved and the knowledge and experience they have are the good margins for you with no doubt. Don't be stingy about spending time on communication with the contact from the agency, that would be a potential asset for the future partnership. Based on that, a professional agency would save money for you.
The supplier
Supplier relationship management is a vital link in the procurement process. Selecting and managing suppliers scientifically and effectively is not only conducive to promoting a win-win situation for both parties, but also to safeguard the interests of the enterprise itself.
In today's globalization of the economy, suppliers for the enterprise is both a precious asset, but also the core partners. As enterprises continue to develop, supply chain management capabilities need to be upgraded accordingly.
Tailored to optimize supplier development and management of enterprises in the selection and development of new suppliers, it is necessary to have a clear direction of demand. Only in this way can we improve the efficiency of sourcing and develop the most suitable supplier for current business development. Sourcing requirements are divided into 3 directions. The first one is the development of new projects.
For this type of demand, before searching for suppliers, you should confirm whether there are alternative suppliers in the corporate database and whether they are single-source purchases before developing product specifications. Second, the existing suppliers are not sufficiently compatible and alternative suppliers need to be developed. Third, the current supplier's price is too high or there is new technology available to replace it.
Different needs correspond to different suppliers. They can generally be categorized into four main groups, each of which can be assigned a management plan to improve management efficiency. Leveraged suppliers usually exhibit high purchase volume, many market resources, buyer's market, and low-quality risk. Procurement should pay more attention to the price, payment terms, delivery schedule and resource integration of these types of suppliers. Strategic suppliers usually have high purchase volumes, few market resources, a seller's market, and high-quality risk. Procurement should establish long-term strategic partnership with such suppliers and seek common development in order to get the right price and payment terms.
At the same time, attention should also be paid to contract management, supplier stocking, value analysis and strengthening cooperation in research and development projects. Bottleneck suppliers are usually characterized by low purchase volume, few market resources, seller's market and high quality risk. Procurement needs to focus on availability and safety stock of these suppliers rather than price and payment cycle. Regular visits are needed to maintain and build long-term relationships and to convert them into leveraged or strategic suppliers. c suppliers are usually low volume, high market resources, buyer's market, and low quality risk. Sourcing mainly focuses on price, payment terms and lead times for these types of suppliers and does not require much attention, only an appropriate increase in safety stock.
Random analysis of corporate strategy with data Procurement should analyze the supply chain strategy of the company from the supplier database. Procurement on the one hand can be based on the amount of each product category, analysis of the company's historical data and future strategic plan, sorting out the existing stage of the need for suppliers of the size, quantity, turnover accounted for; on the other hand, define the core technology of the enterprise, the development and enterprise 3 to 5 years of planning to match the key suppliers, while deciding whether it is homemade or outsourcing.
Multi-sided trade-offs set the supplier's software standards Many companies now have a complete system, from questionnaire surveys, off-the-shelf reviews to sample development, specifying the hardware conditions of suppliers. But even if the supplier's hardware is very much in line with the procurement requirements, cooperation may still not be smooth. Therefore, the supplier's consideration should not be limited to hardware only, but also software. You can set your supplier's software standards in 3 ways.
Corporate Culture Match
See if the supplier is in line with the company's development plan and direction for the next few years, and if it is in line with the corporate culture.
Capacity Match
Weigh the supplier's capacity, if the volume is too small which will lead to the need to find another supplier or will increase the management cost.
Reputation
Before choosing a supplier, you need to know its reputation in the marketplace, including on-time delivery, quality, and stability of management.
The customers
Always be polite and put your feet into their shoes. You'll realize you'll focus less on the final income but more on your communication between the customers. It will make the whole experience more enjoyable. In that case, the starting point of customer retention would be added on your margin in a long run!
To improve the accuracy of controlling your customer's appetite, if you have the preparation of building a database to collect their needs, a little advice for your marketing, then you may consider having a CRM software.
CRM software is short for Customer Relationship Management. It is centered on the management of customer data that helps you keep your customers' contact information up to date, track their every interaction with your business and manage their accounts. The essence is to attract and retain customers and maximize their interests. The goal is to help you develop customer relationships, drive business growth and increase customer loyalty.
Indeed, a CRM system is a customer-centric business strategy to manage employees and manage their customers in an efficient manner to achieve better business goals. A good CRM system generally has the following five functional features:
Usability

Ease of use is the most important attribute of a CRM system, and it mainly reflects ease of use with an intuitive interface, adequate documentation and good user support. After all, the whole process of having a CRM is to improve efficiency, rather than wasting time, so that you can better help your team to improve productivity.

Easy to integrate

The CRM system supports multiple integration methods and is highly integrated. For example, it can seamlessly integrate with your ERP, financial system, HR management system, etc., thus ensuring that you don't waste time and carry out your business better.

Adaptability

A good CRM system feature is highly adaptable, it will grow with your business and provide flexibility to meet the current and future needs of your business, which includes multiple modules, features and possible integrations.

Create a better customer experience

CRM systems are all about maintaining positive customer relationships, being able to convert prospects into customers, and keeping you relevant to your customers at all times so that you can provide better service to them.

Help managers make better strategic decisions

CRM collects all the important data about your customers and provides you with a lot of data analysis and evaluation that helps to get maximum customer satisfaction and increase business profits, and it is useful for doing customer analysis to develop future business strategies.
There are many benefits to implementing a CRM system solution, not the least of which is that it revolutionizes the customer relationship process by automating the customer lifecycle and integrating the entire customer management process. As has been discussed elsewhere, the better you know your customers, the more you can personalize the process of their experience. Allowing you to achieve greater sales goals, improve conversion rates, and increase sales efficiency. Thus, this makes CRM especially important.
In addition, CRM systems are very customizable and can effortlessly adapt to almost any workflow or business. So for the long run, while you're making your choice, you also need to consider whether the vendor can provide customization for your needs.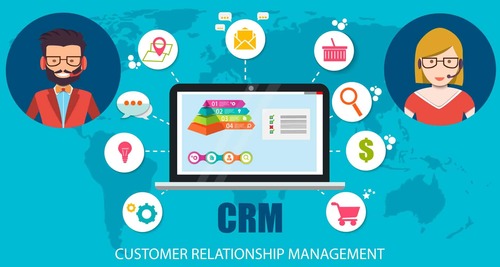 What else that Docshipper could do for you?
We hope all the tips we have generated above are useful for you, and no matter which channel you would choose for your sourcing, I'm sure Docshipper would give some advice for your side.
Remember that we mentioned that"small trial order" test? It's applicable for Docshipper's services as well. To find a reliable supplier for you? Always at your services, the best price we could negotiate, and do the paperwork for the customs clearance for EU regulations. Our specialists can speak Mandarin, French and English very fluently, so no worries for the coordination and possible misunderstandings. Also you may have concerns about the quality control, are the materials complying with the EU standards? Are the certificates authentic? Are the packaging solid enough? We're professional to check them for your premium services!
Also, our advice included a point that "never trust the fascinating commercials", so feel free to test us!
The surprises from Docshipper await 😉
DocShipper Advise: You can count on DocShipper if you're in need of any packaging and protection service to relive. Do not hesitate to contact us.
FAQ | Sourcing strategies
⭕ Any other tips on maintaining the relationship between suppliers?
Yes, the top thing is to know the different cultures. Generally speaking, the American culture advocates individual heroism and focuses more on interests; the Nordic culture is more humane and values personal relationships; the German culture is relatively strict and focuses on hierarchy, and countries such as Italy and France are more in favor of free culture.
🚩 I don't know how to source, but I want to hire an assistant to help, what skills should I pay attention to?
Well, there would be a lot, but the most important thing matters is the business sense. For the familiarity of working in the industry and the ability to mine and collect data, procurement is generally involved in a wide range of areas, so you need to have a wide variety of data to support the views you express (in this way, at least it gives the impression that you are a professional). Use your commercial sensibilities in combination with the tools and you'll have easy access to what you need.
🤖 How to talk to the potential allies on the trade fairs?
Oh, you must be our new follower. For trade fairs, we've made a complete guide before especially in China, you can find it from the suggested readings as the above part. There would be updated event info coming soon!
🍀 After the first trial order test, is there any principle you would suggest evaluating your supplier?
There are four simple points, yes. 1) Systematic/comprehensive: the content of the assessment should not be one-sided or homogeneous. 2) Adaptability: need to meet the needs of the enterprise at the present stage of development strategy. 3) Objectivity: Need to be supported by data and reduce subjective personal judgments. 4) Reasonableness: assessment of the feasibility of indicators.
DocShipper info: Do you like our article today? For your business interest, you may like the following useful articles :
DocShipper Advise : We help you with the entire sourcing process so don't hesitate to contact us if you have any questions!
DocShipper Sourcing | Procurement - Quality control - Logistics
Alibaba, Dhgate, made-in-china... Many know of websites to get supplies in Asia, but how many have come across a scam ?! It is very risky to pay an Asian supplier halfway around the world based only on promises! DocShipper offers you complete procurement services integrating logistics needs: purchasing, quality control, customization, licensing, transport...
Communication is important, which is why we strive to discuss in the most suitable way for you!