2020 can be a DISASTROUS year for retailers! Trading is becoming gradually competitive and formidable, which led by increasing people going in this field and rather demanding customers' needs to fulfill. Here we got the most challenging problem - Coronavirus. Governments all over the world are developing new initiatives i.e. Curfew in France, which can be, economically speaking, described as"add insult to injury " for the business fields. However, this is the last quarter of this eventful year, we must seize the opportunity to rebound after hitting rock bottom! Here we are going to suggest a strategy to prioritize your time in an effectual manner and alter to a new method that generally will lead to the best quantitative and qualitative results for you.
What is the best method to sell your products online?
As shown in the above statistics, traditional retail is suffered huge losses in 2020. Try our suggestion for you to survive the last quarter and open a new way for your business. Our approach is the suggestion for not only for retailers but also for people who would like to earn their own money instead of being a poor man working for a better living than their boss! Yep, be your own boss, and work for your own! Rather than make your business in a traditional while unlikely to see a future way, spend a few minutes to look into a better way of making a living.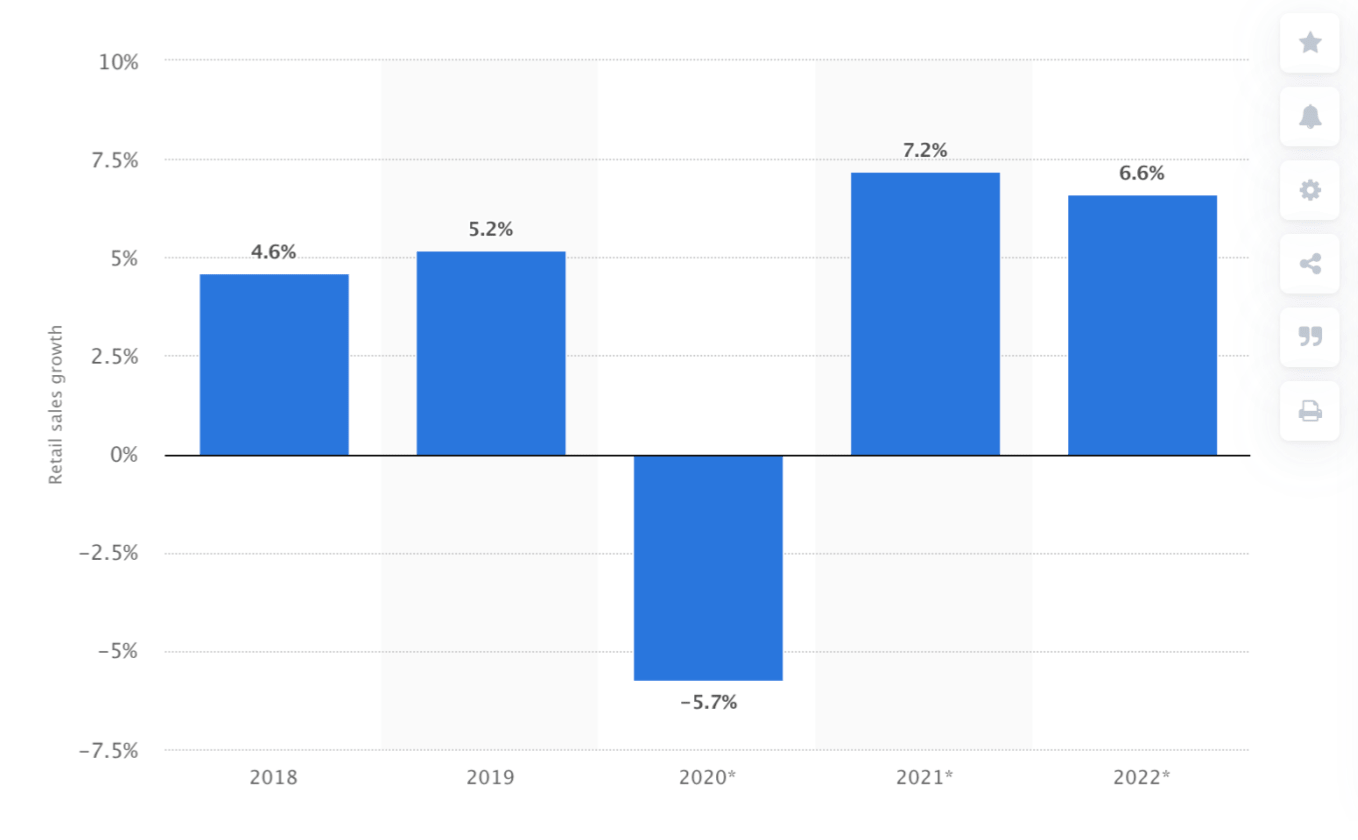 Now here, we would like to introduce this concept: Cross-border Ecommerce, which refers to the e-commerce platform and online trading platform. In this way, the sellers and buyers belonging to different countries conclude their transactions, payments, and settlements through one particular platform, and deliver goods and complete transactions through cross-border logistics. Generally speaking, cross-border e-commerce itself is a form of trade, the change is that the transaction from offline to online, which is a complementary relationship of traditional trade, without any conflict, belonging to a kind of increment of traditional trade.
So what are these platforms? Nowadays, we have Amazon, AliExpress, eBay and Wish, etc…
Amazon: As the originator of global e-commerce, Amazon's influence on the entire world is huge. But Amazon's requirements for sellers are relatively high, such as product quality, brand, and other aspects of the requirements, the procedures are also more complex than the speed of sale and other platforms.
Aliexpress: As an important strategic product of Alibaba's future internationalization, Aliexpress has been developing rapidly over the past few years and has become one of the most active cross-border platforms in the world, and relying on Alibaba's huge membership base, it has become one of the richest platforms in the world in terms of product categories.
eBay: For foreign trade people engaged in international retail, the potential of eBay is still huge, because eBay's core market in the United States and Europe, which is a more mature market.
Wish: It is an app-based cross-border platform that has just emerged in the past few years, mainly relying on cheap prices to attract customers, and has very high popularity in the U.S. market, with core categories including clothing, jewelry, mobile phones, gifts, etc., most of which are shipped from China. Wish's main attraction is that the prices are particularly cheap, but because of Wish's unique way of recommending the platform, the product quality tends to be better. This has been a core factor in its development in just a few years.
Which one would be best for you? After our comparisons, the most suitable platform for you will be AliExpress. Why? Now go find all details about AliExpress you should learn about.
DocShipper Advice : You should always keep in mind that DocShipper will always work on optimizing the logistic processes in order to maximize your results, your costs and will also support you throughout the purchasing process: supplier research, negotiation, quality control.
Why should I rely on AliExpress?
What is AliExpress?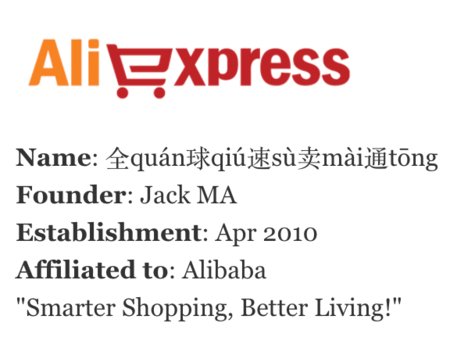 AliExpress is Alibaba's cross-border e-commerce platform for the international market, known as the "international version of Taobao" by sellers. It is the world's third-largest online shopping site in English, and is available to overseas buyers and customers, covers 3C, clothing, home furnishings, accessories, and so on, a total of 30 industry categories.
Take a look at the following numbers: AliExpress has 10 years of establishment, is localized for buyers and sells with 18 languages, supporting 38 local payment channels, available in 220 regions and countries, with 150+ Million buyers on the platform and enable payment in local currency in 51 countries. These statistics are not just numbers, it demonstrates the possibility for you to make your business. You don't have to worry about the languages and the paying methods, and about your product visibility, everything will be easy to deal with.
Selling on Aliexpress VS Selling on Amazon
Why do we suggest you selling on Aliexpress rather than on Amazon? You might have looked at many comparisons between Aliexpress and Amazon. Rather than mention statistics like "Amazon is apparently better because regarding market cap, it has $427 billion, while Aliexpress' $265 billion.", we would like to view the difference between these two from the seller's perspective as entrepreneurship or SMEs.
AliExpress vs. Amazon - How much you should pay?
Selling on AliExpres
In order to better protect the consumer experience and regulate the business behavior of sellers, AliExpress launched a new Merchants Policy on November 27, 2019, at approximately 14:00 PM GMT. For new merchants who apply for admission after the above mentioned time, it's FREE TO OPEN YOUR STORE, a deposit in accordance with the seller rules should be provided and will be repaid. Apart from this deposit, only a 5% commission will be paid for Aliexpress.
Selling on Amazon
As for Amazon, the fees vary from Professional or Individual sellers. Professional sellers should pay closing and referral fees which ranges from 6% - 25% and $39.99 per month for the operation fee of the store. And for Individual sellers, you should pay $ 0.99 per item with a varied closing and referral fee.
DocShipper Advise: You don't have to worry about your logistical routing and the conformity of your electrical products, you can count on our 3PL (Third Party Logistics) to handle the entire process safely. Do not hesitate to contact our agents!
AliExpress vs. Amazon - Whose procedure is easier?
AliExpress Documents needed
VAT number
Company operating license
ID number of company legal representative
Amazon Documents needed
Invoices for the items
Bank statements; Utility bills
State Tax ID; Tax ID; Credit Card
Business Information
Apart from the documents needed, the estimated process time for AliExpress is 2 days, and for Amazon, normally it's 1-2 weeks. Choosing the Amazon platform requires your suppliers to have stable and reliable product resources, a certain amount of financial strength, local U.S. connections, and have a long-term commitment to research mentality. Amazon's store is more complex and has a very strict audit system, if you violate or do not understand the rules, there might be even legal risks. Most importantly, AliExpress is quite new for the Western sellers, while Amazon quite mature, which leads to more competition, and less margin for you. Thus, for newcomers, we would suggest you choosing Aliexpress.
How to Sell on AliExpress
Before AliExpress was only opened for Chinese sellers, but now it opens to 5 more countries sellers, which are: France; Russia; Spain; Italy; Turkey. Now Get started with Aliexpress! Here are the Only-3-Step procedures to register as a seller on AliExpress:
Step 1 - Create Account
After this step, you will get a verification code in your e-mail and put it on the page remember that this e-mail can be only used to register for one time (in case of next time you should have a new e-mail).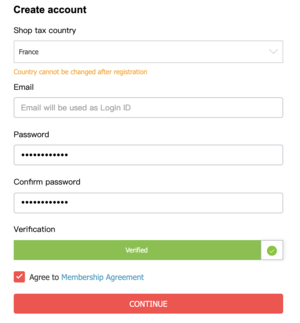 Step 2 - Business Information
This is as what we suggest above, you should have 3 documents: the company name & register number; Local representative register ID number & address; Tax / VAT certificate.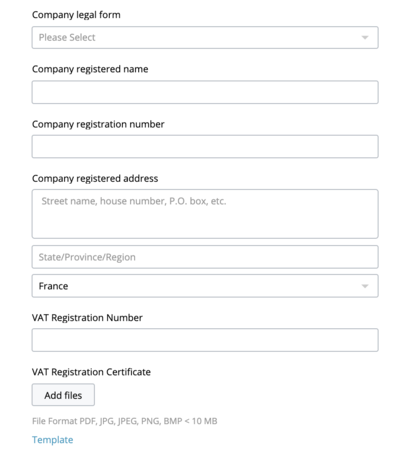 Step 3 - Legal Representative Information
And Legal Representative Information should be completed here. Congratulations! This should be the last step from your store on AliExpress. Just wait for 2 days for the processing time.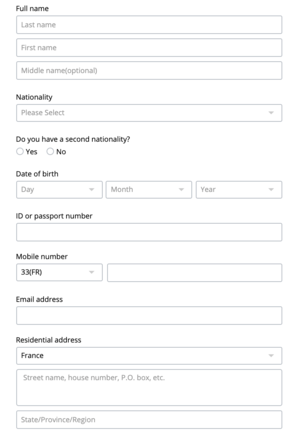 DocShipper Advise: You can count on DocShipper if you're in need of any packaging and protection service to relive. Do not hesitate to contact us.
Government Cooperation with AliExpress
AliExpress is at a fast development speed now and it cooperates with some governments to expand their business market. While the governments at the same time, need AliExpress' support to assist the progress of the SMEs.
Spain - AliExpress and Correos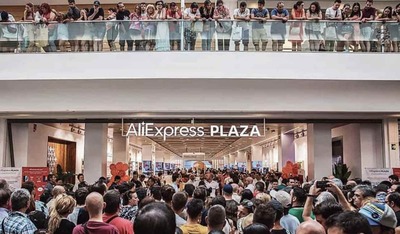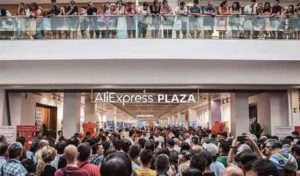 This collaboration between Spain's national postal services company Correos and AliExpress and Alibaba's logistics unit aims to promote cross-border exports of Spanish SMEs, with a focus on the European and Latin American markets. Correos provides Global Express merchants with a flexible 'last mile' service, including home or office delivery, and more than 5,000 CityPaqs (city plazas) post office locations in Spain. It aims to improve the flow of goods between China and Spain and to encourage merchants to start international trade through the Global Express marketplace.
Apart from the cooperation with the government, AliExpress has opened its first European retail store in Xanadú, Madrid, one of the largest shopping centers in Europe. Since the end of 2019, Spanish consumers can visit the store, see, feel, and try different kinds of products. However, if they want to buy something from Aliexpress, they still need to go online to order the product.
Russia - AliExpress Russia JV
The three giants, Alibaba, Mail.ru, and MegaFon, with the support of RDIF (Russian Direct Investment Fund), have formed a joint venture - AliExpress Russia JV, which will provide more e-commerce services to consumers and businesses in Russia and its neighboring countries.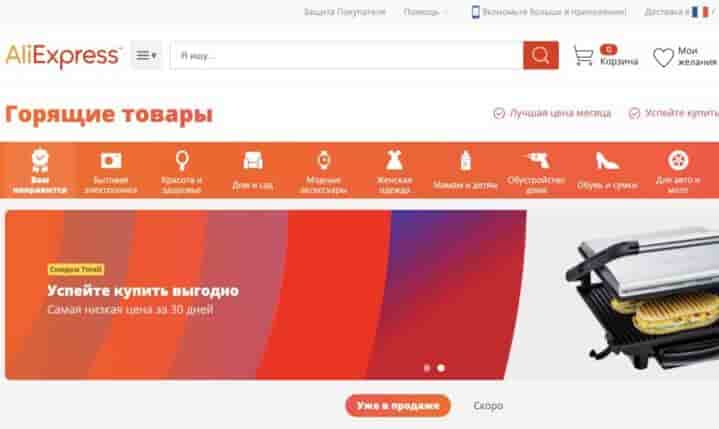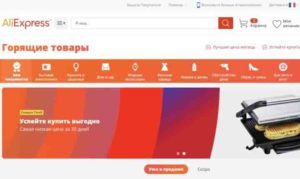 Alibaba CEO Yong Zhang said in a statement: "The partnership will help AliExpress Russia JV accelerate the development of the digital consumer economy in Russia and the CIS countries, which neither party can do alone. By combining social platforms with commerce and enabling regional brands and SMEs to sell their products locally and globally, we will provide an innovative shopping experience for consumers in Russia and its neighboring countries." The CIS countries include Russia, Ukraine, Kazakhstan, and other Central Asian countries. Boris Dobrodeev, CEO of Mail.ru Group, said: "AliExpress Russia JV will be the undisputed leader in Russian e-commerce, creating unparalleled social e-commerce products for our customers."
AliExpress Global Logistics Rules Explained
AliExpress Global Logistics Rules In Russia
- Orders with actual payment amount >$5: standard and fast logistics services are allowed, but economic logistics services (i.e. unregistered surface mail) and simple logistics services are not allowed to ship.
- Orders with an actual payment amount of >$2 and ≤$5 are allowed to be shipped using online simple logistics services, standard and fast logistics services, but not economy logistics services (i.e. unregistered surface mail) and offline simple logistics services.
- For orders with an actual payment amount ≤$2 USD, you are allowed to use online simple logistics service, online economy logistics service, standard logistics service, and fast logistics service, but you cannot use offline economy logistics service (i.e. unregistered surface mail) and offline simple logistics service to ship your order.
AliExpress Global Logistics Rules in USA
- Orders with actual payment amount >$5, the use of the standard logistics services of "E Mail", "AliExpress hassle-free logistics - standard" (except for special categories of goods) and fast logistics services are allowed, but other standard logistics services and economic logistics services cannot be used.
- For orders with an actual payment amount ≤ 5 USD: Standard and fast logistics services and online economic logistics services are allowed, while offline economic logistics services (i.e. unregistered surface mail) are not allowed.
AliExpress Global Logistics Rules in France, Holland
- Orders with actual payment amount >$5, the "AliExpress hassle-free Logistics - standard" and services are allowed for standard logistics services (except for special categories of goods), but not for other standard and economy logistics services.
- Orders with actual payment amount less than $5: Online economic logistics service, standard logistics service and fast logistics service are allowed, offline economic logistics service is not allowed.
DocShipper Advice : After we get the right platform, the problem left would only be finding a good supplier who you can trust with. This plays the key role in your business, and we suggest you to find a professional consultancy to assist you. Contact us for any additional  information
How can you start your business successfully?
Sourcing
Sourcing plays a rather essential part for your business, no matter for the cost structure or the improvement of competitiveness. It's acknowledged that purchasing in bulks with high volume from a reliable supplier can lead to long-term partnerships. This can reduce your cost structures from the beginning. However, how do you find the most reliable and cost-saving products? If you want to outweigh many sellers in Aliexpress, the most desirable place for your choice of suppliers should be in China, through whose the margin will be the highest you can earn.
How can we help you? Docshipper offering the most dedicated services, with the support of ISO certification which enables us to choose the suppliers that we consider "the best" for you. And guess what? We are not just a sourcing partner for you. During your whole procurement, we will be your dearest guide. One professional expert will be at your side solving any problems you may encounter. What products do you intend to sell? Clothes in Ningbo?Electronics in Shenzhen? Toys in Yiwu? Don't worry, we are here to assist you with any questions!
Check our dedicated page here to know more about our sourcing service: Docshipper Sourcing
Supplier Management
Here we want to introduce you to a new strategy that will help the startups, which is you should maintain a good relationship with your suppliers. Better relationship with them, the more cash you will have in your bank account. You might be curious that, a supplier is only supposed to provide you with the products, how come they will be in connection with my financial status? Note that we have various ways to pay for the supplier, a good relationship enables you to buy on credit, in this way, the cash might be saved for other transactions of your business. If you are dealing with a new supplier, you'd better understand the languages and cultural differences with him. Here in Docshipper, we have staffs of Native French speaker/Native English speaker/ Native Chinese Speaker who can teach you the etiquette in your supplier's culture about cooperation and even haggling over prices.
Warehouse and Storage
Good warehousing and storage systems make your business gain a more competitive edge. Why? There might be various types of possible risks in the warehouse, for example: "stock or materials blocking emergency exits"; "someone who falls off the shelves"; "used packaging accumulations". How do you find the most trustable warehouse for the keeping of your products? Docshipper provides you a broad range of storage methods for any business. We have a warehouse in China, which can assist you to store your products despite you are SMEs or large organizations. Docshipper has a distribution center based in Camprosso in Northern Italy as well, which are utterly situated in the exact heart of Europe. We will well organize so that you can get your products perfectly.
Check our dedicated page here to know more about warehousing: Docshipper warehousing
Logistics service
How do you get your products fast and at the same time safe and sound? Choose a professional company offering logistics service. We provide you Sea Freight, Airfreight as well as Railway Freight. Basically, according to our experience, if you choose Sea Freight, it's the cheapest while the slowest method, if you are not rushing and desire to save the cost, this is the best choice for you. Airfreight will obviously be the fastest and most expensive way. All you need to do is to send us your exact delivery address and the volume & weight of your products, then our distinguished team will contact you soon and give a Free Quote to You! Based on our previous customers, the documents and customs clearance might be a hard one to pass as well, but don't worry, we can help you with any documents you needed to prepare!
FAQ | AliExpress | Use the Chinese panacea to sell your products online
🧐 What are the major ecommerce platforms?
There are currently four mainstream cross-border e-commerce platforms. Amazon: Amazon, which is the world's largest cross-border e-commerce platform, currently dominates Europe and the United States, with consumers mostly middle-class, high-quality customers in developed countries. Aliexpress: As an important strategic product of Alibaba's future internationalization, Aliexpress has been developing rapidly over the past few years and has become one of the most active cross-border platforms in the world, and relying on Alibaba's huge membership base, it has become one of the richest platforms in the world in terms of product categories. eBay: It is an U.S. e-commerce platform, the market condition of eBay in the decline is indisputable, but the customer base is large, probably more than 150 million consumers. Wish:Wish is a controversial cross-border e-commerce platform, 14-16 years it helped the achievement of many sellers into the ranks of millions of millionaires.
🤷🏻 What can't be sell in Aliexpress?
If you want to do business on Aliexpress, remember that the following products are not allowed to be sold: Drugs, precursor chemicals and drug paraphernalia; hazardous chemicals; firearms and ammunition; controlled devices; drugs; medical devices; pornographic, violent, vulgar and aphrodisiac products; products for illegal use; human organs, protection of animals and plants and hunting tools. Check our article to know more about Sell on AliExpress.
🥇 Why sell on AliExpress rather than Amazon for new sellers?
First of all, the commission fee of Amazon is high, as AliExpress is now trying to expand the European Market, it canceled the admission fee since the end of 2019. And the process are quite complicated selling on Amazon, much more documents are needed, and it takes 2 weeks for a new store to be process, while only 2 days for AliExpress to handle. Lastly, Amazon is mature platform, which means a fierce competition leading to less margin. It is suitable for taking the boutique route, high unit price products, it is not suitable for sellers without cross-border e-commerce experience to start!
🕵🏽 How to be a seller on AliExpress?
Only 3 documents needed as well as 3 steps, you can be a seller on AliExpress easily! Documents: the company name & register number; Local representative register ID number & address; Tax / VAT certificate. Step1: Create your account, sellers from 6 countries are allowed to register now: Mainland China, Italy, France, Spain, Turkey, Russia. Step2: Business Information, filled out your business information. Step 3: Filled out Legal Representative Information. Congratulations, you only need 2 days to pass the process to be a seller in AliExpress! If you are not quite clear about the steps, click our article to check the screenshots.
DocShipper info: Do you like our article today? For your business interest, you may like the following useful articles :
DocShipper Advise : We help you with the entire sourcing process so don't hesitate to contact us if you have any questions!
DocShipper Sourcing | Procurement - Quality control - Logistics
Alibaba, Dhgate, made-in-china... Many know of websites to get supplies in Asia, but how many have come across a scam ?! It is very risky to pay an Asian supplier halfway around the world based only on promises! DocShipper offers you complete procurement services integrating logistics needs: purchasing, quality control, customization, licensing, transport...
Communication is important, which is why we strive to discuss in the most suitable way for you!