How does the transport from China to your company work?
When you decide to import products from China, you think that there are not many expenses on transport costs to be made and instead you have to evaluate many other costs that we will present in this article.
To calculate the transport costs you need to know how the transport from China to your company works and the different expenses you will have to do to make the transport.
What are the transport prices from the warehouse to the port?
When we talk about freight charges, we mean the shipping costs from the port of shipment to the port of destination in the buyer's country and are balanced on the local taxes paid in the destination port, but also on the volume and weight of the containers.
Methods of payment of transport costs
To pay a freight forwarder, there are two aspects that need to be thought about:
If transport costs are high, local expenses are low
This aspect is often considered when a Full Container Load (FCL) is shipped, because, as I said before, it depends on the destination, both in terms of distance but also for the load volume.
Here you are some examples of FCL shipping prices:
Shenzhen – Marseille: 1400 $ – 1600 $
Shenzhen – Los Angeles: 2200 $ – 2500 $
Shenzhen – New York: 2300 $ – 2500 $
Shenzhen – Felixstowe (Royaume-Uni): 1 400 $ – 1 600 $
Shenzhen – Hambourg: 1 400 $ – 1 600 $
Shenzhen – Sydney: 700 $ – 800 $
Shenzhen – Singapour: 250 $ – 300 $
Shenzhen – Dubaï: 1450 $ – 1600 $
If transports costs are low, local expenses are high
This is about consolidation shipping (LCL: Less than Container Load) because LCL rates are at extremely low prices, sometimes from $ 30 to $ 40 per cubic meter.
I advise you to be very careful with this aspect because transport costs are low, but local costs are very high. And the freight forwarder doesn't tell you that local charges can cost three to five times more than the freight cost (in industry, this is called "bounce rate"), because many large small businesses in China quickly turn down an appropriate freight quote as it's much more expensive than a bounce rate.
Once the products have arrived at their destination
Once the goods arrive at the port of destination, regarding the costs, you must consider the local taxes, the type of shipment you wanted (FCL or LCL) and the mode of transport from the port of destination to your warehouse.
How local taxes affect shipping costs
Local taxes affect transportation costs especially when, as previously mentioned, the practice of bounce rates between shippers allows suppliers to offer deliveries at extremely low prices, while real profits are realized upon arrival at the port of destination.
How is the shipping of a container paid?
In a Full Container Load (FCL) shipment, rates typically range from € 500 to € 1,000 and these local rates are set per container.
Instead, for a Less than Container Load (LCL) shipment, local rates are based on the volume of the container, per cubic meter. Indeed, the price increase is logarithmic and the shipment of an LCL from 15 to 17 cubic meters costs as much as a shipment of an FCL of 29 cubic meters.
Among other things, you have to consider the port charges that are included in the DAP (Delivered At Place) and in the DDU (Delivered Duty Unpaid) amount from € 100 to € 450.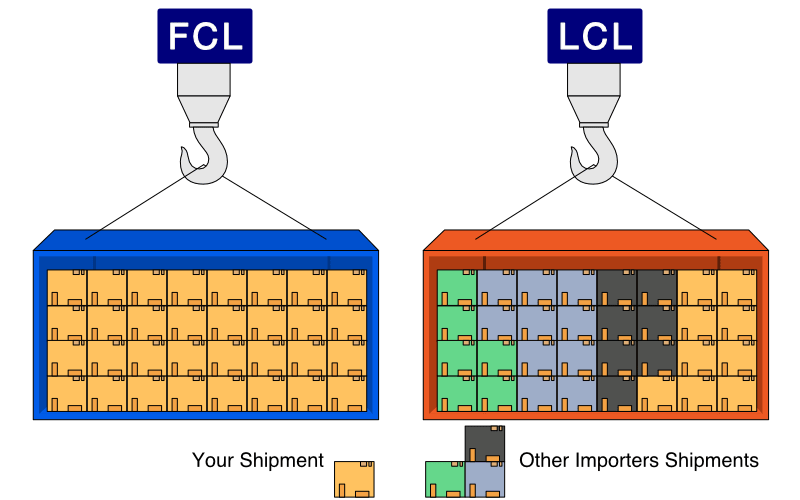 How internal transport is carried out
Internal transport from the port to your warehouse is the final delivery and it can be done by truck, train or a combination of both and the price, as I said before, depends on the distance from the port to your warehouse and therefore I cannot give you any precise prices but I can give you an example of how freight forwarders depict transportation costs.
Example of transport quotes
CFS Fee: $ 69.30
Original documentation fee: $ 30.00
Exempt ENS fees: $ 30.00
Reweighting and shipping costs VGM - LCL: $ 15.00
Export customs clearance fee: $ 23.00
Freight: $ 277.20
Freight insurance: $ 63.15
Destination - Other fees: $ 590.62
This example is easy enough to understand because each item has a fixed cost and furthermore it is noted that the cost of transportation ($ 277.20) is just one of many costs to consider.
Our advice is to always ask for a total DAP or DDU price, based on:
Weight and volume

Loading port

Destination port

Final delivery address
Although the volume and weight of the cargo may change, this will always give you a point of reference and it will be more difficult for your supplier or freight forwarder to add unexpected new costs to you.
Docshipper Tip : As you can see, transport quotes contain a lot of information because, rather than just indicating the total cost, shippers add other information and, furthermore, it is common for shippers to indicate only the shipping costs per cubic meter, so that is difficult for a person who has no experience in the logistics sector to understand. For this, we recommend that you contact DocShipper who has a group of professionals who work in the logistics sector and who help you understand the methods your shipper uses to calculate shipping costs, something that shippers are rarely willing to share.
Why do you need export authorization from China?
To be able to clear the cargo, it is important to have the export authorization from China, also because the Chinese customs authorities, the "海关: Hâiguān", carry out routine checks on about 10% of outbound shipments and if a supplier tries to export products without proper documentation, customs authorities can issue a fine of thousands of RMB.
Export authorization documents are included in the FOB price and are often processed by the supplier or export agent but many buyers think they can save a few dollars by ordering under the Ex Works (EXW) terms, according to which they are the ones who directly buy the customs clearance documents for export from an authorized forwarder or export agent; with a price between € 100 and € 200.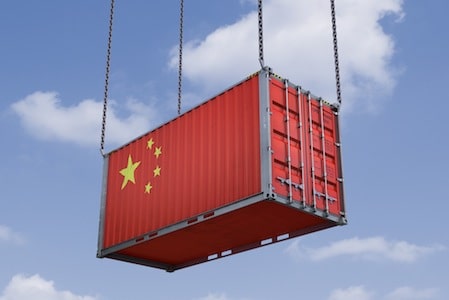 Docshipper Tip : It is faster and with a cost, included in the FOB, from € 100 to € 300, it is also cheaper to let the supplier handle the export authorization and to avoid problems, it is better for the importer to simply stick to the FOB transactions.
How important is it to have insurance?
It's very important to have insurance because without it, the shipper doesn't pay any indemnity in case of damage to the cargo during transport and in addition many suppliers use cheap and low quality packaging and few buyers care to establish specific quality requirements or even to check the packaging before shipping to avoid damage to the goods. So it's better to pay a small sum for insurance than to risk losing a large sum of products.
What is the most used insurance?
The insurance most used by shippers is Ping An which insures the transport, and charges 0.02%, based on 110% of the FOB price. Assuming you buy $ 50,000 worth of goods, the insurance will only cost you $ 110.
The cost of insurance is included in the CIF (Cost Insurance Freight) and to calculate it you have to do: 0.2% x 1.1 x value of the cargo.

DocShipper info : The refunding requests are simple enough to be presented because the insurance company is generally required of photos and a document listing the amount and value of the damaged goods.
What expense does the buyer have to pay?
Another expense payable by the buyer is the delivery of the documents, he or she has to send such as delivery of the bill of loading, commercial invoice, packing list and other required documents such as module A or the certificate of the country of origin.
What do American companies that import from China have to pay?
American companies that import from China or elsewhere must pay and obtain a customs bond before the cargo arrives at the port of destination, especially if the goods are worth more than $ 2,500.
So, if the goods are worth more than $ 2,500, the US importers must have the customs bond and if the value of the goods is less than $ 2,500, the importers can choose whether to import as a formal entry, paying the customs bond, or as an informal entry, therefore without the need to have a customs bond but having to manually send the documents for the registration of the import.
To get the customs bond, you can apply for it to customs brokerage firms, which usually have the option to purchase bonds on your behalf through guarantee companies.
There are two types of bonds:
In single entry

, they are redeemable once and can be purchased for around $ 100 / $ 200

In continuous entry

, they cover all shipments in a year, costing $ 250 to $ 450 and are more useful for importers who import multiple times a year.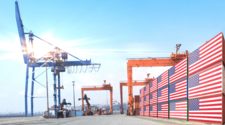 How can I save on transport rates?
Shipping costs are set based on the market price and shippers make a very small profit, as a result it isn't possible to negotiate prices and therefore you do not have to trust a shipper who offers you a much lower price than any other company.
To save your shipping costs from China we recommend:
Group your

LCL

(Less than Container Load)

shipments

into

a single

FCL

(Full Container Load)

Adjust your

order volumes based on container capacity

Favor

sea freight

over air freight
Choose

DAP

or DDU shipping instead of CIF
Optimize the

dimensions of export cartons

and

product packaging

to reduce total cargo volume
What is the cheapest way of transportation from China?
For importers who buy large quantities of goods from their suppliers, the cheapest way to ship products from China is FCL container sea transport because with this type of transport, the more you ship, the less you pay. Conversely, smaller importers are often stuck between LCL transport and air transport and therefore it is more difficult for them to save money.
Do I save money if I ship through my supplier?
Suppliers can, upon request, book and manage the shipment because almost all the producers they work with are already in contact with one or two local shippers. But there is no cost saving as the shipping costs are international but if you ask a Chinese supplier, he tends to offer CIF quotes which do not take into account local charges in the port of destination and which as I have mentioned are often higher than the cost of the transport itself.
If some suppliers that you find on Aliexpress offer you free shipping, you may not be saving money because shipping costs are included in the selling price of the product and shipping is not specified as a separate cost.
DocShipper info : Shipping charges may vary daily or weekly and as a result, shipping quotes expire quickly, due to the volatile nature of the international freight market.
FAQ | Everything about shipping costs for importing from China
What are the FOB conditions?
FOB is the acronym for Free on board, it is a condition used in international transactions, in which the sale price of the goods also includes the expenses incurred by the exporter up to the boarding of the same on a carrier, but not the costs of transport to the port of destination which are therefore the responsibility of the importer.
What is the difference between FCL and an LCL?
The acronym FCL (Full Container Load) indicates a full load having a single shipper and, usually, a single consignee. Instead, with LCL (Less than Container Load), we indicate a shipment in which various shippers send goods to the same destination, each with a different final recipient.
What is the DAP?
DAP stands for Delivered at Place and is a clause that includes export customs clearance, transport and local charges at the port of destination. Therefore, it is the best Incoterm, as it includes all shipping costs. To be able to check the process in China by confirming all costs before the goods arrive, we recommend that you purchase under your supplier's FOB terms and then order DAP shipping from your forwarder.
What is the CIF?
CIF stands for Cost, Insurance and Freight and is a clause whereby the seller puts the goods on the ship, with freight and insurance paid up to the port of destination agreed with the buyer, who assumes all subsequent costs and risks of unloading the ship, customs and transportation. Thus, the CIF does not include the charges of the port of destination in the buyer's country. The problem with shipping in CIF terms is that you don't receive local charges until the goods have arrived at the destination port. At this point, it is too late to find other options or negotiate the price which are often counted in the hundreds of euros, especially when shipping LCL. In fact, local charges often exceed the shipping costs themselves.
Can you be scammed about shipping costs?
Yes, as in all areas of commerce, you can be scammed regarding transport costs and indeed, we advise you to pay attention to 'shippers' who claim to offer transport rates lower than the current market price because, as I said before , the transport costs are set based on the market price so it is impossible for him / her to offer you a low price compared to others. To make sure you choose a good forwarder and not a scammer, contact DocShipper who, thanks to a group of professionals, will accompany you in your choice.
DocShipper info: Do you like our article today? For your business interest, you may like the following useful articles :
DocShipper Advise : We help you with the entire sourcing process so don't hesitate to contact us if you have any questions!
DocShipper Sourcing | Procurement - Quality control - Logistics
Alibaba, Dhgate, made-in-china... Many know of websites to get supplies in Asia, but how many have come across a scam ?! It is very risky to pay an Asian supplier halfway around the world based only on promises! DocShipper offers you complete procurement services integrating logistics needs: purchasing, quality control, customization, licensing, transport...
Communication is important, which is why we strive to discuss in the most suitable way for you!