Now imagine that you need to buy your nephew a toy car in a market, or a store near your apartment. How much does it cost? Normally it's like $20 or above. However, if you are going to get 100 toy cars, the price can be negotiable and it's definitely less than what we have suggested. Why? That's the advantage of bulk purchasing. Imagine if you can save only 20 cents daily, then that will be $73 in your bank account per year. Here we have the best place for your buying in bulk which can save you a huge amount of cost- Yiwu Wholesale Market, which basically a place resembles Alibaba, offering the lowest price but in the meantime, you can really feel the quality of the products offline by yourself.
Where is Yiwu?
Yiwu, located in the central of Zhejiang Province, which develops from originally an agricultural city to a commodity market place. Due to the central location, Yiwu is simultaneously a distribution center of Zhejiang, whose amount of foreign trade accounting more than 15% of China.
What is Yiwu Wholesale Market?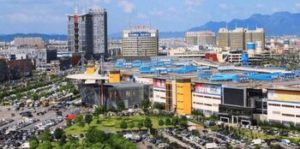 Yiwu Wholesale Market is like an Everlasting Commodities Fair and at the same time the largest export center in China. All over the world, there are around 500 thousand types of products, more than 300 thousand are from Yiwu, which covers sports goods to toys, etc. In Yiwu Wholesale Market, the goods are cheap and it has everything you desire. It's secret to success is the Low Price Strategy.
The history of Yiwu Wholesale Market
Feel free to skip this part if you are not a history person, but, knowing it better will make you deal with your business better there right? We will share the history of different stages of Yiwu as a person who born there for you to get familiar with this city.
DocShipper Advice : You should always keep in mind that DocShipper will always work on optimizing the logistic processes in order to maximize your results, your costs and will also support you throughout the purchasing process: supplier research, negotiation, quality control.
The First generation of Yiwu Market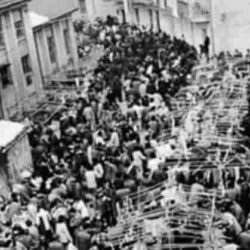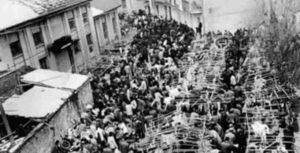 Yiwu Small Commodity Market originated in the late 1960s. As the Reforming and Opening-up Policy in China begins, the small commodity market started to spring up in Yiwu. In the special era, under the contradiction between the superior's order to prohibit, ban, and semi-legal "exchanging candy for chicken feathers" and the need for the existence of the market, wholesale and retail seasonal market was quietly born. In 1984, the turnover of this market reached 24 million RMB, and the goods were mainly sold to the counties and cities around Yiwu.
The second generation of Yiwu Market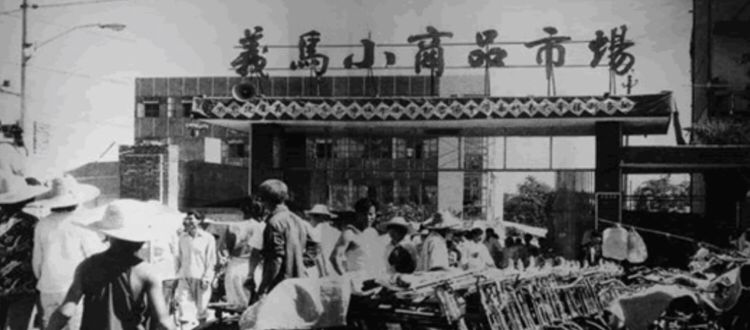 Along with the development, the need to expand the market has increased greatly. After the second generation market opened, nearly 2,000 stalls were quickly set up and more than 10,000 people came to trade in the market every day, among which more than 60% were not local people and there was an endless stream of applications. At that time, no matter the popularity, fame, information, or traffic, the local and Yiwu commodity market are beyond comparison.
In 1986, the turnover of the Yiwu market exceeded 100 million RMB, and the range extended from the surrounding counties and cities to the province and beyond.
The third generation of Yiwu Market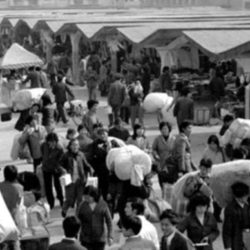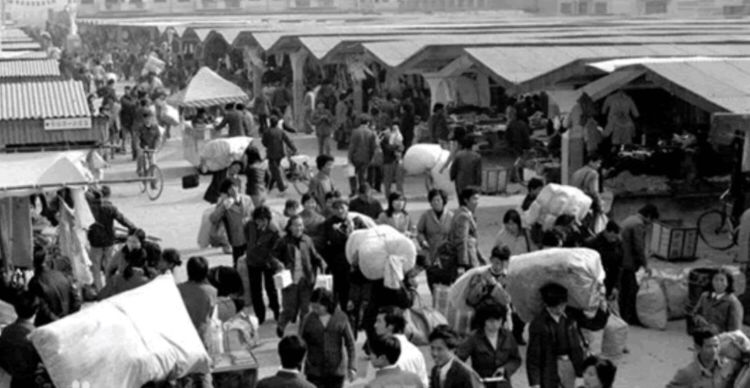 In the third phase, there was a question of whether to continue to expand the market or to retain agriculture. In the end, a compromise was reached, and the market broke ground in December 1985, and by mid-September 1986, a large market was completed with a railway station platform, covering an area of 44,000 square meters, 4,096 stalls, and a total investment of 4.4 million yuan, which could accommodate 30,000 people trading on the site.
In 1991, the turnover of the Yiwu market exceeded 1 billion RMB.
The fourth generation of Yiwu Market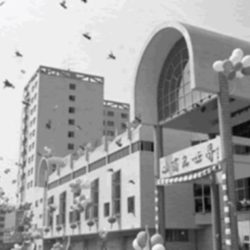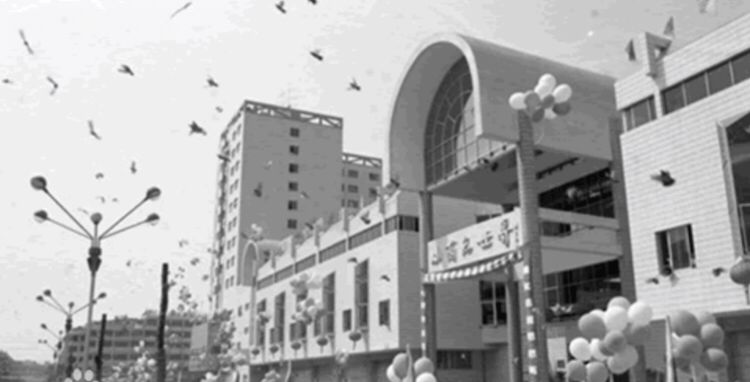 Yiwu fourth-generation market was organized in 1990, construction began in 1991. On January 17, 1992, it passed through the handover inspection and acceptance, with the ability to arrange 7100 stalls. So far the construction area of the Small Commodity City has expanded to 228,000 square meters and the number of stalls increased to 23,000.
In 1992, the turnover of China Commodity City was 2.1 billion RMB, in 1993 it was 4.5 billion RMB, in 1994 it soared to 10.21 billion RMB, and in 1995 it reached 15.2 billion RMB.
Yiwu Market in China
The foreign trade export rate of commodities is over 60%, more than 90% of the business seats undertake foreign trade business, and the commodities are sold to more than 140 countries and regions. This place is definitely friendly for business people all over the world. Before you are going, check our pre-planned suggestions to know more about your trip.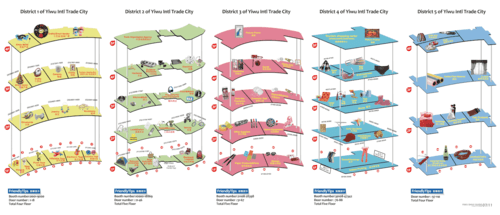 YIWU international trade market district 1
F1: Artificial Flower / Artificial Flower Accessory/Electric toys / Plush toys / Inflatable toys /Electric Toy
Flower accessories / Annex building (Toy/ornaments/craft)
F2: Hair Ornament / Jewlery
F3: Festival Crafts / Decorative Craft / Ceramic Crystal / Tourism Crafts / Photo Frame / Jewelry Accessory
F4: Hall of Taiwan Merchants / Factory Outlet
YIWU international trade market district 2
F1: Rain wear / Packing & Poly Bags / Umbrellas / Suitcases & Bags (Schoolbags)
F2: Lock / Electric Products / Hardware Tools & Fittings / Vehicle
F3:Hardware Tools & Fittings / Home Appliance (Shaver) / Electronics & Digital / Battery / Lamps / Flashlights / Telecommunication Equipment / Clocks & Watches
F4: Hongkong Hall / Sichuan Hall / Korea Hall / Hardware & Electric Appliance / Electric / Quality Luggage & Handbag / Clocks & Watches
F5: Foreign Trade Organization Agency / Roof Parking Lots / Foreign Trade Company
YIWU international trade market district 3
F1: Pens & Ink / Paper Products / Glasses
F2: Office Supplies & Stationery / Sports Products / Stationery & Sports
F3: Cosmetics / Mirrors & Combs / Zippers & Buttons & Clothing Accessories
F4: Cosmetics / Stationery & Sports / Zippers & Buttons & Clothing Accessories
YIWU international trade market district 4
F1: Socks / Indoor Parking Lot
F2: Daily Consumable / Hat / Gloves / Other Knitting Products
F3: Towel / Wool Yarn / Necktie / Lace / Sewing Thread & Tape
F4: Scarf / Belt / Bra & Underwear
F5: Tourism & Shopping Center / Factory Outlet
YIWU international trade market district 5
F1: Imported Products / African Products / Jewelry / Arts & Crafts Photo Frame / Consumer Goods / Foods
F2: Beddings
F3: Towel / Knitting Material / Fabrics / Curtain
F4: Auto (motor) Accessories
Secrets you need to know about Yiwu Wholesale Market
Tip 1: Only 20 or 30 percent of the shop owners in Yiwu Wholesale Market are direct factories, the left 70% are trading companies. What is the difference between them? Trading companies purchase from the factories as well then sell the products to you. So making a distinction between these 2 types will save you a sum of money.
Tip 2: Since there are like 5 zones in the Wholesale Market, each of them has around 5 floors, there are thousands of suppliers. Importantly, most of them sell the same type of products on one floor. Therefore, there is one phrase called "Price Transparency". Basically, they sell the products at the same price - beyond or lower but not that much big difference. Don't cut the price too sharp when negotiating with the suppliers, because they might think that you are not a serious buyer.
Tip 3: As the name suggested, it's a wholesale market. Therefore, there are requirements for the minimum order quantity, which shouldn't be less than 100-200 pieces per product. The more you buy the more benefits you are going to enjoy. Show the suppliers that you are serious and they will make this deal with you sincerely.
Tip 4: This Yiwu Wholesale market is like a permanent showroom in China of small commodities, and it opens all year long including all the national holidays. One exception: they will close at Chinese New Year, around the month of January to February. For example, this year, it's January 25. So pick your time and go there.
Tip 5: Notice that the products in Yiwu Market are not all produced in Yiwu, for example, there are some electronic products produced in Guangdong or Shenzhen. If it really matters for your business, chat with the suppliers, and know more information about the products as much as you can.
DocShipper Advise: You don't have to worry about your logistical routing and the conformity of your electrical products, you can count on our 3PL (Third Party Logistics) to handle the entire process safely. Do not hesitate to contact our agents!
Special Notice for Covid-19
It used to be a place all over the world, however, due to the global pandemic, it might be hard to come to China by yourself. If you need any help from our side, we can contact you directly with suppliers in Yiwu whom we have worked with. Docshipper has staff who are proficient in Chinese/English/French, which will really save you tons of trouble and 14 days quarantine in Chinese hotels.
Regulations concerns when importing from Yiwu
Regulations in the USA
Along with the trade war between China and the USA, you need to take into consideration the regulations when importing from China. There are 2 basic certificates and regulations you need to take care of.
CPSIA: It's a framework regulation that applies to toys and children's products. Including the products that are marketed towards those appropriate for children aged below 12 years old.
FCC: The Federal Commission of Communications (FCC), it regulates communication devices and electronic devices that are going to be sold in the USA.
Regulations in Europe
There's one specific mark you ought to have or your products might be denied entry to the European market. It's a CE label. Remember to check with your suppliers about the label of their products before importing them.
CE: The CE label is used for protecting consumer health, the environment as well as supply chain safety. Industries requiring the CE label are, which means you have to be careful about the following industries when importing: EEE(Electrical Equipment and Electronics)/ Children's toys/ Machinery
Regulations in other countries
The regulations in countries might vary from each other, but there are basic documents you need to fill in for customs clearance. Check our guidelines for you about them and make your shipment smoother:
Bill of Lading: The bill of lading is used as the basis for handling the rights and obligations of both parties in the transport between the carrier and the shipper. It includes all the information such as The name of the carrier; The name of the bill of lading; B/L No. of B/L.; Shipper; Consignee and etc.
Packing List: A packing list is a document that supplemental to an invoice. It lists the items agreed upon by the buyer and seller in a letter of credit (or contract). The details of packaging matters for the foreign buyer to facilitate customs inspection and verification of the goods when they arrive at the port of destination. It can usually be added to commercial invoices, but where a letter of credit specifically requires it, it must have complied with the L/C.
If your destination countries have other requirements, don't hesitate to contact us for helping. Docshipper has already assisted thousands of people who has been dealing with importing business, we can give you the most accurate guidance.
YIWUGO.COM online
It's a rather hard time traveling. As you know, the global pandemic stands in our way to go to China and join the everlasting exhibition. Here we present you another way to choose your products and suppliers among 75,000 suppliers - Yiwugo.com. You can shop like in Alibaba.com and in 1688.com as you wish, which saves you a lot of difficulties amid what happening right now.
Product Section
Firstly, this website is in English, so you don't need to translate or use Google extensions or anything like that. Just click the website you can enter the Product Section.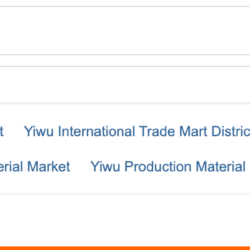 There are more than 5 districts than what we have mentioned above and in total there are 1,812,772 types of products in YIWUGO.COM. It might satisfy your needs the same as you go to the local market.
Let's try "toy" here: 92,849 products found and some of the prices are listed directly while most of them say "Price Negotiable", which means that the price can be changed if your quantity of the order is high. However, don't make the price too low, or they might think you are not a serious buyer.
Here is a tricky thing about the price tag here. It's really competitive for the suppliers on Yiwugo.com, so how do they attract your attention? Let's just say, some of them will put the price really low in the price tag in order to attract you and when you talk with them, they will inform you of the right price.
Supplier Section

And you can go to the supplier's section as well. The best idea is to find suppliers who really specialized in the exact kind of commodities you need, which makes the quality and price more competitive than those who deal with all kinds of products.
For some of them you can see the panorama of the whole store and the left side will be the contact details of the suppliers, don't hesitate to just go ask. The best thing here is, they will put their location in their store introduction, so you can take notes down and if you can go to the Market one day, just check the ones you want to visit less you might miss them.
DocShipper Advise: You can count on DocShipper if you're in need of any packaging and protection service to relive. Do not hesitate to contact us.
Comparisons with Alibaba.com and AliExpress
Alibaba.com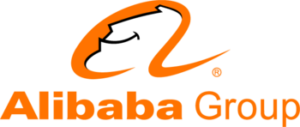 Aliexpress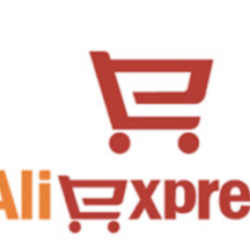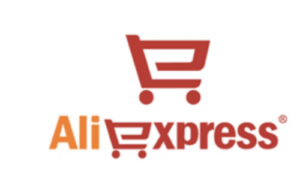 Yiwugo.com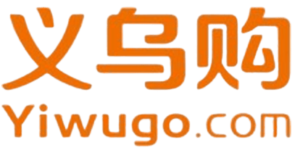 Value of MOQ: $500-$5,000
Language: Most of the suppliers use Wechat/Email/Skype for chatting and they can speak English.
Payment: Credit Card and Wire Transfer(take care of the scams)
Value of MOQ: $5-$100
Language: some of the suppliers can speak English through E-mail/ Skype.
Payment: Mastercard, Pay pal, Visa
Value of MOQ: $100- $300
Language: Most of the suppliers don't speak English, better to get an agent like Docshipper who has staffs are native speakers of French/English/Chinese to help you out with this.
Payment: They only take RMB, the suggestion is to find a trustworthy agent who can deal with this payment to transfer the money for you.
What are the pros and cons of the world's biggest trading market?
Pros
It's rather cheap and most of the products you import from China probably from this Market. Secondly, you can go to the local market to feel and touch the products less the scams happened. Lastly, it only requires a low MOQ for the number of your products.
Cons
Most of the suppliers speak no English, you might need a translator to go with you. The suppliers won't arrange shipment for you either, you have to find a trustworthy shipping company by yourself
The good news is that all the cons can be turned into Pros if you get a professional agent for helping you from the sourcing side to shipping. That's what Docshipper does: We have solved thousands of clients' obstacles when dealing with importing from China. Come to us and you won't regret it.
How to deal with Yiwu Market Suppliers?
If you are going there in the local market, we have 3 suggestions for you:
Have a target
There are 5 districts which 4/5 floors in which, so you should have your target before you go there. Find your target suppliers before on YIWUGO.COM, so you won't miss anything when you enter the huge market
Make notes
After you go through the booths of the suppliers, write down the details of the shop and note the district then take a picture with the photo of the booths so you can find them when you intend to come back.
Visit the factory
Try to make sure that he is a factory instead of trading companies who sell you as a middle man. If he agrees, since you are in China, leave aside more time to visiting the factory by yourself, which will save you a lot of trouble in the future.
FAQs How to find suppliers from Yiwu Market
🧐 What is Yiwu Wholesale Market?
Yiwu Wholesale Market is the largest export center in China and it's like an permanent exhibition show. There are around 500 thousand types of products worldwide, however, more than 300 thousand are from Yiwu.
🙅🏻 How did Yiwu Wholesale Market run successfully?
In Yiwu Wholesale Market, the goods are cheap and it has everything you desire, which covers from sports goods to toys, etc. in 5 different district with 5 floors of each of them. It's secret to success is the Low Price Strategy. The price is even cheaper than Aliexpress and 1688, since most of the products you import from China comes from this market.
🤷🏻‍♂️ What is the difference between Yiwugo.com and Alibaba.com?
For Yiwugo.com the value of MOQ is $100- $300, while in Alibaba it's $500-$5,000. Therefore if you want to try your first trial, better go Yiwugo.com, which will save you good amount of money. In addition, most of the goods in Alibaba.com are bought from Yiwu market. Lastly, Yiwugo.com has bricks and mortar store in Yiwu, you can go and feel the products offline then buy it.
🥇 How can Docshipper help you?
Most of the suppliers don't speak English, if you are going to there offline, remember to take a translator for better negotiation. And they don't arrange shipment as well. Docshipper can help you with the language barrier, since we have staff of Chinese/French/English native speakers; we can help you with sourcing side, based on our previous experiences, we know which supplier in the specified area will be the most suitable one for you; and we have our professional shipping department, offering you door-to-door delivery and get all the documents problems done.
DocShipper info: Do you like our article today? For your business interest, you may like the following useful articles :
DocShipper Advise : We help you with the entire sourcing process so don't hesitate to contact us if you have any questions!
DocShipper Sourcing | Procurement - Quality control - Logistics
Alibaba, Dhgate, made-in-china... Many know of websites to get supplies in Asia, but how many have come across a scam ?! It is very risky to pay an Asian supplier halfway around the world based only on promises! DocShipper offers you complete procurement services integrating logistics needs: purchasing, quality control, customization, licensing, transport...
Communication is important, which is why we strive to discuss in the most suitable way for you!