This month, the world of international trade has once again been very eventful.
The current freight crisis, between shortage of containers and increases in shipping costs, is once again affecting the whole world. 
Between investment from large companies to meet the demand, mass recruitment of large e-commerce companies, increase once again of freight rates, or development of new technology, this month of May will remain a month of note.
In this article, find out everything that happened during this month of May 2021.
Have a nice reading! 
Triton grows container fleet with $2.6B investment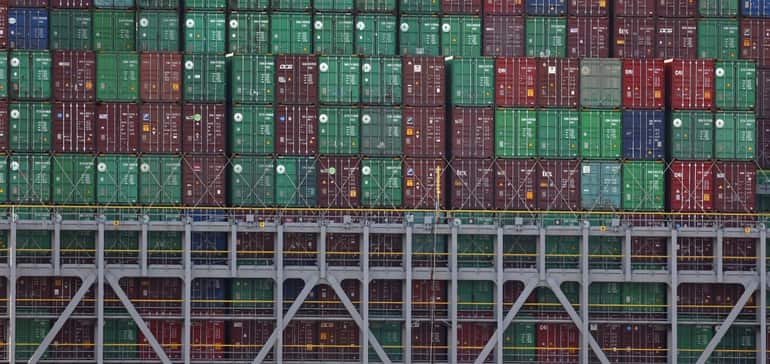 The container company Triton, decided to order around $2.6 billion of new containers representing around 890 000 containers, to help with the containers lacking and are expected to be delivered by July, according to the CEO Brian Sondey.
As logistics providers company are seing their demand for moving inventoryincrease they are also witnessing manufacturers struggling to follow with consumer demand for goods. Thats why after an increasing of ocean carriers as well as freight forwarders activities, company like Triton decided to purchase these containers.
For example, the Port of Los Angeles' import volume is increasing whitout stopping year-over-year until reaching in March 490,115 TEUs - which is 65 percent more than the same month in 2019. And this 2021 March was the busiest month that long beach port ever experienced. The direct effect of this demand was to cause container radical prices jump.
Hapag-Lloyd finally announced last month the decision to order 150,000 TEUs of both dry and reefer containers, as well as 8,000 TEUs of special containers, citing a lack of containers to explicate their $550 million investment.
Prices of the containers should then follow the offer and demand law and so being decreasing.
Port Author
Post source
DocShipper Tip : Interested in our transportation services? You need personalized information? Contact Docshipper, and our experts will get back to you within 24 hours.
75,000 hires announced by Amazon to meet its logistics growth
Amazon has announced that it is recruiting 75,000 workers to fulfill order fulfillment tasks, particularly in the US and Canada. According to the group, there are still many centers to be developed in both countries at the level of logistics execution and this mass recruitment should help meet this growth.
The lucky ones will start with a salary of around $17/hour, not including the promised $1,000 hiring bonus. In addition, each new employee will receive a $100 benefit if they are already vaccinated against Covid-19.
The two axes targeted by Amazon are the development of the execution centers on the one hand but also the delivery stations.
Amazon has conducted intensive vaccination campaigns within its various centers to ensure the smooth operation was very active in its vaccination program, on the one hand through financial incentives such as compensation when hiring an employee, or by offering a vaccination within the logistics centers of 29 states where the group is present. According to Ms. Olsavsky, they have succeeded in vaccinating 300,000 employees.
According to their estimates, Amazon will have 506 delivery centers, or more than 337 opened in one year. The internalization of logistics on which Amazon is banking shows that it is inspired by the model of certain large groups such as FedEX or TNT. The strong increase in the field of e-commerce, strongly linked to the health situation, allows us to envisage an increase in the company's activity and therefore necessarily in its capacities.
The latter would have increased by 50% at the end of 2020 and then by another 50% at the beginning of 2021.
Matt Leonard
DocShipper Tip: You need help with purchasing, quality control, compliance, international transportation, customs clearance or distribution ? Contact DocShipper, and our experts will support you and help you.
A fractured bridgeadded to a closed pipeline led to the supply chain backbone of the nation to be fragilized
This week was marked by a series of problems related to the functioning of the infrastructure in the eastern part of the United States. This week was marked by a series of problems related to the functioning of the infrastructure in the eastern part of the United States. These events contributed to a slowdown in the transportation of goods, which led to an increase in surcharges, proving once again how the different elements of the supply chain are linked and the problems that arise are reflected throughout the supply chain.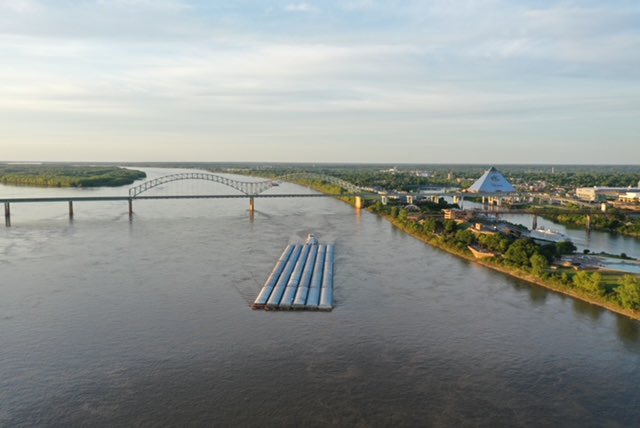 Contractor Michael Baker of the Arkansas Department of Transportation discovered a crack in the Hernado de Soto Bridge on I-40 at a steel support beam over the Mississippi River that poses a real danger.
The I-40 crossing the Mississippi River is an extremely important link in the nation's supply chain, crucial to move goods between the East Coast to the Southwest with over 35,000 vehicles per day. Redirecting traffic onto I-55 is the only solution, even though it already carries 40,000 vehicles per day. Each day the bridge was closed represented a $2.4 million loss to the Arkansas Trucking Association.
But the consequences of this crack have been extended to the maritime traffic passing under this bridge. Indeed, it is not possible to take the risk of passing ships underneath knowing that the bridge is fractured. This waterway represents an important artery of the inland maritime traffic since more than 470323 tons of goods transit under this bridge every day. The barges that bring up and down tons of soybeans, fuel oil and corn have no choice but to transit the Mississippi River since there is simply no alternative to this river. The river was closed for 3 days while experts determined if passage under the bridge would be possible.
Matt Leonard
DocShipper Tip: Interested in our sourcing services ? You need personalized information ? Contact Docshipper, and our experts will get back to you within 24 hours.
FedEx plans to increase surcharges due to the expected peak in June
FedEx is planning to increase three peak-related surcharges on Express shipments in the second half of June. The affected surcharges that will see a price increase are extra handling, home delivery surcharge peak surcharges and oversized shipments will remain unchanged.
The FedEx network, due to very high volume, had to implement these surcharges to facilitate the management of the company's capacity. Of course, this has repercussions on the budget of companies that deal with FedEx.
FedEx's surcharges
Surcharge
Relevant service
Amount
Effective date
Peak Oversize Surcharge
U.S. Express Package Services, U.S. Ground Services, International Ground Service
$30 per package
Jan. 18, until further notice
Peak Additional Handling Surcharge
U.S. Express Package Services, U.S. Ground Services, International Ground Service
$3 per package

$3.50 per package

Jan. 18 – June 20

June 21 until further notice

Peak Surcharge
FedEx Ground Economy Package Services
$0.75 per package

$1 per package

Jan. 18 – June 20

June 21 until further notice

Peak Residential Delivery Charge
FedEx Express and FedEx Ground U.S. domestic residential packages
$0.30 per package

$0.60 per package

Feb. 15 – June 20

June 21, until further notice
SOURCE: FedEx
Of course it would also have an impact on e-commerce shipping costs. Indeed, FedEX is not the only one to have implemented these surcharges since UPS did the same. In fact, they will impose surcharges on international shipments from locations including Hong-Kong, China, Taïwan, in direction of US.
"The lack of competitors delivering parcels in North America (90%+ volume handled only by FedEx, UPS, and US Postal Service) has led to sky-rocketing margins for the carriers, and out-of-control rates for shippers," said Rob Martinez, the founder of Shipware.
Hempstead.
Flytrex now offers drone deliveries in partnerships with Walmart and North Carolina retailers.
After the Federal Aviation Administration granted Flytrex permission to fly over people, the company announced this week in an emailed press release that it was launching its drone delivery program in Fayetteville, North Carolina.
The company will provide deliveries of orders made at Walmart via their own app and will provide delivery by Walmart order to the designated address and will be trackable in real time via phone.
The FAA permit will allow deliveries within a one-mile radius to retailers or individuals, which is just over 2,000 homes in that circle.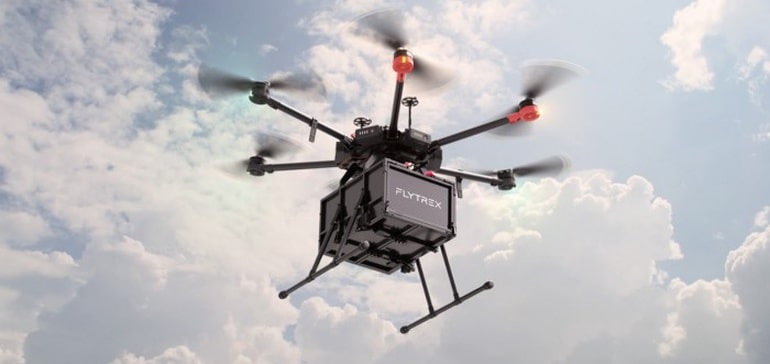 Flytrex's drones are said to be able to carry 2.5kg over a maximum distance of 3.5km, which in reality represents a very large delivery area. This is after an announcement last year by Walmart that it was partnering with Flytrex to deliver household essentials and basic necessities. The targeted customers are primarily those living in homes with enough space to receive the drone without complicated maneuvers. The shipments would then be sent from a specialized shipping platform that is sterility controlled.
The drone will reach the established delivery area and will fly statically over this area before descending only after the recipient has noticed the presence of the drone and has accepted the request by mobile confirmation.
According to the Virginia tech team, the survey they did showed that 87% of the respondents liked the idea, that 89% would use it and that 14% already did it.
Matt Leonard
FAQ | International trade May 2021 News
Why don't we have drone deliveries yet in Europe ?
Due to the governing civil airspace over Europe means the continent is lagging behind the united states and Africa in the race to adopt drone technology. Regulations vary in the bloc between countries and Eu wide rules. Also western airspace is way more busy than the african one so the new expériences concerning use of drones are more keen to be experimented there.
What is an alternative to route I-40 to cross the Mississippi river ?
As the Bridge should receive some new interventions from the workers that are supposed to ensure the safety of the bridge by checking it entirely and fix what's needed, the users might need an alternative to go. The Arkansas I-40 eastbound traffic should take exit 5 to the road interstate 55 to cross the Mississippi river to Memphis. The non-far I-55 Bridge across the Mississippi River to cross into Arkansas and then take Exit 4 to access I-40 westbound.
What will be the effects of the increasing availabilities of containers ?
As we know, the current lack of containers and space on boats made the shipping prices explodes so much that it is sometimes unbelievable to pay so much for a shipping especially when you have experience in the area. Since companies like Triton are buying more containers to respond to the lack of containers, the offer should change and give a bit of a decreasing in the shipping prices, especially for FCL. Obviously as the offer grows the price are decreasing but let's not forget that the demand still grows madly and that the space on the boat isn't fluctuating so much so we shouldn't imagine of getting back to the ancient prices so quick.
DocShipper info: Do you like our article today? For your business interest, you may like the following useful articles :
DocShipper Advise : We help you with the entire sourcing process so don't hesitate to contact us if you have any questions!
DocShipper Sourcing | Procurement - Quality control - Logistics
Alibaba, Dhgate, made-in-china... Many know of websites to get supplies in Asia, but how many have come across a scam ?! It is very risky to pay an Asian supplier halfway around the world based only on promises! DocShipper offers you complete procurement services integrating logistics needs: purchasing, quality control, customization, licensing, transport...
Communication is important, which is why we strive to discuss in the most suitable way for you!