With the massive impact from COVID-19, the global commercial paces haven't slowed down for that, instead, it's a vital point to stand still in the international trade environment and cling to the certainty among the endless uncertainty.
On Sep.4th, the Global Trade in Services Summit of the 2020 China International Fair for Trade in Services(CIFTIS) has been opened under the world's attention. "I hope this will be an opportunity to build a platform and a bridge so that people from all countries can fully demonstrate new developments and breakthroughs in the field of trade in services and jointly enjoy new technologies and achievements in the development and progress of human society." Chairman Xi Jinping said of the significance of holding the CIFTIS.
Undoubtfully, this summit has encouraged and inspired countries that still suffer the strike from the pandemic to focus on the rebuilding of commerce and international relations. What exactly the significance this summit would bring? What does it mean to you and every single practitioner in international trade?
Well, we've summarized and organized the main facts from the keywords from international trade in services,
follow us to find out more!
What is international trade in service?
The World Trade Organization has defined 12 broad areas of trade in services, including business services, communication services, construction and related engineering services, financial services, tourism and travel-related services, entertainment, cultural and sports services, transport services, health and social services, education services, distribution services, environmental services and other services. While in life, the modern world trades in services everywhere! For instance, trade in services permeates every industry and every sector, agriculture, ranching, construction, manufacturing and so on.
Let's see some examples in real life, for instances, spending money to send a box of epidemic prevention supplies to a friend overseas uses postal transport services; going to the cinema to watch an overseas imported film uses entertainment and cultural services; opening distance learning software to learn English from a foreign teacher uses educational services, etc.. Looking from this perspective, you may find it's really connected to your daily life maybe much more than the physical commodities.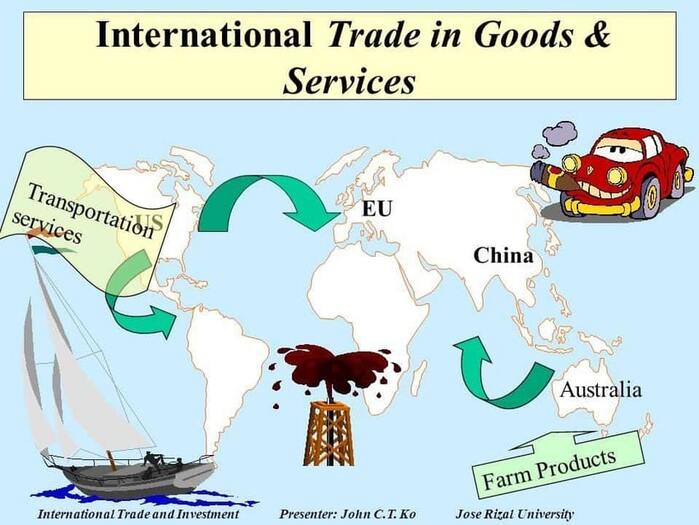 Among all the countries exporting international trade in services, we couldn't ignore China, which presents a huge market opportunity for the global services industry, achieving an average annual growth rate of 9.6% from 2012 to 2019, when global service imports grew at an average annual rate of only 3.9%. China is the largest contributor to global service import growth at 16.8%. It is expected that in the next 15 years, China's service imports will exceed $10 trillion, injecting a steady stream of new momentum into the world economy.
Due to the excellent performance that China's service industry has brought to the benefits of the commerce globalization,  the Global Trade in Services Summit of the 2020 China International Fair for Trade in Services(CIFTIS 2020) will be the indispensable connectivity platform for multicultural and diversified economy to develop altogether.
DocShipper Advice : Remember, The CIFTIS 2020 would be a good opportunity for you to prosper your service business and build partnerships, but never the only chance. If you're a stakeholder in international trade in services, then like Sun Tzu's Art of War said, you'd better know the enemy and yourself, it will get you unscathed through a hundred battles.
Why is it so promising in international trade?
First of all, let's still start with the CIFTIS, as we mentioned before, it could be a boosting accelerator for the economy recovery from countries that still suffer. As the first online and offline major international economic and trade event held in China since the outbreak of the pandemic, the fair attracted 18,000 enterprises and organizations from 148 countries and regions, 100,000 registered exhibitors to participate.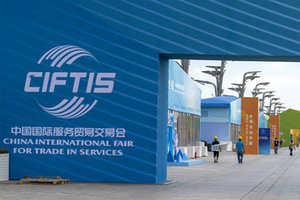 And this happens for a reason. According to statistics, 60 percent of the total output of the world economy comes from the service industry, and service exports, which account for 20 percent of total global exports, contribute nearly half of the added value of global foreign trade. The World Trade Report released by WTO at the end of last year pointed out that trade in services has become the most dynamic component of international trade.
Besides, WTO Deputy Director-General also said that services would be an important area for future economic recovery and that the world needed more than ever to create an enabling environment for trade in services through international cooperation. Under the new situation where traditional trade is transformed into digital trade, the industrial value chain relies more on research and development and innovation, and the investment in intangible assets is increasing, trade is not only about trade in goods, but also about technology, finance, data, intellectual property rights, etc. Trade in services and digital trade are becoming the new engines of global trade.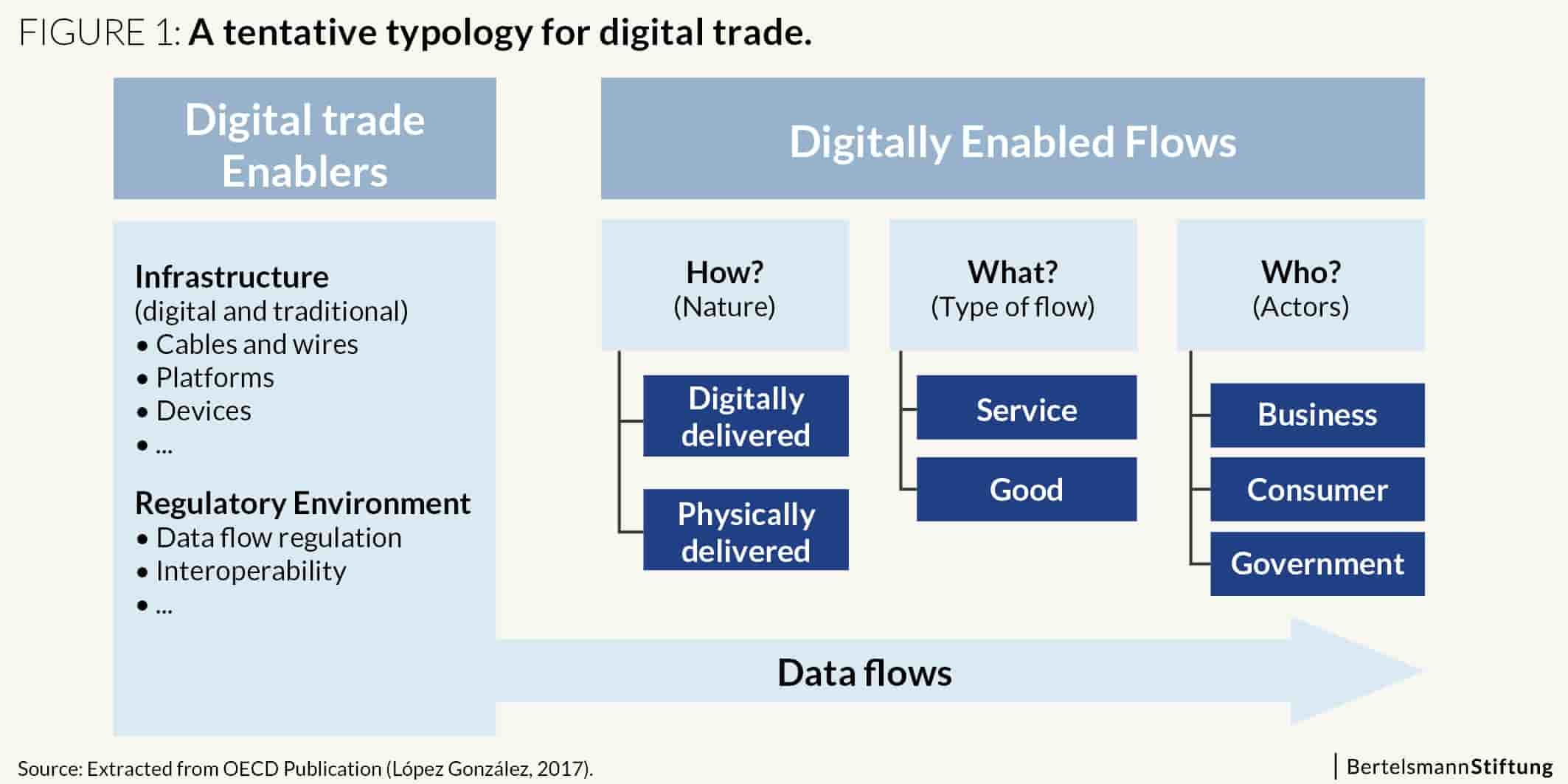 Realistic and urgent demand from international trade stakeholders
Let's take a look at some facts from global economy researches:
Currently, global trading powers, including the United States, the European Union, Japan and China, are competing to shape the future of the digital economy and digital trade. Among the more than 40 multilateral and bilateral regional agreements published by the WTO, 32 agreements have dedicated separate chapters to digital trade or e-commerce, of which 13 involve U.S.-led and 7 EU-led agreements, while other agreements are basically signed between countries or regions that have already signed agreements with the U.S. and Europe, especially in new types of trade agreements, such as CPTPP and TISA, to protect intellectual property rights, cross-border trade, and to promote the development of the digital economy. The free flow of data and the protection of data privacy are key concerns, and countries are playing a new game of big power rule dominance.
Globally, in the era of the services economy, the world needs to work together to create a platform for promoting cooperation in services trade. At present, the value added of the world's service industry accounts for 68% of GDP, and the service industry accounts for more than 50% of world employment. The tertiary industry accounts for half of the stock of international direct investment. In 2019, cross-border trade in services will reach $6.1 trillion, accounting for 24.5% of total global trade.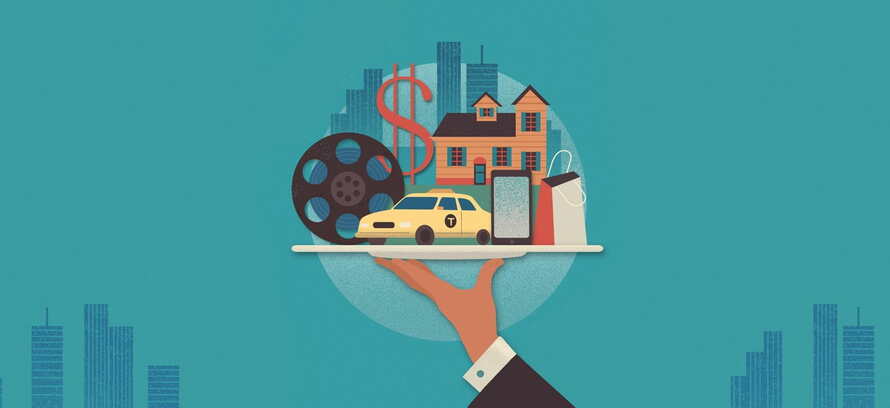 Developed countries are highly competitive in global trade and investment in services and have a clear advantage in developing services trade cooperation. This year's global pandemic has led to disruptions in the movement of people, which has had a greater impact on services and services trade. As developed countries have become more dependent on services and trade in services, the impact of the pandemic on economic growth and employment in developed countries has also become more urgent.
According to the report International Trade in Services 2020 - Quarter 1 from United Nations Conference on Trade and Development, global trade in services has dropped heavily, the demand awaits to be recovered and met.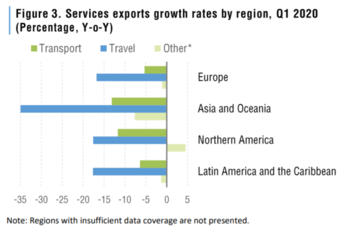 Apparently, as it has shown above from the report, services growth from Asia and Oceania has the most outstanding capacity to be able to meet the service demand from the developed countries.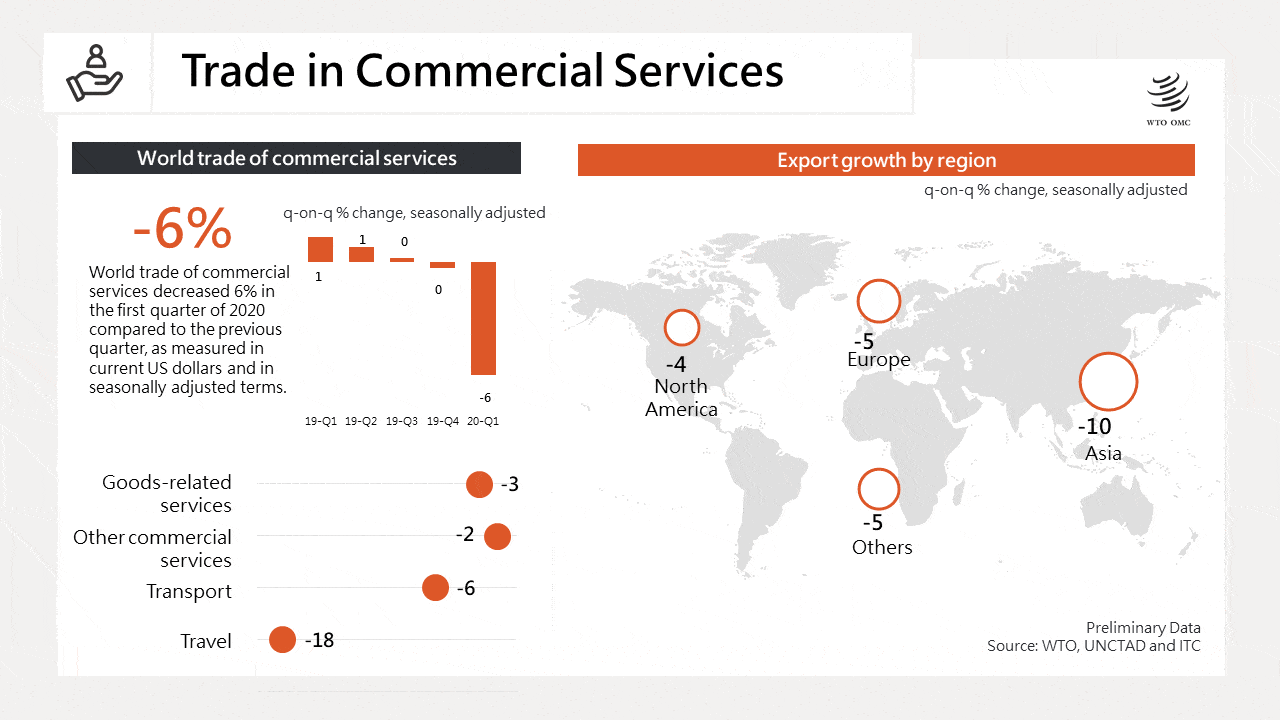 The boosting on digital services trade platforms
It's not recent news that digital services trade platforms are taking a crucial role in people's lives. We've talked about the  Speculated Future Of E Commerce in our previous article before, you have every reason to notice the boosting due to the catalyzing of COVID-19.
Innovation, especially digital technology innovation, is an important force driving the development of trade in services. High-tech modern trade in services is the most dynamic part of the development of world trade in services, and digital trade in services is the new growth point of global trade in services. Digital technology not only drives global industrial change, but also drives the increasing digitization rate of global trade in services. It is estimated that more than half of the global trade in services has been digitized and more than 12% of cross-border physical trade has also been realized through digital platforms. Sharing the global digital dividend is a common desire of all countries in the world. In particular, under the pandemic, the accelerated development of the global digital economy and digital trade will profoundly change the future development pattern of the world industry and trade.
According to an ITC survey, 82% of the 2,200 global small and medium-sized enterprises (SMEs) have successfully expanded their export markets through e-commerce platforms. From the united organizations and governments' perspective, OECD, WTO and IMF have already made their efforts to popularize how to measure digital trade by editing a handbook to cause attention to the majority.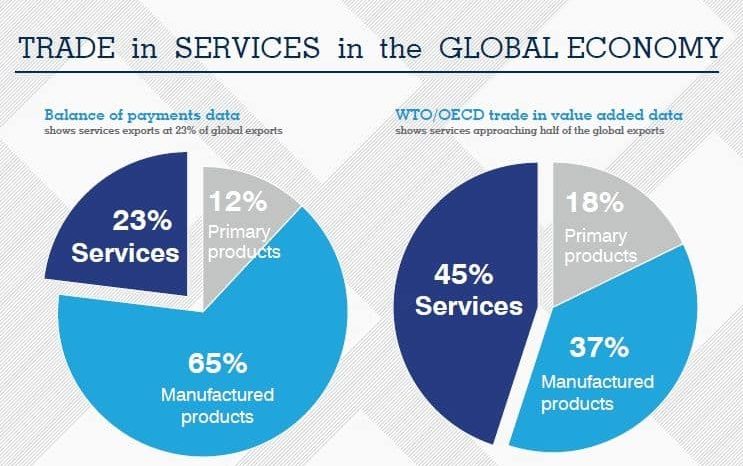 The current trend of digitization, networking and intelligentization has led to the accelerated evolution of the digitization of trade in services, especially during the global pandemic, telemedicine, online education, shared platforms, collaborative office, cross-border e-commerce and other services are widely used.
The heavy dependency from developed countries
In the case of developing countries, changes in the structure of trade in services are basically consistent with changes in the structure of world trade in services, but overall their trade in services still relies mainly on traditional services such as tourism and transport, while new services trade with bright prospects is mainly occupied by developed countries. At present, the service industries in which developing countries have certain advantages are still some labor-intensive projects (such as export of labor services, engineering contracting and some tourism services), while developed countries have maintained obvious advantages in new knowledge-intensive service industries such as finance, information, technology, advertising and consulting. As there is a huge difference in the level of science and technology between developing and developed countries, this imbalance is aggravated by the high degree of informatization and intellectualization of trade in services, and developed countries are undoubtedly the biggest beneficiaries of the liberalization of trade in services.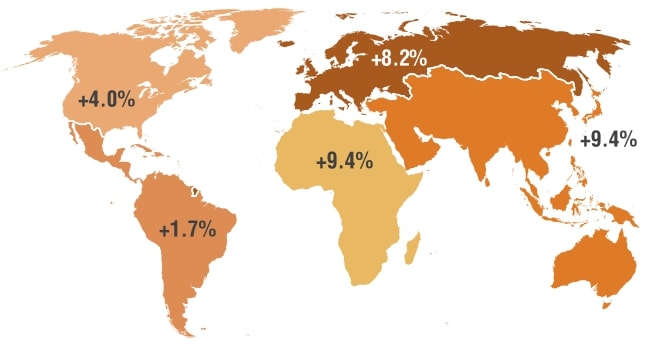 Among developing countries, trade in services grew fastest in developing countries and regions in Asia, slowest in sub-Saharan Africa and intermediate in Latin America and the Middle East and the Mediterranean (see table 10). This growth pattern is closely related to the per capita income levels of the various country groups, i.e. the highest growth is observed in high-income countries and the lowest growth in LDCs. In terms of specific countries and regions, financial services in Hong Kong, and Singapore; construction services in the Republic of Korea; computer software services in India; transport services in Hong Kong, and Panama; and tourism services in some countries and regions, such as Egypt, are prominent.
DocShipper Alert : The consumption behavior of overseas users is changing. In the past, they used to buy necessities locally and used cross-border e-commerce platforms to buy goods that could not be bought locally, but as some local goods were out of stock, users started to use cross-border e-commerce to buy necessities. Check DocShipper to learn more about our services that would make your business functionalities easier.
How do you target your position in international trade in services?
As a service provider
As the lines between the physical store and the digital environment become increasingly blurred, multichannel shopping will become more prevalent. This trend is reinforced by data showing that 73% of customers use multiple channels in their shopping journey.
For the cross-channel community, this means understanding how customers buy, the marketing channels they engage with, their motivations and key drivers. In short, omnichannel shopping means gaining insight into what, where, when, why and how people buy in specific channels.
There are many ways to shop across multiple channels. For example, people can research a product online and buy it in a store, or they can choose to shop online and pick it up in-store. The more channels your shoppers use, the more likely it is that the average order value will increase. For example, shoppers who use more than 4 shopping channels spend an average of 9% more in the store than those who use only 1 channel.
Every touchpoint is important because even if only one piece of the puzzle is missing, it doesn't paint a complete story. Knowing your customers' touchpoints before they buy will give you a better idea of how you should promote your products and allocate your marketing budget.
In 2019, you should be integrating offline and online sales attribution into a single and coherent multi-channel shopping effort. You can create convenient buying touchpoints for customers who conduct online research and then buy offline. You can also adopt a buy online, pick up offline strategy that allows customers to pick up their purchases at a nearby store after they've made an online purchase. This also means that your offline and online data should stay in sync so that you can make faster and smarter business decisions.
As a service recipient
More and more people will choose to shop on social media platforms. With improved social shopping capabilities, social media platforms are no longer just an advertising channel; people can now easily and quickly purchase products on the social media platform of their choice.
Social media channels such as Instagram, Twitter, Pinterest, Facebook, and YouTube have introduced "buy" buttons and significantly improved their social selling capabilities. Instagram, for example, has introduced a "shoppable post" feature and allows businesses to tag products in their posts and use product stickers in their Stories (snapshots).
When people click to see the product tags in your post and the product stickers in Stories, they will see the following.
-Product Images
-Product Description
-Product prices
-Product purchase links
This e-commerce trend has reduced the time and effort shoppers spend on social media, making their shopping journey more efficient. It also allows businesses to make a big push into social media platforms, where they can now create social posts for social selling and come up with more creative ways to use social media platforms to raise awareness.
What kind of challenges you're encountering and will encounter?
Global e-commerce sales have been eating into the global retail market. It has been reported that by 2021, global e-commerce sales are expected to account for 17.5% of total global retail sales.
As we all know, in the U.S. e-commerce market is very large. However, the U.S. market share of the global e-commerce market is expected to decrease by 16.9% by 2020, with one of the main reasons for the decline being the rise of globalization and improvements in technology and infrastructure in non-Western regions.
The shifting focus of the global e-commerce market means that businesses need to take a more international approach to ensure that their business is accessible and convenient on a global scale. Of course, adapting to a global business model doesn't mean you have to establish a physical presence outside of your local area.
What you can do is find trusted partners in countries or regions where demand for your products is high, as in the case of the partnership between food company Mondelez International (whose brands include Oreo and Cadbury) and e-commerce analytics company ChannelSight, which promotes its products to 25 new markets with the latter's help by linking to more than 130 retailer websites.
Interestingly, more and more consumers are looking for goods on foreign websites. It was reported that 57% of online shoppers said they had purchased goods online from an overseas retailer in the past six months.
On a continental basis, the average rate of cross-border purchases by consumers is 63.4% in Europe, 57.9% in Asia-Pacific, 55.5% in Africa, 54.6% in Latin America and 45.5% in North America.
This growing e-commerce trend is also linked to the aforementioned "globalization". In addition to strengthening your global e-commerce operations, you need to invest in infrastructure and technology that will help you adapt more easily to the shopping habits of overseas buyers.
Besides, you have to pay extra attention to B2B market. B2B refers to business-to-business e-commerce transactions. The B2B e-commerce market is expected to be twice as high by 2020 when compared to the B2C e-commerce market.
The B2B shopping experience is much more complex than the B2C shopping experience, and the advantages of B2B e-commerce mean that B2B companies need to improve and simplify the consumer shopping experience and learn from the B2C ordering experience. Due to the nature of the transaction, B2B buyers typically have to go through various steps, including communication, negotiation, and approval with a sales representative, before they can make a successful purchase. In short, B2B e-commerce companies must adapt to more seamless transactions by building advanced quote management, price negotiation, easy order placement, order and inventory management features for the B2B marketplace.
How does Docshipper help you to mitigate the negative impact?
In a nutshell, the biggest concern of yours would be not catching up with the latest trend, and the most important asset would be the prompt collection of relevant information. You may not have the resource or the network to know what's going on recently, and also you would probably have worries when you actually get involved in international trade in services( the biggest part of your business- good service to your clients!), but never forget, you deserve some quality services as well to ease your worries. 
That's what Docshipper specialized in-handle the quality services in your international e-commerce business!
From your import country, let's take China as an instance, where we have a couple of warehouses in main export cities there. No matter you need to consolidate the cargos from different places into one, or separate your cargos to send to several destination ports, we're capable of offering the service in time and with reliable quality.
Don't trust your supplier due to the long distance and first experience? Docshipper has the most competent specialists who can speak Chinese(Mandarin), English and French to help you communicate and coordinate the process from the very beginning till the goods are handed into you.
Always confused by the paperwork especially customs clearance? That's what Docshipper here for! The import certificates, all the regulations regarding your specific products, the latest EU import documents, we'll always know and give you the most complete services. And also, try to have this idea and add it into your mindset: You don't have to know everything, let the professionals do their jobs!
We don't miss the most significant thing: logistics, which will be determined for your business and the feedback from your clients! So we offer the premium service for you, 3PL services for your stock and transportation. We have a warehouse in Northern Italy that allows us to distribute your products at unbeatable prices! (Special E-Commerce) Shelves and references allow us to take care of the entry and exit of your goods (input and output) We establish the level of your stock, which you can consult on the spreadsheet. Indeed, it represents the state of your inventory and can be consulted live. After many years of dealing with Asiatic suppliers, forced to realize that they often do not package your products properly. They wrap altogether. This will affect your product's safety as well as your image. Let us handle this problem for you. Every order will be properly, carefully, repackaged. This step is included in the price of input/output management for maximum efficiency.
Another surprise is, as the growth of your business, you may need to relocate to the country you mainly have business and partners, and we also help you to move! Have you ever been annoyed by the trouble of the handling of luggage, the different transportation? Even the solution to abandon the things you don't need? We will handle your belongings with care and patience to the destination, also the souvenirs if you want!
REMEMBER, you need to enjoy the service only for you first, to serve your targeted service recipients!
Docshipper Tip : Over the past few years, e-commerce personalization has become a huge trend among businesses. Personalization has evolved into a more sophisticated marketing strategy, like we offer the service for you because we know your concerns. So what you need to do to know your clients, is to dynamically present customers with a unique shopping experience that captures their personal preferences.
For all your logistics, do not hesitate to contact us.
FAQ | The promising future of International trade [Survival guide of international trade in services]
🎉How to be more competitive in this international trade revolution?
As above, we've mentioned the personalization of your customers. This is done by analyzing the customer's personal information, which includes demographics, browsing behavior, shopping history, and other data related to the customer's shopping journey. So start with the research!
🌐Does Docshipper offer the service of quality control?
Yes and of course we won't let you down. Not only the quality control in the product and manufacturers, we even put the packaging under control to make sure your products will arrive safe and sound after a long journey.
🌞The CIFTIS has ended, do I still have a chance to embrace the benefits from it?
Never be late to catch a chance to be successful. Contact the suppliers who attended the trade fair, search for more info about the impact and find your reliable source. Besides, there would be always more fairs coming on the way, seize the next chance!
💹I heard about the mobile e-commerce revolution, should I do something to catch up?
Mobile e-commerce is growing in popularity because shoppers want the convenience of not having to go through a computer to complete a transaction; they want the convenience of having it at their fingertips. And with mobile devices, shoppers can now browse, research, and purchase products anytime, anywhere. So the easiest way is to use message pushing for promotion and remarketing. With mobile devices, you can send message pushes to your customers for special promotions or exclusive discounts. In addition, message pushes are useful for re-engaging with customers who are inactive.
🛬Is there any other trend in international trade in service or in E-commerce?
Indeed, it's always updated day by day. Another major trend in the e-commerce world lately is the rise of voice technology. The introduction of voice devices such as Amazon Echo and Google Home have opened up new avenues for people to interact with brands through voice-controlled online browsing. This voice browsing has been widely adopted by consumers and now, voice ecommerce is on the rise as well. Voice ecommerce refers to buyers transacting with businesses through voice-activated devices. This has opened up a new channel for e-commerce companies to sell and grow their business.
DocShipper info: Do you like our article today? For your business interest, you may like the following useful articles :
DocShipper Advise : We help you with the entire sourcing process so don't hesitate to contact us if you have any questions!
DocShipper Sourcing | Procurement - Quality control - Logistics
Alibaba, Dhgate, made-in-china... Many know of websites to get supplies in Asia, but how many have come across a scam ?! It is very risky to pay an Asian supplier halfway around the world based only on promises! DocShipper offers you complete procurement services integrating logistics needs: purchasing, quality control, customization, licensing, transport...
Communication is important, which is why we strive to discuss in the most suitable way for you!