Sourcing products from China on Alibaba can be a cost-effective way to grow your business, but it requires some research and know-how to do it successfully. With a plethora of suppliers and products available on Alibaba, it can be overwhelming when you are a rookie with this e-commerce platform. Therefore, DocShipper Sourcing will explore five factors that assist you in sourcing products from China on Alibaba. You will also discover the sourcing services that we provide.
The ideal time to source products on Alibaba platform
Sourcing products from China on Alibaba can be tricky whether you are a rookie or new to the platform. In order to easier sourcing products and contacts suppliers for information, Alibaba searchers should consider the time frame of the day to contact Chinese suppliers. It's important to note that Alibaba runs on China Standard Time (CST), which is 8 hours ahead of Greenwich Mean Time (GMT+8). This means that if you live in a different time zone, you may need to change your timetable. Suppliers on Alibaba are more likely to respond during their regular business hours, which are typically between 9:00 a.m. and 6:00 p.m. (CST) Monday through Friday.
Additionally, Alibaba's server is already located in the United States. They will have all product data updated every Tuesday at 12PM PST, the product keyword rankings will be updated every Tuesday. So, if you search on Tuesdays, you will get the most recent supplier list ranking.
DocShipper Advice: Looking to source products from Alibaba but not sure where to start? Look no further than DocShipper! Our team of experts can help you navigate the complexities of product research on Alibaba, providing you with the information you need to make informed purchasing decisions. From identifying the best suppliers to negotiating prices and handling logistics, we've got you covered. Contact us today to learn more about our product research services on Alibaba.
Accelerate your Sourcing Process
Sourcing products from China on Alibaba comes with many difficulties from the phase of research, selecting of keywords, or contacting suppliers. We suggest three tricks to help you boost your speed of sourcing. 
Searching with different keywords
It is critical to be aware of potential language obstacles and differences in keyword usage between Chinese and English. For example, a single Chinese term may have many English translations or an English phrase may be translated into different Chinese words depending on the context. Even though Alibaba does support your sourcing with the translation AI, it can be helpful to experiment with different keywords, including synonyms or variations of the search terms. This can help ensure that you're casting a wide net and capturing all relevant results, even if the specific keyword usage differs between languages.
Sort the list
Don't get overwhelmed by how many results are in the product listing. Yes, if you are new to the Alibaba e-commerce platform, you can see up to 10,000 results for one product. Product searching and verification for each one can be time-consuming. Remember, you will need to mainly research more about suppliers instead of products to verify to quality and prices of the sources. You can also use 4 filters that Alibaba offers to extinguish suppliers on Alibaba:
      Golden Supplier:

A "Golden Supplier" is a label given to suppliers who have been verified and authenticated by

Alibaba's

third-party verification service. These

suppliers

are typically considered to be reliable and trustworthy and have a track record of delivering quality

products

and services.
   

  "Accessed Supplier":

a

supplier

who has gone through

Alibaba's

basic verification process, which includes checking their business registration details and contact information. This is a step down from

golden suppliers

, but one thing to remind that you will find better prices and negotiation in this

supplier's category

, in exchange for the risk percentage.

      "Online Now"

are

suppliers

that are currently online and ready to engage with potential buyers. This filter is handy to support you to contact

suppliers

swiftly.
      "Trade Assurance" is a service offered by

Alibaba

that provides buyers with additional protection when making transactions with

suppliers.

When you purchase from a seller who offers Trade Assurance,

Alibaba

will keep the payment in escrow until the goods are delivered, providing you with greater assurance that the products you requested will arrive. You can get a refund or another solution through

Alibaba's

dispute resolution process.
Utilizing these tick boxes will help you find better and more reliable suppliers. Try to contact as many suppliers as you can to compare the offers.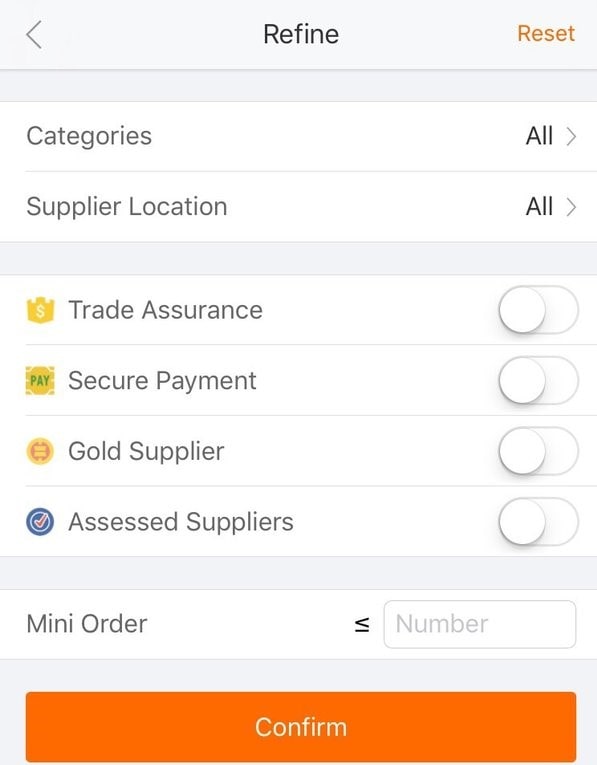 Live chat
As mentioned above, using "Online Now" help you have an easy time chatting with Chinese suppliers. However, it is better to use WeChat to open a conversation with suppliers, especially when you are Chinese. This comes from an observation that if you communicate on WeChat, the suppliers become much calmer and more trusting since we can see each other's personal lives and activities on WeChat at the same time. Don't worry if you don't have or don't use WeChat, suppliers on Alibaba also have WhatsApp and Skype accounts.
The key to sourcing: negotiation, negotiation, and more negotiation!
Bargaining is an essential skill in the world of business, and it can be crucial when sourcing products on the Alibaba platform. Traditionally, we can negotiate several factors around sourcing such as price, quality, customization, minimum order quantity (MOQ), or shipping method. 
The crucial negotiation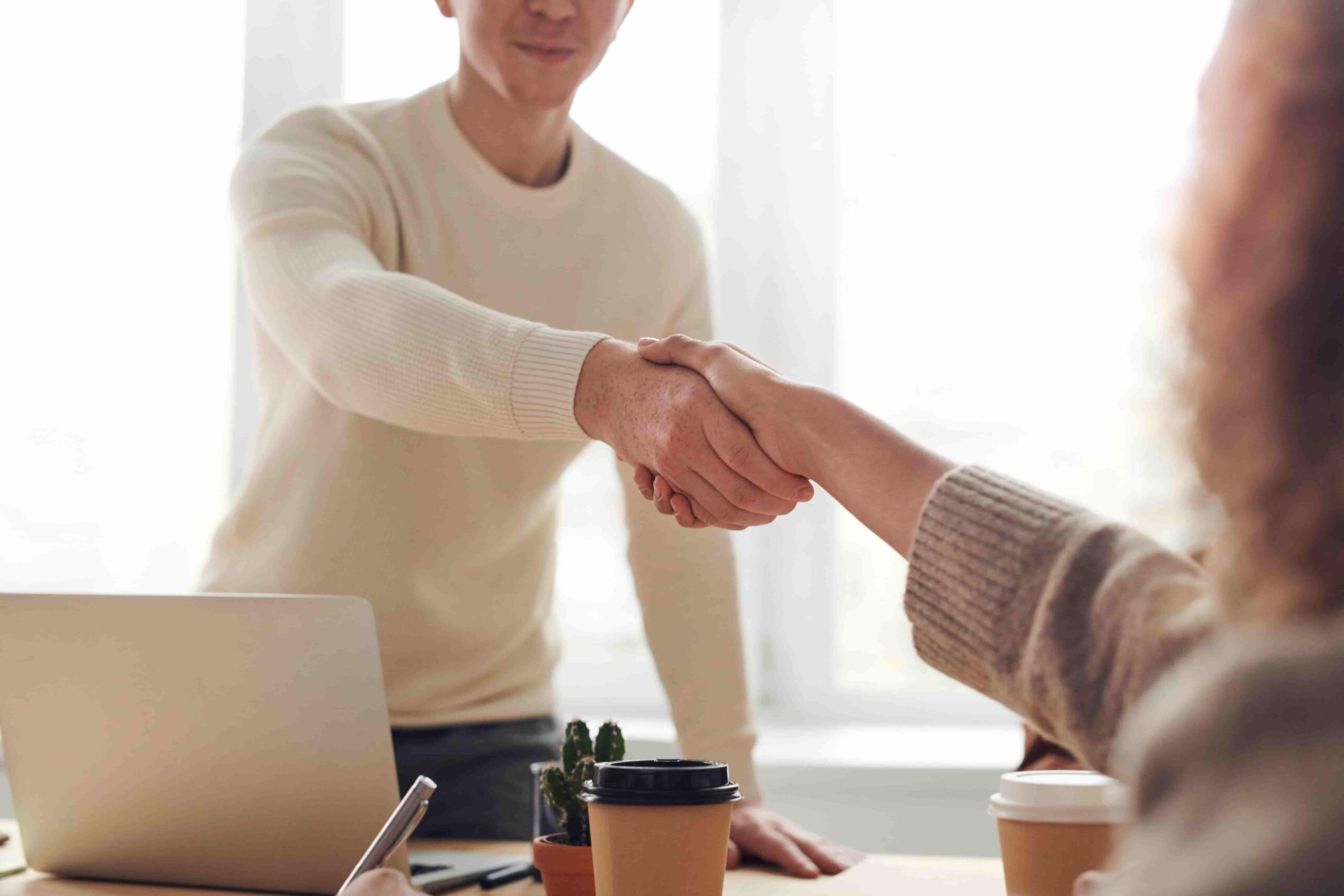 In business, negotiating is a useful approach to increase profitability and boost efficiency. Negotiating is also establishing business relationships with suppliers. Negotiation can help you acquire the best pricing, quality, and communication while buying products from suppliers. By negotiating, you may set clear expectations and quality control procedures to ensure that you receive high-quality items that fit your needs. Negotiation also allows you to be adaptable and flexible, which is vital while doing business in a volatile industry. Finally, negotiating is a critical ability that can assist you in developing solid, long-term connections with your suppliers and achieving success in your business ventures.
Tips for successful negotiating
Comparing prices
Before negotiating the price with the selected supplier for the formal order, always evaluate the quality and prices of different samples. It is recommended that you choose three or at least two suppliers to compare pricing with. Price research and comparison are critical for understanding how costs affect your target products. This will give you a better knowledge of the fair market worth of the goods and help you to negotiate from a position of strength.
Show confidence
Try to impress suppliers that you are a serious client that wants to do business with them. Introducing yourself first and asking common questions about sample availability, price, order lead time, payment and shipping options, etc. This means you try to emphasize the possibility of a long-term partnership, which can bring more business and bigger orders in the future. Show yourself confidence and strength, don't say words like "I don't have a lot of money" or "I'm not sure if the product is going to sell." You can also ask them whether they will be able to cover the sample price after the order has been placed. Some suppliers will cover the cost of the sample for you.
Being reasonable in negotiating
Don't raise the prices too much. With Chinese suppliers, everything is negotiable, including prices, minimum orders, payment terms, and so on. Don't be greedy; stick to the agreement that works for both you and the supplier.
DocShipper Info: Negotiating is one crucial key to communicating with Alibaba suppliers. DocShipper offers negotiating services with Alibaba suppliers for your best deal. Contact us to get support from professionals.
What you see can be deceiving! – always aware of scamming
The counterfeit market is a huge problem for businesses across the globe. The International Chamber of Commerce estimates that the global economic value of counterfeiting and piracy could reach $4.2 trillion by 2022. Alibaba has put efforts to tackle the exchange of counterfeit goods. But it is better to aware yourself how to deal with scamming: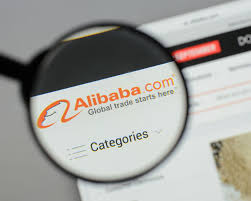 Check company websites
Is there an official website in addition to the company profile page on Alibaba? Reputed suppliers tend to have their own websites for clients to inspect. You can also use Google to see if there is a scam report or comments about their company.
Ask questions
Don't be afraid to ask any query about suppliers or products. This can help you gain trust mutually and put you at ease with the suppliers or the items. For example, if the photographs on the supplier's website are of excellent quality, but you are concerned about receiving a low-quality product, you may request production photos and ask the person you are speaking with to snap a photo of themselves holding the product you wish to order. Continue to follow up, and if the talks become inconsistent or if they do not respond, use your best judgment, and recognize that they are not the proper provider.
Third-party inspection
If you are unable to physically visit the plant in China, it is prudent to hire a third party to perform a pre-shipment inspection, which includes function testing, checking the manufacture, and ensuring that the items are manufactured in accordance with your order specifications. DocShipper is proud to provide you with sourcing services, we offer product inspections and secure the desired quality for your products.
Identify some common scams
It is better to equip yourself with some common types of scams in sourcing on Alibaba. Some common scams are "Cheap" brand products, increase prices when placing orders, high-quality samples then low-quality products, or even fake Alibaba profiles… You can also use filters like "golden suppliers" or "trade assurance" to avoid scam possibilities.
DocShipper Alert: Despite various efforts, scamming through e-commerce platform like Alibaba still happen when lacking real-time quality control and verification, especially if you are sourcing from outside of China. We highly recommend third-party inspection to secure the quality levels, as we also have a branch in China. Contact us to get assistance with your sourcing.
The payment gateway for sourcing on Alibaba
Most Alibaba suppliers accept TT, PayPal, and Western Union as payment methods. Working with suppliers who only take wire transfers puts you at risk of being scammed. Negotiate payment agreements with suppliers and avoid paying in full upfront. PayPal is a popular payment method for customers since it is low-risk and offers high buyer protection. However, suppliers dislike it because of difficulty withdrawing money, high tax rates, and probable chargebacks from dishonest consumers. If a supplier accepts PayPal as a payment method, they are most likely reliable.
Conclusion
To summarize, sourcing products from Alibaba suppliers can be a smart approach to finding high-quality products at low prices. You may boost your chances of discovering reputable suppliers and profitable business partnerships by following these five clever hacks: know the timing to source, boost your sourcing process, try to utilize negotiation, and beware of counterfeit markets and payment gateway. Don't let sourcing activities prevent your business objectives. Therefore, DocShipper Sourcing is a trustworthy partner for all of your sourcing needs. We have the expertise and resources to ensure you receive high-quality products at the best possible prices, from evaluating and selecting suppliers to managing the production process. Contact us to support your sourcing efficiently to save time and money.
FAQ | Alibaba supplier sourcing: 5 smart hacks to source products from China
What exactly is Alibaba?
Alibaba is a popular online marketplace that links customers and providers from all around the world.
What are some common mistakes to avoid when sourcing products from China using Alibaba?
Some frequent mistakes to avoid when sourcing products from China via Alibaba include failing to verify the supplier's credentials, not negotiating the price, not ordering samples before placing a major order, and failing to consider shipping and import costs.
What are some popular payment methods for transactions on Alibaba?
Some popular payment methods for transactions on Alibaba include PayPal, credit cards, and Alibaba's own payment platform, Alipay. Avoid wire transfer or personal account to prevent scams.
How can I verify the credentials of a supplier on Alibaba?
On Alibaba, you may verify a supplier's credentials by checking their Gold Supplier status, reviewing their company license, and reviewing their transaction history and customer comments.
Info DocShipper  : Do you like our article today? For your business interest, you may like the following useful articles :
DocShipper Advise : We help you with the entire sourcing process so don't hesitate to contact us if you have any questions!
DocShipper Sourcing | Procurement - Quality control - Logistics
Alibaba, Dhgate, made-in-china... Many know of websites to get supplies in Asia, but how many have come across a scam ?! It is very risky to pay an Asian supplier halfway around the world based only on promises! DocShipper offers you complete procurement services integrating logistics needs: purchasing, quality control, customization, licensing, transport...
Communication is important, which is why we strive to discuss in the most suitable way for you!
Subscribe to DocShipper's Weekly Newsletter