Alibaba is a popular choice when looking for private-label product providers in China. It presents a broad selection of products sourced from global suppliers, making it a suitable resource for businesses of all sizes. Despite that, Navigating Alibaba can be strenuous since it is necessary to identify and evaluate appropriate suppliers while understanding the complications of Process procurement and negotiation.
That is where Docshipper comes in as your reliable partner. We can guide you through the Alibaba platform, providing expert knowledge to optimize your procurement and import efforts.
In this guide, we will cover various aspects of the Alibaba Group, with a particular focus on identifying and avoiding scams.
At Docshipper, we know how important it is to find trustworthy suppliers to run your business smoothly. This is the reason we are here to provide you with a comprehensive article on Alibaba sourcing. The world's largest B2B e-commerce platform.
We wish you an interesting and helpful reading experience!
What is Alibaba and is it legit? 
When starting your journey with Alibaba sourcing, It's crucial to understand the platform that will become your first step towards a land of products. Alibaba, The world's largest B2B e-commerce business, provides a large-scale marketplace, where suppliers from across the globe connect to display their merchandise. It's a digital marketplace of massive shares, with a broad set of opportunities for businesses of all sizes. 
Overall, Alibaba is a respectable and secure platform for businesses to use. However, you may be wondering, is Alibaba legit? It is critical to remember that, like with any other e-commerce network, simply pursuing Alibaba does not protect you from potential risks. Therefore, it is crucial to take the necessary steps to protect your business from scams. 
After presenting an introduction to the world of Alibaba, let's look at the key steps that will take you through the process of achieving effective purchases on this vast platform.
Buying from Alibaba step-by-step
Buying from Alibaba is a completely different experience from buying from online B2C e-commerce businesses like Amazon, E-bay, AliExpress, etc. Moreover, buying from Alibaba can be time-consuming and overwhelming for those who do not know the pre-defined steps to take. For this reason, here are 10 steps to safely buy from Alibaba:
Step 1: Create and verify your account 
The first step to embark on your journey with Alibaba is to create a buyer's account on their official website.
You will be asked to fill in the following information: 
country/region

Full name

Full name

Email address

Company name

Telephone number 
select buyer as your role, and create a password.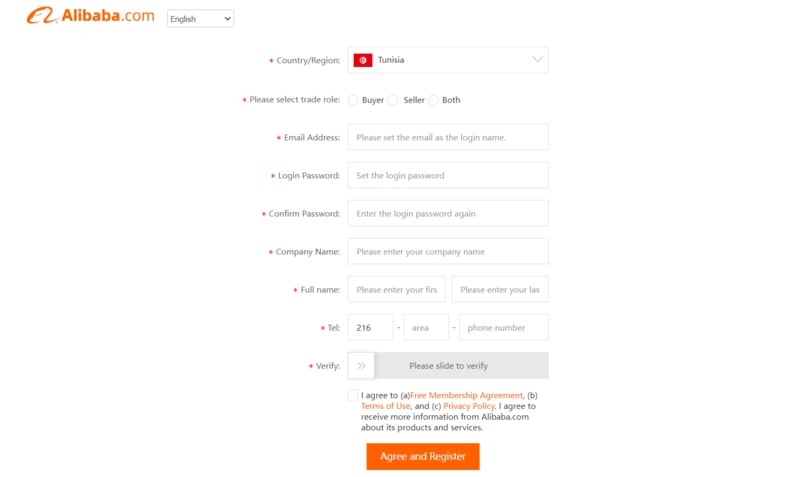 *Note: Selecting "both" means your objective is to buy and sell on alibaba.com
Step 2: Find a supplier or a manufacturer
As we may know, The core aspect of finding suppliers is their reliability. Finding a suitable supplier will increase your sales and will, without a doubt, direct you towards Top-ten items. Being a buyer on Alibaba emphasizes the need to be extremely cautious about suppliers. This is an extensive platform for international trading that doesn't operate like B2C e-commerce such as AliExpress and Amazon. When purchasing from Alibaba, you have to buy large quantities and the suppliers don't have the inventories, they start production once you complete your order. Moreover, there are various small tricks of suppliers that you should be wary of. 
Here are some of the defensive steps that you should follow while searching for suppliers on Alibaba: 
Run research
Run research on your potential suppliers by looking at their company profiles and verifying their export history and credibility to prove their authenticity.
You can use tools such as Jungle Scout, helium 10, and Dropship in order to access suppliers' export history. You may also browse suppliers' reviews on Alibaba.com, this will help you categorize the supplier as reliable and whether their items are worth purchasing. 
Alibaba certifications and badges
Use the Alibaba certifications and badges feature to your advantage. Alibaba offers gold, verified, and trade assurance badges for well-trusted companies. 
Alibaba filter
Use the Alibaba supplier filter feature in order to narrow down your options and find a supplier that matches your specific needs.
DocShipper Alert: Need a reliable supplier manufacturer? We've got you covered. It can be difficult to find the proper supplier, but it doesn't have to be. DocShipper allows you to quickly and simply identify trustworthy suppliers and manufacturers from all over the world. You can save time and money by using our board database of suppliers to discover the best source for your needs. And our skilled team is here to assist you every step of the way. if you are sourcing from China, check out Docshipper's Sourcing and suppliers quotation and Work with dedicated experts. Do you wish to get in touch with us? Fill out our form or call us for free.
Step 3: Communicate with suppliers
When seeking suppliers on Alibaba, effective communication is key. It enables you to establish solid relationships and obtain the information needed to discuss MOQ (Minimum Order Quantity), and costs, and overcome language barriers.
MOQ or, in other words, Minimum order quantity is the quantity of stock required to receive discounted pricing. Lowering pricing for higher volumes is a standard business approach among suppliers.
DocShipper info: Negotiating a minimum order quantity is critical to the economic viability of your business. DocShipper can assist you in efficiently communicating with suppliers and negotiating the best possible MOQ. If You want to get the best possible MOQ and Reduce the risk of any misunderstandings check out Docshipper's detailed Minimum Order Quantity guide. Would you like to contact us? Fill out our form or give us a call for free.
The following are some questions to ask the supplier:
What is your MOQ (minimum order quantity)?

Can you provide me with a product sample before I place a larger order?

What is the product's pricing per unit?

What is the production and delivery lead time?

What methods of payment do you accept?

Do you have any qualifications or badges that demonstrate your credibility and quality?
You can use Alibaba's translation service or consider collaborating with a third-party sourcing company like DocShipper to overcome language difficulties. DocShipper can assist you in negotiating with suppliers, verifying their legality, and ensuring that you receive the supplies you require.
Example of a contact email: 
Dear [Supplier Name],
I hope this email finds you well. I am interested in purchasing [Product Name] from your company and would like to discuss the following:
What is your minimum order quantity (MOQ)?
Can you provide a sample of the product before I place a larger order?
What is the price per unit for the product?
What is the lead time for production and delivery?
What payment methods do you accept?
Do you have any certifications or badges that indicate your legitimacy and quality?
I look forward to hearing back from you soon.
Best regards,
[Your Name]
Request samples 
In order to ensure a safe and efficient purchase from suppliers on Alibaba start by requesting a sample. Obtaining a sample offers buyers the opportunity to:
Quality Verification
Verify the quality of the product that can't be assessed with pictures or descriptions.
Determine any probable issues or difficulties
Even the best providers are capable of making errors. Buyers can uncover any potential flaws by checking a sample before placing a major order.
Confirm that the product satisfies their requirements.
A sample can be used by buyers to confirm that the product matches their exact specifications in terms of size, color, functionality, and other critical elements.
Improve your knowledge of the supplier's capabilities
The manner in which a supplier handles a sample request can reveal important information about their timeliness, communication skills, and attention to detail.
Requesting samples can also help build strong relationships with suppliers and open new rooms for efficient communication. 
In order to request a sample from suppliers, here are some steps you should follow:
Start by introducing yourself and your business before the request to showcase your seriousness and integrity.

Equip the supplier with detailed information related to the product you're interested in such as the product name, model number, and desired specifications.

Consider requesting a sample through Alibaba's messaging service.

Ask about the supplier's sample policy, as well as any expenses related to it.
Email example for a sample request you could send for a supplier:
Dear [Supplier Name],
I hope this email finds you well.
My name is [Your Name] and I am the [Your Title] at [Your Company Name]. We are a [Your Company Description] with a focus on [Your Company Focus].
I am writing to express my interest in your [Product Name] (Model Number: [Model Number]). We are particularly interested in the following specifications:
[Specification 1]

[Specification 2]

[Specification 3]
We are currently in the process of evaluating potential suppliers for this product and are very interested in learning more about your company and your capabilities.
In addition to the above specifications, we would also like to know more about your:
Production lead time

Minimum order quantity (MOQ)

Payment terms

Shipping options

Quality control procedures
We would also be grateful if you could send us a sample of the [Product Name]. We are happy to cover the cost of shipping.
Furthermore, we are committed to building long-term relationships with our suppliers and are confident that we can be a valuable partner to your company.
Thank you for your time and consideration. We look forward to hearing from you soon.
Sincerely,
[Your Name]
[Your Title]
[Your Company Name]
Negotiate terms
Before beginning negotiations with potential suppliers, it is critical to undertake extensive market research on current prices. You'll be able to assess the credibility of suppliers who meet your specific needs if you have a thorough awareness of both the market value of your desired product and the associated manufacturing expenses. Fortunately, Alibaba provides a useful feature in the form of the "latest price" button, which allows you to quickly determine the price currently given by the supplier.
After you've established a list of potential suppliers who fit your original requirements, it's time to initiate contact. Email these suppliers and provide them with a detailed explanation of your requirements, expectations, and any relevant details required for the negotiation process to take place.
When negotiating with suppliers, it's also critical to comprehend major international trade terminologies like EXW, FOB, and CIF. These terms specify the shipping and delivery responsibilities and prices.
DocShipper info: Negotiating Alibaba trade terms (Incoterms) can be a difficult and time-consuming process, but it is essential to get it right to protect your company's interests. DocShipper can assist you in negotiating the best possible terms with your suppliers, allowing you to focus on building your business. Check out Docshipper's Alibaba trade terms to learn more about INCOTERMS. Do you want to know more? Contact us or give us a call.
In case the price negotiation is out of the question, consider negotiating outside the price: such as payment terms, delivery schedules, and product customization.
Furthermore, it is recommended to emphasize the existence of alternative proposals and inform suppliers that you are actively researching other sources. This not only allows you to determine their competitiveness, but it also encourages them to make their best offers.
Once you've successfully landed an arrangement with a supplier, it's critical to put everything in writing. This step is essential in avoiding future misunderstandings or disputes. Clear, defined terms keep both parties on the same page and help to build a strong, dependable business partnership.
Is it safe to buy from Alibaba?
Secure payment 
Reaching the payment section might feel overwhelming, at this point the intensity of fear of scams reaches its peak because you're putting money on the table. But fear not, here's a list of the recommended and secure payment methods available for use on Alibaba:
Trade Assurance
this is Alibaba's most secure payment service that protects buyers from scams. Alibaba holds your payment until you confirm receiving your order in its best condition.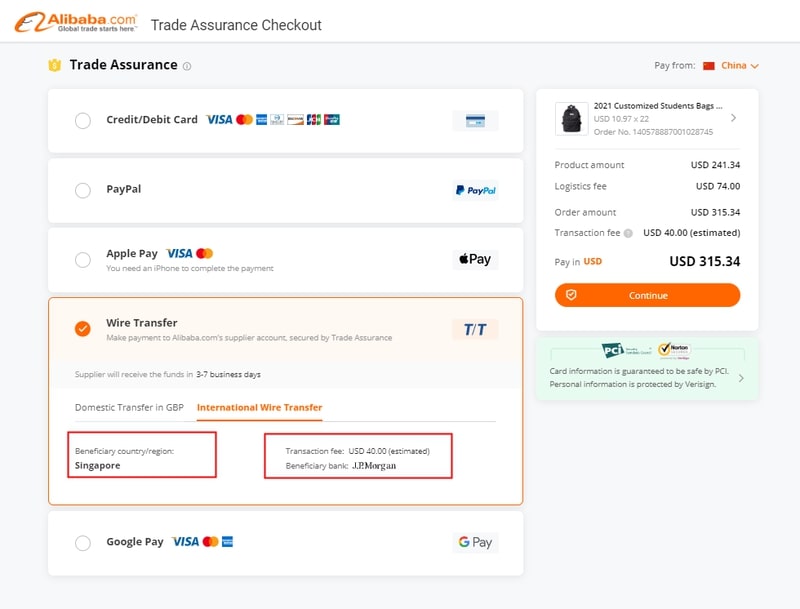 PayPal
PayPal is a well-known online payment facilitator that ensures buyer safety. When you pay using PayPal, you are protected by the Purchase Protection program, which can assist you in getting a refund if you do not get your order or if the item is not as advertised. 
Wire transfer
Wire transfers are payments of cash from one bank account to another. Wire transfers are a safe way to pay for Alibaba orders, although they can take longer than other payment methods. 
Now, it is important to note that there are a few payment methods you should avoid for either lack of protection or being a popular aspect of fraud. Here's a list of payment methods you should avoid:
Western Union: Western Union is an electronic funds transfer service that is frequently exploited in scams. If you are asked to pay for your Alibaba order via Western Union, proceed with caution.

Cash or Cryptocurrency: Refrain from making cash payments or using cryptocurrency in international trade because they lack traceability and security.
Place order 
After choosing your payment method you're ready to place your order, but before that please remember to double-check all the details necessary for achieving the procurement process successfully, such as product specifications, quality, prices, and payment terms. Furthermore, you might need to check if you require any certifications (e.g., UL, CE) or a warranty just to ensure that you comprehend the guarantee policy of the supplier. This consists of the warranty term, the types of problems covered, and the supplier's warranty responsibilities.
Note that it is essential that you stay in contact with the supplier after you have placed your order. This involves keeping track of the status of your order, getting shipment updates, and being prepared to answer any questions the supplier may have.
Quality control 
When purchasing products from Alibaba, keep in mind that you will be dealing with suppliers from all over the world. While many suppliers are dedicated to quality, some may be willing to take shortcuts in order to fulfill price demands.
For that reason, it's not only recommended but in most cases it's necessary to implement a strong and efficient quality control process to successfully validate your procurement process, you must ensure the quality of your order. 
In order to specify the quality of your order, here are a few common measures you may need to be familiar with:
Product inspections
:
Assessing items on a regular basis to ensure they satisfy the quality specifications. Visual checks, measurements, and functional evaluations may be undertaken to guarantee that the products are defect-free.
Testing
:
In numerous situations, specific tests must be carried out on products to ensure their performance and adherence to industry requirements. Depending on the product, this may include testing in the laboratory or on-site checks.
Factory inspections:
An in-depth examination of the supplier's production facilities and processes is especially important when working with new suppliers or for large orders. This guarantees that the supplier can give you the quality you want on an ongoing basis.
Confirm Shipment 
Maintaining a steady line of communication with your supplier after placing your order on Alibaba is essential for tracking the progress of your shipment. This process ensures that your products are sent on time and keeps you informed of any potential delays.
Additional essential steps must be taken to ensure an easy shipment process. First, confirm the shipping method with your supplier,  whether air freight, sea freight, or a shipping company, can have a considerable impact on how your products are transported and associated expenses. 
Furthermore, obtaining a tracking number from the supplier after your products have been shipped is strongly encouraged. This tracking number will allow you to keep track of the progress and location of your freight as it moves.
Finally, confirm the delivery date with the supplier. Having this information at your disposal allows you to prepare properly and ensure that your products arrive on time. By carefully following these steps, you may ensure a smooth and well-monitored shipment process, avoiding any unexpected delays or issues in your Alibaba procurement.
Submit a dispute if the transaction goes wrong 
If dissatisfied with an Alibaba transaction, you can file a dispute using the platform. The method of dispute resolution is intended to assist buyers and sellers in resolving their disagreements.
To submit a dispute:
Go to the My Orders page.

Find the order you want to dispute.

Click the Open Dispute button.

Select the reason for your dispute.

Provide evidence to support your claim.

Click the Submit Dispute button.
When you report a dispute, the supplier is notified and has some time to respond. If the supplier fails to respond within seven days, the disagreement will be sent to Alibaba for assessment. Alibaba will carefully evaluate the issue and make an assessment, which may result in an agreement in your favor, a settlement in favor of the supplier, or a partial refund.
You should also be familiar with NCOterms (International Commercial Terms), which are a set of norms that outline the responsibilities of both parties in international trade. INCOterms can be useful in resolving disputes since they can help define who is responsible for issues like damaged products, delays, or conflicts that occur during the shipment process. Understanding your rights under INCOterms is a critical component of protecting your interests during international transactions.
6 common Alibaba scams you should be aware of
After breaking down the steps of the Alibaba purchase experience, we get to the part where questions about scams arise. If identifying scams was as easy as how do people still report such cases all the time?
So if you would like to learn about the various scams that you might encounter during your purchase stay focused.
Falling for scams is a common unfortunate event that may occur to any buyer, especially those who aren't familiar with Alibaba's platform.
This is a very serious concern, Nevertheless, just like any other issue, there are always tips and tricks to avoid scams.
Here's a list of the top 7 Alibaba scams:
*Please note that these aren't scams done by Alibaba as a company but by suppliers on the Alibaba platform
Alibaba-branded products
Alibaba-branded products tend to be fake. These are imitations that are offered without a license from the brand. To avoid this kind of scam, it is vital to be aware of the following:
Branded products can only be obtained from the brand's official partners or authorized retailers.

If a product is being sold for much less than the retail price, it is most certainly fake.

Suppliers who refuse to share information about their products or sourcing processes should be avoided.

If you have any doubts regarding the reliability of a product, you can contact the brand directly.
The use of fake certificates scam
As mentioned above selling branded Items requires an official license, which leads us to the next type of scam. Alibaba scammers often resort to the use of false certificates scam. In this scam, the supplier will present the buyer with forged certificates to prove that their items fit the buyer's requirements. These certifications could be falsified or issued by non-accredited entities.
Payment Scams
There is a high probability that the suppliers are scammers if they propose payment through suspect avoidable methods listed in H3: Secure payment. Make sure your payments are secure at all times.
The high-quality sample scam
The "high-quality sample" scam is a common method used by scammers on Alibaba. In this approach, the supplier gives the buyer a well-prepared, top-tier sample of their items. The great quality of the sample typically leads to the buyer placing a large purchase with high expectations. When the large quantity arrives, however, it is clear that the products do not satisfy the same quality requirements as the initial sample, leaving the consumer unsatisfied and puzzled.
The additional payment for customs clearance scam
Alibaba scammers might ask for additional payment for customs clearance. The supplier will contact the buyer after the products have been sent and request additional payment to cover customs clearing fees in this scam. To make the scam appear more real, the supplier could provide the buyer with a fake courier reference number.
However, when exporting things from China, there are usually no import duties to pay. If a provider requests additional payment for customs clearance, they are most likely trying to scam you.
DocShipper Advice : It is important to negotiate with suppliers to include all customs clearance costs in the initial pricing. DocShipper's team of professionals can negotiate on your behalf with suppliers to guarantee that all customs clearance fees are included in the initial price of the products. This will save you from having to pay any unexpected extra fees when your products arrive at customs. If you need more information, please fill out our form or call us directly.
Fake Suppliers
When sourcing products on Alibaba, it is essential to investigate the supplier's credibility and track record. This can help to lessen the likelihood of getting scammed.
How to customize products on Alibaba? 
If you're looking for a guide on how to customize products on Alibaba, then you're at the right place. Customizing products allows you to differentiate yourself from the rest of the pool and attract more customers.
Here's a complete guide on how to customize products on Alibaba:
Find a white-label product 
To begin, consider the example of a product such as a keyboard. Alibaba has a variety of products, and you will need to look for your item to find a white-label product. The screenshots below show how to begin your search for a white-label keyboard.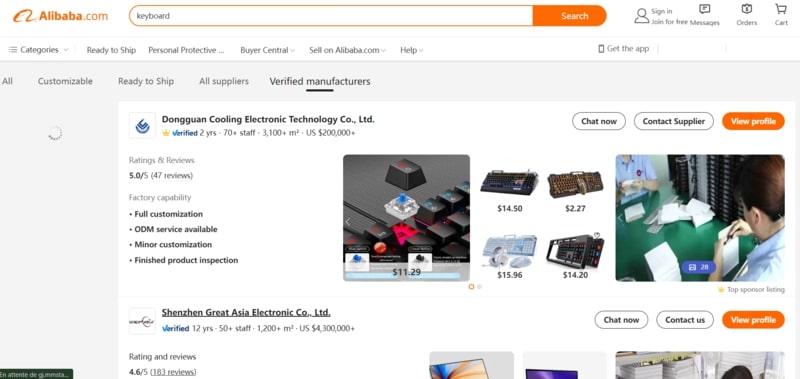 Check if the manufacturer allows customization
Once you've identified an appropriate item, you must determine whether the manufacturer allows for customization. Look for customizing possibilities in the product listings, as illustrated in the screenshots below.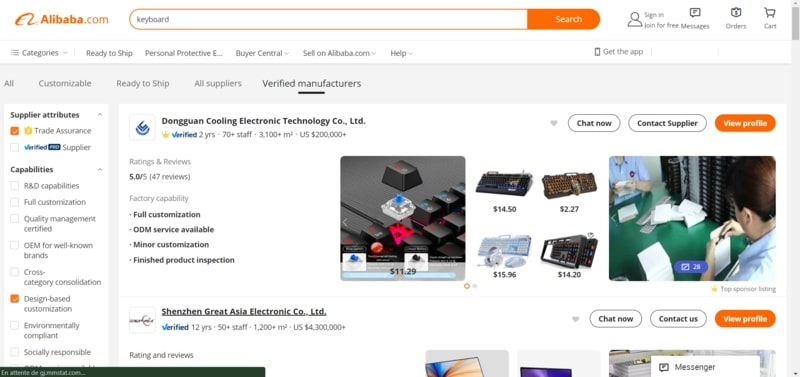 Negotiate with the supplier 
Effective exchange with the supplier is what's needed to ensure that your customization requirements are met. Be precise about your needs and describe any changes or branding you'd like to see in the product.
Order a sample 
It's a good idea to obtain a sample before placing an important order. This phase allows you to evaluate the quality of the product and ensure that it fulfills your customization criteria.
Import from Alibaba with no risk
Take into account DocShipper's services to import from Alibaba with confidence and minimize risks. Our knowledge in locating reliable suppliers and guaranteeing secure payments may assist you in smoothly navigating the process and assuring a successful import experience.
DocShipper Advice: Buying from Alibaba can be a great way to find goods of excellent quality at competitive prices, but it's essential to be mindful of potential risks. You can import from Alibaba without risk with DocShipper. We provide a number of services to protect your company, including sourcing, supplier quotation, and quality control. Contact us today by filling out our form or calling us directly for free
FAQ | How to Buy from Alibaba?
Is it safe to buy from Alibaba?
Yes, if you take the necessary steps, Alibaba may be an excellent option for buying items. It is essential to investigate and validate the reliability of suppliers, use secure payment methods, and consider services such as Alibaba's Trade Assurance for better safety.
Do I need an import license to buy from Alibaba?
The necessity for an import license varies depending on the legislation of your country and the type of products you wish to import. Check with your local customs authorities to see if you need an import authorization for specific items.
How can I verify the reliability of a supplier on Alibaba?
On Alibaba, you can look up a supplier's years of business, customer reviews, and ratings to ensure that they are reliable. For boosted protection, consider getting product samples and using Alibaba's Trade Assurance service.
What is the role of INCOterms in international trade on Alibaba?
INCOterms (International Commercial Terms) explain the obligations and costs involved in international trade between both parties. They play an essential role in settling disputes and deciding who is responsible for issues such as damaged goods, delays, or disagreements emerging during the transportation process. To protect your interests, familiarize yourself with the appropriate INCOterms while purchasing from Alibaba.
DocShipper info: Do you like our article today? For your business interest, you may like the following useful articles :
DocShipper Advise : We help you with the entire sourcing process so don't hesitate to contact us if you have any questions!
DocShipper Sourcing | Procurement - Quality control - Logistics
Alibaba, Dhgate, made-in-china... Many know of websites to get supplies in Asia, but how many have come across a scam ?! It is very risky to pay an Asian supplier halfway around the world based only on promises! DocShipper offers you complete procurement services integrating logistics needs: purchasing, quality control, customization, licensing, transport...
Communication is important, which is why we strive to discuss in the most suitable way for you!