In the era of booming e-commerce, Alibaba Group has elevated its business endeavors to new heights. Within this conglomerate, 1688.com stands as a local Chinese B2B platform, akin to a treasure trove for outsourced manufacturing in today's market. But how can you truly harness the potential of 1688.com and maximize the returns for your business?
Look no further, as this article is your key to unlocking the most comprehensive sourcing secrets on the internet concerning buying from 1688. It serves as a complete guide to navigating the world of Chinese wholesalers and manufacturers on 1688.com. Join us on this journey to uncover the strategies for tapping into this invaluable resource.

DocShipper Advise : Discover the ease of China procurement with DocShipper. Trust us to connect you with reliable suppliers. Competitive prices guaranteed. Just fill the form to contact us or give us a call, and we'll be by your side every step of the way!
What is 1688.com?
Pronounced as yāo liù bā bā, 1688.com is China's premier wholesale B2B and dropshipping platform, often likened to the Chinese counterpart of both Alibaba.com and Aliexpress.com.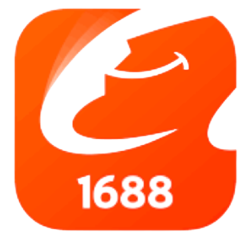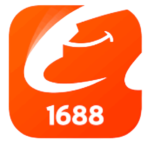 Keywords of 1688
The Sister website of Alibaba.com;
Largest wholesale site in China;
Lowest price;
Dropship from China.
At its core, 1688.com functions similarly to Alibaba.com, offering a wide array of products and facilitating connections with manufacturers and various service suppliers. This platform has been a cornerstone for traditional sourcing from China for quite some time.
However, recent years have witnessed a remarkable transformation of 1688.com. It has evolved to meet the specific needs of small and medium-sized online business owners, enhancing its online wholesale capabilities. This transformation empowers online store owners to place direct orders with suppliers, streamlining the process to resemble the user-friendly shopping experiences found on AliExpress or Amazon.com.
As an integral part of the Alibaba Group, 1688.com plays a pivotal role in the B2B e-commerce landscape, offering a valuable platform for those keen on buying from 1688 and accessing China's domestic markets. It's worth noting that while the 1688.com website predominantly caters to China's domestic markets and is primarily in the Chinese language, its recent updates have made it more accessible to international buyers.
4 reasons to buy from 1688.com
As we venture further into the world of 1688.com, let's uncover the four compelling reasons that set it apart as a top choice for sourcing products from China. These key advantages make buying from 1688.com a strategic decision for businesses of all sizes.
Competitive Pricing and Flexibility
At the core of 1688.com's appeal is its competitive pricing structure, catering primarily to the domestic Chinese market. This focus on the local market often translates into more affordable prices compared to Alibaba.com, making it an attractive option for those buying from 1688. Moreover, the absence of intermediaries allows buyers and sellers to negotiate prices and delivery terms directly, providing flexibility in transactions.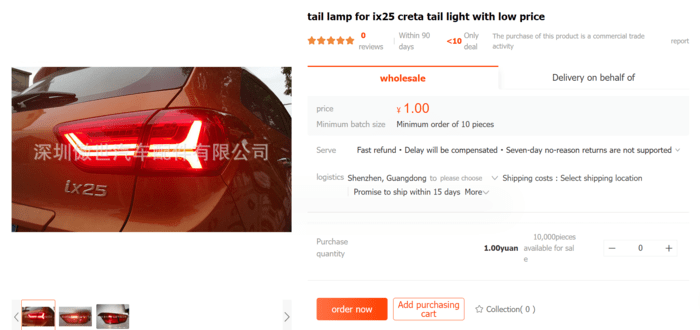 Comprehensive Customer Support
1688.com stands out with its exceptional customer support, a valuable feature for those buying from 1688. Buyers benefit from a robust support system that includes online assistance and immediate phone support. This ensures that any transaction-related issues can be promptly and effectively resolved.
Secure Payment Methods and Streamlined Process
Security is a top priority on 1688.com, a crucial aspect for those buying from 1688. The platform employs SSL encryption to protect online data transmission and verifies user identities to enhance security. The multi-step payment process minimizes fraud risks. Additionally, the platform streamlines the buying process, enabling buyers to order directly from suppliers without intermediaries, simplifying transactions.
Diverse Product Selection
1688.com offers an extensive and diverse selection of products, accommodating various needs and preferences for those buying from 1688. Whether you're searching for electronics, clothing, industrial equipment, or other items, you'll find a wide range of options to choose from.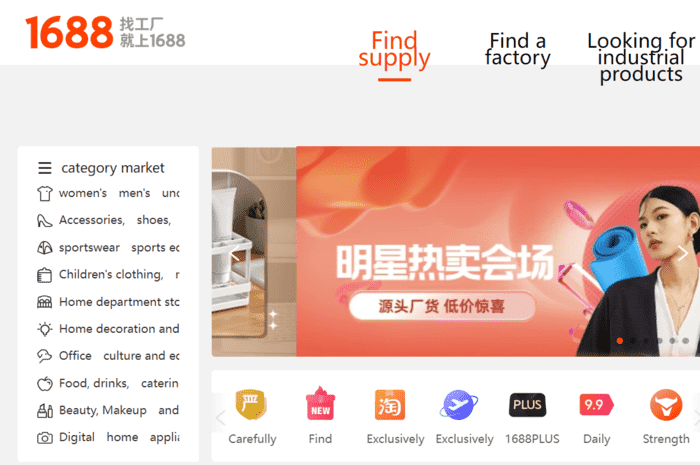 These reasons collectively make 1688.com a compelling option for buyers seeking competitive pricing, negotiation flexibility, reliable support, secure payments, and diverse product offerings within the Chinese market. With such a multitude of advantages, there's no shortage of reasons to consider buying from 1688 for your wholesale sourcing needs.
DocShipper Advice : Do you want to ship the goods you wholesaled from 1688.com, and you don't know which of the transport methods is the most suitable? At DocShipper we offer you all types of freight through our transport services: sea freight, air freight, rail freight, road freight, and even multimodal freight. Your products will be delivered without you having to do anything or stress. Fill out the form to contact us or Call us directly.
How to use 1688.com English
Step 1: Visit the 1688.com Website
Go to the 1688.com website by typing "www.1688.com" into your web browser.
Step 2: Translate the Website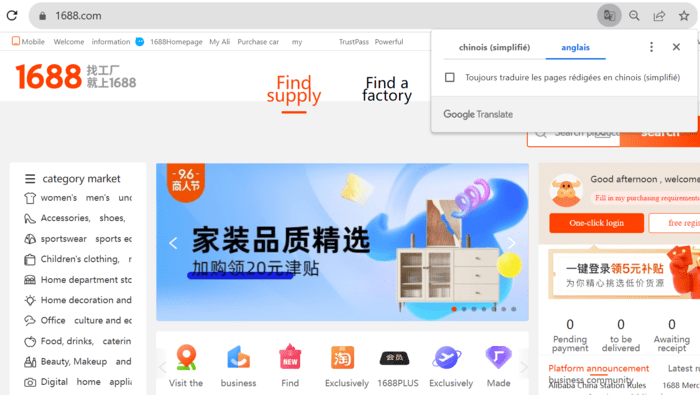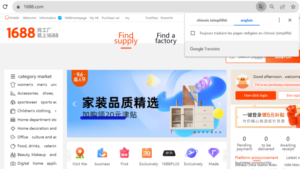 1688.com is primarily in Chinese, but you can use your web browser's built-in translation feature to translate the website into English or your preferred language. Here's how to do it:
For Google Chrome users, right-click on the webpage, and select Translate to English or your chosen language. Or add a Google Chrome extension
If you're using Mozilla Firefox, consider adding a translation add-on or extension such as Simple Translate or Translate Web Pages to enhance your browsing experience.
Microsoft Edge users can click on the three horizontal dots in the upper-right corner, navigate to "Settings" and then access "Languages" to add English as your preferred language.
How to find products on 1688 shop
Here are the steps for finding products on 1688.com.
Step 1: Use the Camera Icon

Begin by visiting 1688.com while keeping the interface in Chinese, which is the default language.

Locate the camera icon within the search bar.

If you have a specific product in mind (e.g., "Escooter"), use your smartphone or computer to take a picture of it.

Save the product image to your device.

Return to 1688.com and click on the "camera" icon in the search bar.

Upload the saved product image.

Within moments, the website will provide you with a list of results matching your desired product.
Step 2: Search by Product Name
Use the search bar and enter the name of the product you need.

Instantly receive search results.

Create an account on 1688.com website
Getting started with 1688.com is a simple process. Follow these steps to create your account:
Step 1: Access the 1688.com Homepage
Begin by visiting the 1688.com homepage by entering www.1688.com into your web browser.
Step 2: Navigate to the Login Page
Once you're on the homepage, look for the user account icon, indicated in the labeled as "1", to access the account page.
Step 3: Initiate the Registration Process
Once you've accessed the account page by clicking on the user account icon, as shown in the screenshot above, you will find the registration option labeled as "2". Click on this registration option to begin the registration process.

Step 4: Select Personal Account Registration
On the registration page, you will be presented with different account options. To create a personal account, choose Personal Account Registration. After selecting this option, click on "Sign Up Now" Label "3" to proceed with your personal account registration.

Step 5: Review and Agree to User Registration Agreement
Upon selecting "Personal Account Registration" and clicking "Sign Up Now," a user registration agreement will appear on the screen. To proceed with your registration, review the agreement carefully. After reviewing, click the orange button at the bottom of the window (labeled as "4") to signify your agreement with the terms and conditions.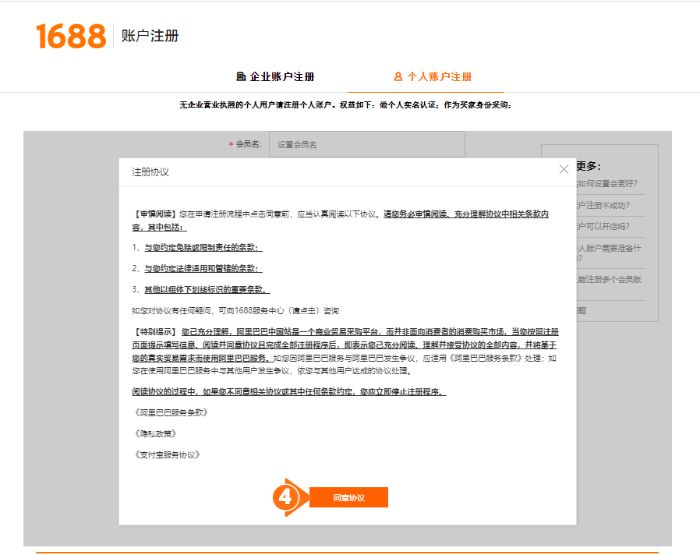 Step 6: Fill In Account Information
In this step, you'll need to provide your account information. I've marked the relevant fields with blue labels (Label 5 - Label 13). Let's break down each label:
Label 5 and Label 6: Account Type
These labels allow you to choose between a corporate or individual account. If you're a foreigner looking to make purchases, select Label 6, which represents an individual account.
Enter your desired login name here. Keep in mind:
The login name should be 5–25 characters in length.
Once set successfully, it cannot be changed.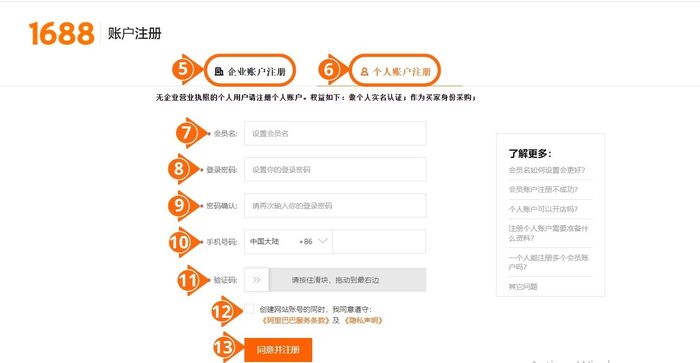 Create your password here. Be aware of the following requirements:
The password should be 6–20 characters long and should not be the same as your username.
You can use letters, numbers, and punctuation marks in your password.
Include at least 2 different types of characters (letters, numbers, or punctuation marks).
Label 9: Confirm Password
Re-enter the password you created in the previous step.

Label 10: Country and Phone Number
Select your country from the dropdown list and enter your cell phone number. Ensure that your phone can receive text messages from China because you will receive an SMS verification code in the next step.
Verify that you're not a robot by completing a verification task. Typically, this involves dragging a verification box from left to right.
Check the box to indicate your agreement with the provided statements and agreements.
Click the "Agree to Register" button to proceed to the next step.
Step 7: Fill In The SMS Verification Code
After completing the previous step, a new page will appear, requesting you to enter the SMS verification code.
Check your mobile phone for an SMS containing a 6-digit verification code.
Enter the received code in the designated field on the web page.
Click the "Submit" button to proceed.
Steps for 1688 sourcing
When sourcing products on 1688.com, it's essential to follow a systematic approach to find reliable suppliers and high-quality products. Here are the key steps to ensure a successful sourcing process:
Selecting High-Quality 1688 Suppliers
Filter by Employee Count: Start by searching for suppliers based on the number of employees. This can indicate the scale of the supplier's business. For instance, 51–100 employees suggest a small business, while 501–1000 employees indicate a large wholesale business. Choose the category that aligns with your needs.
Identify Powerful Businesses: Look for suppliers labeled as Powerful Business. This label signifies that the supplier has a track record of high sales volume, on-time delivery, and good-quality products. Choosing such suppliers can provide you with more confidence in your sourcing.
Identify 1688 wholesale suppliers to ensure the quality of your products
Understanding Supplier Symbols: Pay attention to the symbols associated with suppliers on 1688.com. These symbols can provide valuable information about the supplier's capabilities and services. Ensure that the supplier you intend to work with has essential icons that match your requirements.
How to Contact 1688 Suppliers
When it comes to reaching out to suppliers on 1688.com, there are several effective methods to establish communication and initiate negotiations. Here are some key ways to get in touch with suppliers:
Explore tools such as Aliwangwang and WeChat
Aliwangwang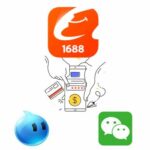 To communicate with suppliers efficiently, consider downloading the Aliwangwang chat app. It's a convenient way to connect with factory representatives. When initiating a conversation, start with a brief self-introduction, as you may not know if the supplier is comfortable with English. Being concise with your initial message is a good practice.
WeChat 
WeChat is another highly recommended app for communication. Chinese business professionals often use this platform extensively. Register with your phone number, and then add the supplier's mobile number to initiate a conversation. WeChat allows for real-time communication, making it easier to connect with potential suppliers, even considering time differences.
Explore 1688 website China 
Company to access their website directly. This opens up two potential scenarios:
Some factories sell products on both

Alibaba

and

1688

. If you find a supplier on 1688 and prefer the added security of Alibaba's Trade Assurance, you can search for the same supplier on Alibaba to complete the transaction.

For other suppliers, you might find their company's email address on their website. You can send inquiries directly to their email addresses.
Finding Sourcing Agent
Consider a Sourcing Agent: If you're looking for a faster and more convenient way to buy from 1688, consider engaging the services of a sourcing agent. A sourcing agent can assist you in numerous ways. 
If language barriers are a concern, sourcing agents like DocShipper have multilingual staff who can communicate effectively in Chinese, English, French, and other languages. Worried about potential scams? Experienced professionals at DocShipper can help you navigate potential pitfalls based on their extensive knowledge.
Should you already have a list of prospective suppliers, you can share it with DocShipper, and they will take care of the rest, ensuring a smoother sourcing process. Utilizing a sourcing agent like DocShipper can save you time and provide valuable support in your 1688 sourcing journey.
DocShipper Advise: You want to buy in China, but you have concerns about the suppliers or the manufacturing companies? Are you afraid of being ripped off and losing your money? DocShipper offers you a sourcing service that handles all the procurement process. Our experts will help you find the most reliable suppliers on the market. Contact us for more information or give us a call

Target: Strong focus on the local Chinese market.
Language: Chinese, with online translation support.
Price: More affordable, primarily targeting the Chinese domestic market.
Supplier Reputation: Less rigorous supplier verification, with a supplier rating system to assist buyers.
Payment Methods: Options such as WeChat, Alipay, and credit cards, primarily for Chinese buyers.
Product Quality Assurance: Variable product quality, depending on suppliers and products, with most originating from China.
Export Expertise: Primarily intended for Chinese buyers, potentially resulting in a lack of export expertise.
User Interface and Accessibility: In Chinese, with the option to use online translation tools. No dedicated mobile app.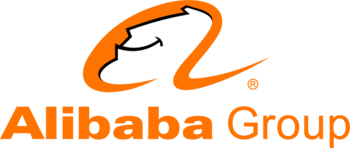 Target: Primarily caters to the global market, suitable for businesses worldwide.
Language: Multilingual interface, including English, simplifying international transactions.
Price: Higher prices due to its international focus.
Supplier Reputation: Suppliers rated by previous buyers, providing some assurance.
Payment Methods: Extensive range of international payment methods, including Visa, MasterCard, Western Union, and bank transfers.
Product Quality Assurance: Implements security and quality assurance measures to ensure product quality.
Export Expertise: Suppliers often possess strong export experience due to the platform's international scope.
User Interface and Accessibility: Multilingual interface, including English, with a mobile app for on-the-go buyers.
How DocShipper can help you buying from 1688
Discover how DocShipper simplifies your buying experience on 1688.com. We're your reliable partner for streamlined supplier selection, ensuring top-notch quality, and providing end-to-end support. Let's make sourcing a breeze.
Streamlined Supplier Selection
Choosing the right supplier involves more than just pricing considerations. We understand the importance of striking a balance between cost-effectiveness and supplier profitability. DocShipper assists you in identifying suppliers that offer competitive prices while ensuring they maintain healthy profit margins. This equilibrium is key to building fruitful long-term relationships.
Reliability at Its Best
Reliability is the cornerstone of successful sourcing. Dependable suppliers provide top-notch quality products and uphold punctual delivery schedules. But how can you ensure this reliability when language barriers come into play? With our multilingual team proficient in Chinese, French, and English, we can help you pinpoint the most reliable suppliers.
Trust in our years of experience in this field. DocShipper is here to bridge the language gap, ensure rigorous quality control, and help you find the most dependable suppliers for your needs.
End-to-End Support
Finding the right suppliers is just the beginning. When you intend to import products from overseas markets, a host of complexities arises. DocShipper has designed its business model to seamlessly guide you through the entire sourcing process. Our ultimate goal is simple yet powerful: "Time is money, we save you both" 
With DocShipper by your side, you can rest assured that your buy from 1688 venture will be efficient, cost-effective, and hassle-free.
Are you wondering how to navigate the intricate world of buying from 1688 while ensuring success and minimizing risks? Look no further than DocShipper! Our expertise lies in simplifying your sourcing journey and facilitating your buy from 1688 process. So what are you waiting for? Get Started with DocShipper today and fill the form to contact us  or give us a call.
FAQ | How to buy from 1688 ?
What does 1688 mean?
It actually pronounces like 1 yāo 6 liù 8 bā 8 bā. The sound of 1 in Chinese means want, and 6 means successfully and smoothly, and 8 means getting rich. 1688 actually sounds like yāo liù baba, the accent of 88 in Chinese sounds the same as baba in Alibaba.
How can we find products in 1688.com?
There are normally 3 ways. Suggestion 1: You can just upload the picture of the products directly, then there will be the results of your idealized products. Suggestion 2: Type English name of the products. Suggestion 3: Translate English to Chinese then search in 1688.com. If you want to know the different outcome, check our article for more information.
Is 1688.com better than Alibaba.com?
1688.com targets on Chinese domestic markets while Alibaba.com targets customers all over the world. However, you can still importing from 1688.com since it's really cheap, and most of the products in Alibaba.com are bought from 1688.com.
Why do you need a sourcing agent?
Suppliers in 1688.com don't have export license and some of them don't even speak English. For avoiding scams, you'd better find a professional agent like us. Our staff are proficient in Chinese/French/English, so we can help you to get the most reliable suppliers and trust us, that's what Docshipper are good at for the past few years.
DocShipper info: Do you like our article today? For your business interest, you may like the following useful articles :
DocShipper Advise : We help you with the entire sourcing process so don't hesitate to contact us if you have any questions!
DocShipper Sourcing | Procurement - Quality control - Logistics
Alibaba, Dhgate, made-in-china... Many know of websites to get supplies in Asia, but how many have come across a scam ?! It is very risky to pay an Asian supplier halfway around the world based only on promises! DocShipper offers you complete procurement services integrating logistics needs: purchasing, quality control, customization, licensing, transport...
Communication is important, which is why we strive to discuss in the most suitable way for you!