When it comes to the springing up of industry, with no exceptions there are two reasons: technology advancement creates new demands, and in return, demands give impetus to technology advancement.
As the core technologies of the electric scooter industry, which are Electric Motors, Electronic Control, and Batteries, are all mature and well-established subsystems that have not seen a disruptive industrial change in recent years, basically, the recent development of the Electric Scooter is principally driven by the demand.
So exactly where does this demand come from? And what exactly can Docshipper help you?
Want to learn more about our services, fill our online form : Contact Us.
Cost-efficient type regarding the expense and usability
Compared with automobiles, the electric scooter is far more economical as well as environmental, notwithstanding the fact that for both, the prime objective is position movement.  As for the functionality, undeniably e-scooter is not as fast as cars or e-bikes, however, it's convenient to carry around especially under severe traffic congestion, so as to avoid getting stuck in the rush hour. Furthermore, it's acknowledged that finding a parking place can be a distress for some time, while an e-scooter can be easily parked anytime with only a smartphone, at the same time only requires to be registered only under some conditions, we'll come to this part extensively when talking about the varied regulation among different counties.
Terrific adaptability applying to diversified customers
According to statistics, the application of e-scooter dominantly centralized in first-tier along with second-tier cities in different countries.
The core functional requirement of a vehicle, in this condition, which is an e-scooter, is a marvelous commuter for school or office.  Except increasing traffic congestions and parking difficulties and other persistent problems, the major cities in recent years are controlling the motor vehicle through various measures, for instance, the enforcement of the law of forbidding motorcycle since 1985 in some cities in China, which influenced office workers to a large extent especially for cities like Guangzhou.
Another requirement is traveling. Unless you booked a hotel exactly nearby a train station or bus station, an e-scooter is the best choice for a short journey applying to the whole trip. Not to mention the affordable characteristic, you can fold it anywhere and anytime when you are exhausted after a whole-heart enjoyment in the journey. Travelers with e-scooters are seen everywhere in major prestigious cities with a good view of sightseeing, Paris for instance.
DocShipper Tip: Check on a random Electric Scooter App and find people around you who are using it, you will know the massive usage and the boom of this industry.
Dockless shared E-Scooter Boom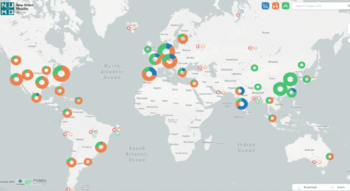 According to the statistics from Grand View Research, the e-scooters market value was approximately USD18.6 billion in 2019 globally and is assumed to rise to an estimated USD 20.0 billion in 2020. As is shown in the picture: market share of the car(blue)/e-scooter(orange)/bike(green), people in many countries put e-scooters in use. As the Dockless Shared Bicycle from China shoot to frame in the world since 2015, this conception of "sharing" is popular worldwide when it comes to the transportation industry. Intelligent businessmen began to combine these two popular markets, consequently, we have Dockless shared E-scooter nowadays worldwide.
DocShipper Alert : Although this so-called sharing economy in China developed at a fast speed in the beginning. The consequences which were brought by the dockless shared bike are severe as thousands of bikes are stolen or broken, which lying on the grass. So if you would like to invest in this business, remember there are risks to take as well.
Dockless shared E-scooter in the USA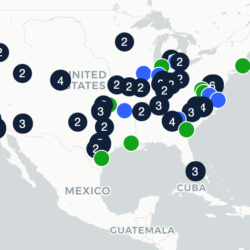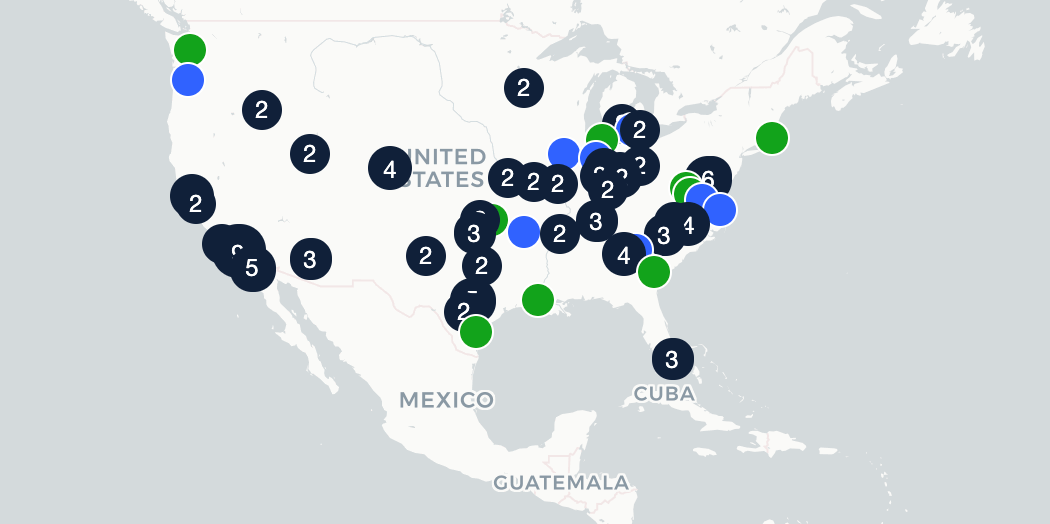 Sources: Lime, Lyft, Jump, Scoot, Spin provided launch dates, Bird launch dates from media reports.
As a matter of fact, there is an e-scooter boom in the USA which occupied about at least 71 cities since 2018 according to NBC News.  Among the top 10 major cities where the e-scooters are burst out in the streets, more than half of which are located in the US. Taking Denver for example, the premier significant report of this city about the Dockless Program suggests that people use dockless shared e-scooters through the control in their mobile phones nearly 5,000 times per day on average in Denver. On the purpose of boosting the fast-growing industry, this Program gives permission to companies like Lyft and Uber to provide e-scooters in the pavements and streets.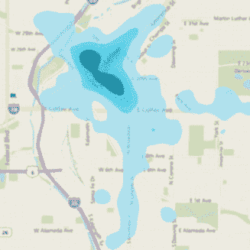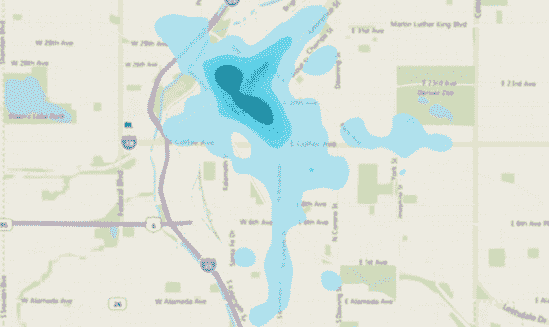 Dockless shared E-scooter in France
Paris, a major city worldwide, combines all the fabulous traits of a romantic place to stay in. However, before you go there and check about details, you would make an observation that how expensive the transportation fees are even for the local people. Find more price details in Paris here.  In this condition, large quantities of people who work in Paris together with tourists choose e-scooters as substitutions.  Based on the survey of Lime, the users' map in a district in Paris appears in a substantially dense network, especially during the morning-evening rush hour. In a way, dockless shared e-scooters have altered people's way of traveling significantly.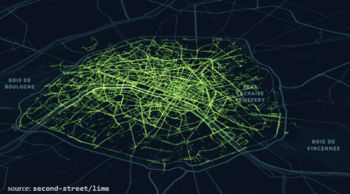 DocShipper Tip: According to an e-scooter brand, it targets the European markets as the main goal from this year, owing to the fact that the e-scooter is much more environmentally friendly than other transportations. As it's acknowledged that ecology is what to the Europeans matters most.
Renowned e-scooter brands
E-scooters brands in China
Xiaomi


Xiaomi Electric Scooter, with its with its outstanding design, meticulous production details, intelligent folding concept, and smart operating experience, has been awarded the Reddot Award 2017 Best of the Best; Good Design Award 2017 BEST 100(Japan);  iF DESIGN AWARD 2017(German); DFA SILVER AWARD 2017.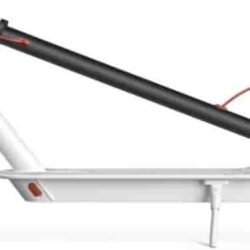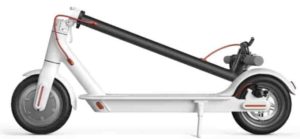 Product: Mi Electric Scooter
With its simple geometric design, the Xiaomi e-scooter is facile to handle within 1 minute. It applies to 30km super long-endurance, including a double safety brake system and 3 seconds innovative folding design as well as 5 times walking speed. Aerospace-grade aluminum frame weighing 12.5kg, Mi Electric Scooter is to a large extent a smoothly portable and easily maneuvering product. The most unique point of Xiaomi's e-scooter is its energy recovery system-the the kinetic energy is converted into electrical energy so as to makes a longer endurance. Products are equipped with the energy recovery system used in automobiles. Pressing the brakes or releasing the accelerator paddle while driving will activate the energy recovery system, which converts part of the kinetic energy into electrical energy for storage and reuse. The Energy Recovery System enhances the user's emergency braking experience, while the recovered energy contributes to the vehicle's endurance. Find Xiaomi.
InMotion
InMotion is co-founded by a group of professionals inspired by their victory at the Robot Cup 2007 Competition in China. It has successfully developed 2 generations of two-wheeled balance bikes, 4 generations of unicycles, 2 generations of electric scooters, 2 generations of micro-electric bikes, and 2 generations of twisty bikes, achieving sales of 1 billion RMB.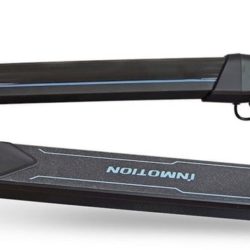 Product: InMotion L8F electric scooter
The specialty of the electric scooter of InMotion will be the highlight headlight and adjustable lights. And the design of the warning taillights when pressing brakes shows their attitude about safety, as is indeed a serious issue nowadays. When the pushing speed reaches 3km/h, it will be automatically turned on, which really simplifies every step of the operation and enables people to feel the charm of unrestricted technology. A high-definition LED display shows the riding speed and battery status. It applies to 35km super long endurance weighing only 12 kg. Furthermore this company has started a cooperative relationship with Huawei, so you can control it through your mobile phone assuredly with the guarantee of these two big these two prestigious companies. Find InMotion.
DocShipper Tip: These specific products, for instance, Mi Electric Scooter, are frequently out of stock in some regions, if you can't get the product you want, remember to contact with Docshipper to help you from A to Z.
E-scooters brands in the USA
Go Trax
With the company mission: To Change; To Build; To Create, Go Trax is devoted to fabricating impeccable products. The marketplaces and retailers it cooperated with are Amazon, eBay, Walmart, NewEgg, Dunham's…, therefore it basically has a large potential. This company considers after-sales services as significant as well; all the commodities purchased covered a 90-day warranty and 14-day return policy.

Product: Go Trax XR Ultra Folding Electric Scooter
As to the electric scooter, it entails an innovative portable folding design: XR Ultra commuter scooter features with a one-step folding system for convenient portability. Aluminum material for added stability and a special red safety button prevents the handlebars from folding while riding. Large capacity LG battery 7.0AH for up to 18 miles in optimal conditions proves its power endurance. Its intelligent battery management system ensures battery safety and extended battery life. Adult electric scooter with a silent 300W motor, a top speed of 15.5 MPH, and a maximum load weight of 220 lbs, and it can handle steep 15° hills with ease, which is adaptable for commuting. With a multi-function console, the LED displays the current speed, speed mode, battery life, and headlights, which have been upgraded to keep riders safe when riding in the dark. Find Go Trax.
Swagtron
Once you click into the website of Swagtron, you will realize this is a user-friendly company. Comparing with other brands listed above, the average price is still a selling point, considering almost half of the e-scooters are in the condition of sold-out. The competitive advantage of this company is its vertically integrated business model-since they practically covered the entire value chain.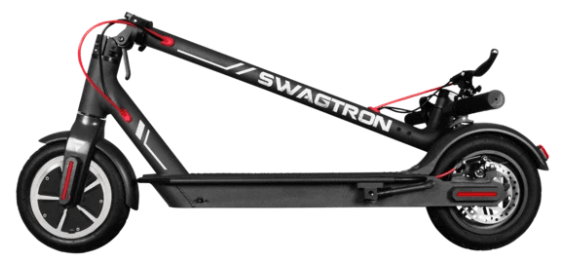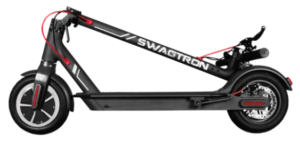 Product: 5 Elite City Commuter Electric Scooter
The product can be folded down for storage in car trunks and closets, even under subway seats as well as other compact spaces. With a 250w electric hub motor achieving speeds up to 18 mph (29 km/h) and rolling up to 20 degrees, it's a powerful and travel-friendly product. There is no doubt about the endurance, Swagtron electric scooter has a sturdy aluminum frame that can support riders weighing up to 320 pounds (145 kg). Find Swagtron.
Comparisons within different brands
As we have already listed various prestigious brands, Docshipper has made comparisons among some specific products belonging to the brands above. Remember to check them before your decision to pick one for yourself! Once you have any questions, contact us immediately.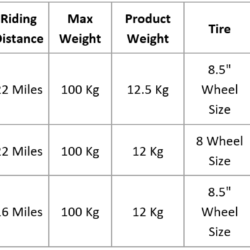 Existing circumstances of e-scooter
Despite that electric scooter is trendy nowadays, it has been a contentious issue owing to the fact that it occasionally triggered transportation problems. According to a report in the US, 80% of accidents are due to falling from a scooter, considering the population who use e-scooter is a large entity, that's a massive number. And 12% of unfortunate incidents happen as a result is struck by a moving vehicle, the left 8% is due to strike by a moving object.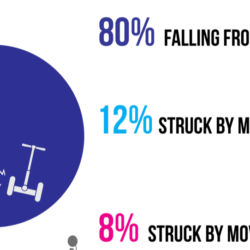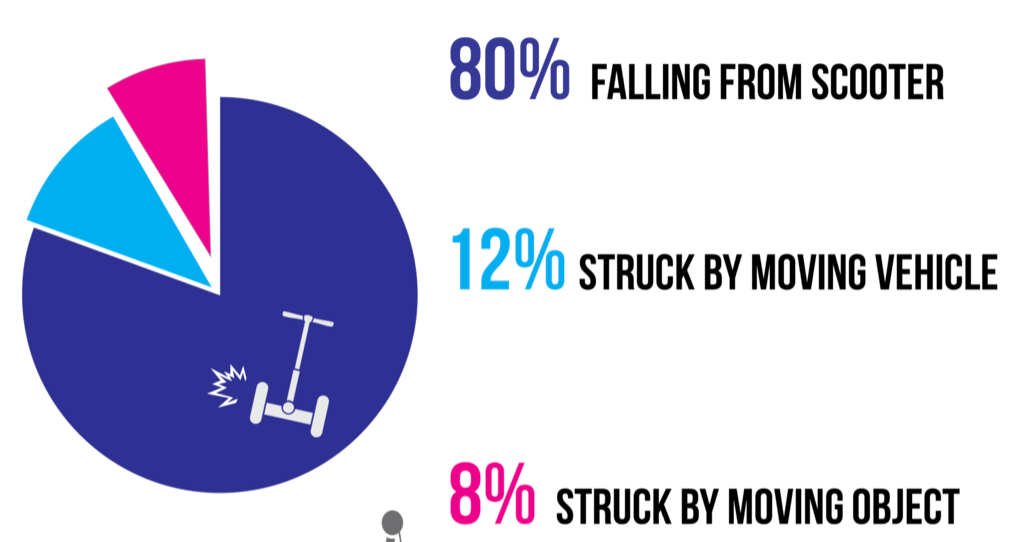 Source: vision-techniques
Noticing this phenomenon, governments start to initiate regulations as well as sanctions to get this back on track. Based on which the average maximum speed is 25km/h, with some adjustments when it comes to different countries, and other rules as no headphones as well as sidewalks prohibition, etc… Fines are varied according to different regions, so remember to check all the regulations before your purchase. If you have trouble finding the sanctions and rules, do not hesitate to contact us!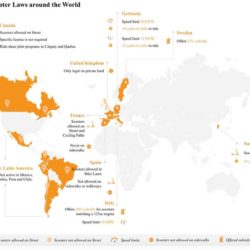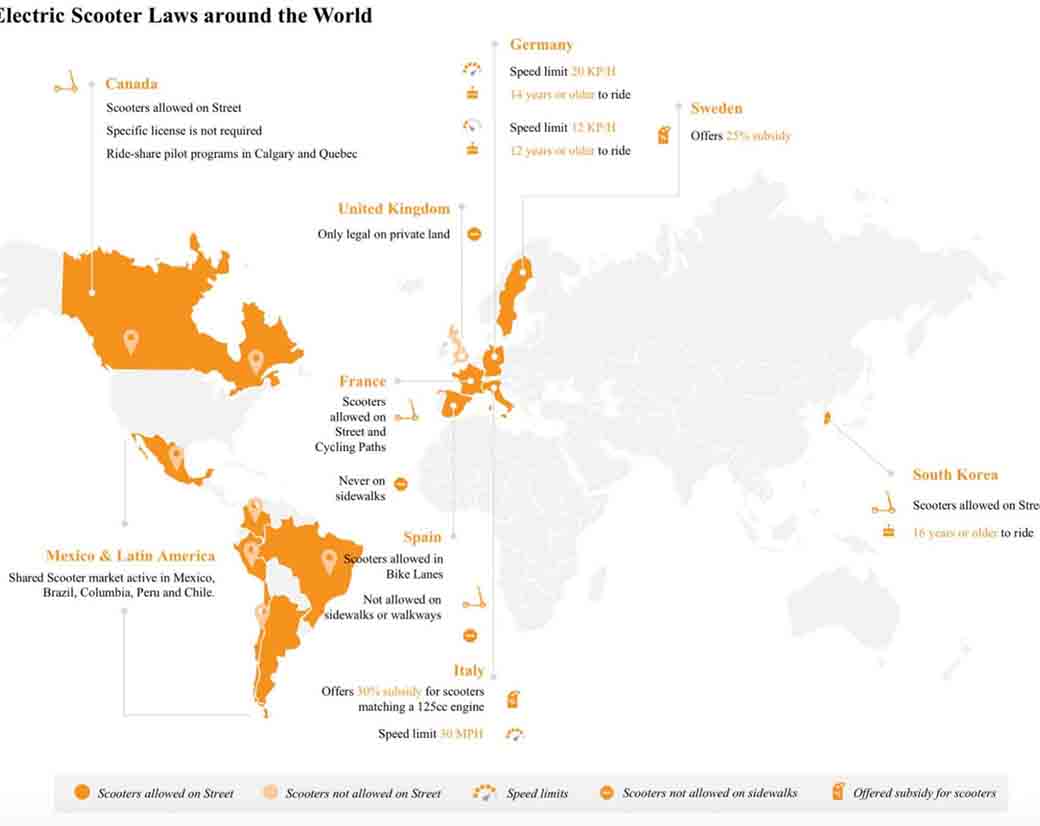 Source: The Comprehensive Guide to Electric Scooter Laws
The supplier of E-Scooter in China
Direct supplier of e-scooter
Leebike

In possess of more than 10,000 square meters, this vital international company has occupied high segments regarding the electric products industry. With its fabulous location in China, which is in the vicinity of both Ningbo along with Shanghai Port, people merely need 2.5 hours drive to Shanghai. Leebike is eager to be inventive and innovative so as to fabricate unique products. Other than professionals and mature R&D faculties, all the commodities have already been authorized which can be proved by European CE certification, EN15194 certification, RoHS certification etc…. It's dedicated to cooperating with ardent and responsible partners in any field. Find Leebike.
Zhuhai Shuangye Electronic Technology Co.

With its 14 years of experiences in this field, Zhuhai Shuangye Electronic Technology Co., Ltd. apparently has become the leading manufacturer and supplier in electric commodities. In order to improve the promptness and the advancement of the products, it has introduced a series of cutting-edge equipment including automatic production line, CNC drilling, battery capacity testing equipment. The markets it covered involve Europe, South& North America, and Southeast Asia. Advantageous location contributes to the expansion of the company as well, which merely requires 1 hour to Macao and 2 hours to Hongkong and Shenzhen. Could be a reassuring cooperative relationship If collaborating with this company! Find us.
Phaewo

Conforming with its belief- Create Your Freedom, Phaewo is a newly established company which are endeavoring to enable customers to be free from the pressure of malfunctioning parts along with the free from anxious about whether the components are safe and non-toxic. The commodities are mass production under strict safety standards and international certifications, therefore customers can be assured when using the products fabricated here. Find Phaewo.
Alibaba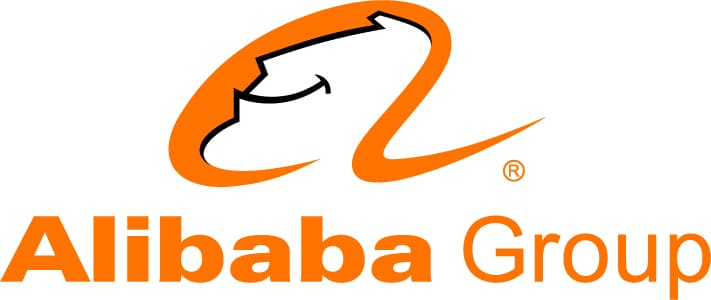 As claimed by Brand Financial Rankings which evaluate the influence of a company's financial value globally, Alibaba is ranking on the 10th, which is in the middle of IKEA and Target. Along with its 21 years establishment, it's acknowledged for quantities of cost-efficient technological products of e-commerce, retail as well as the Internet. As a tech giant, it not only manufactured the products with high-quality but also allocate supreme after-sale service. Countless awards in the technology industry it has won witnessed that this is beyond doubt a competent and trustworthy company. Find Alibaba.
Made-in-china

Made-in-China.com is categorized as a 3rd party B2B e-commerce platform, which is operated by Focus Technology Co., founded in 1998. Providing more than 27 categories and 3,600 sub-categories of commodities information, the website can be displayed in 11 languages. Type electric scooter on the website and 15,818 results will appear which enable buyers to make comparisons and purchase products in a most cost-efficient way, as well you can choose different suppliers cooperated with Made-in-China which are lists there. Find Made-in-China.
Finding e-scooter with a sourcing agent
The company listed above are all outstanding Chinese electric scooter suppliers with experienced histories while at the same time affordable. Apparently it would be a fierce competition to win a cooperative relationship working with them, but don't be anxious about it, Docshipper can help you! Our Objective for the customer:  Focus on your marketing/sales, let us handle the rest. we built our business model about the fact to assist customer on all the product cycle involving sourcing services, shipping services as well as distribution services and are competent to assist you from A to Z. Contact us now!
Regulation for importing E-scooters
Regulation for importing E-scooters in the USA
Conditions for the e-scooters
Normally, the speed of e-scooter is required to be not exceeded than 20 mph, however, people can still import those who go beyond 20 mph under the condition that the products qualify some certain rules. Electric Scooters should not possess brake lights, turning signals, horn as well as mirrors and should be declared as Off-Road use instead of Public Roads.
Customs and other fills included
Firstly, the ISF Filing is obliged to be ready within 24 hours of loading on the vessel. Then the US Customs Entry Declaration required to be filed before your products are just about to give payment to the import duty and receive customs clearance. Remember to contact us if you can't figure these complicated procedures! Contact us.
Regulation for importing E-scooters in Europe
High duties imposition on Chinese electric products
Along with the trade war between the USA and China, Europe imposes steep duties on Chinese products for the motivation of anti-dumping. Among Chinese electric products, the recent duties have already reached around 79.3%, causing the price of electric products to go up sharply. Nonetheless, some specific exporters, accounting to half of all the exporters, obtain a lower duty, since they voluntarily offer information to the EU Commission to prove themselves. Importers should take this into consideration before purchasing.
Basic rules of E-scooter in Europe
To begin with, the maximum speed of the e-scooters should be less than 25 km/h, under the condition of driving it on the public roads. Since 1 July 2020, all the e-scooters show up on the streets should adhere to the rules which are possessing front and rear lights, a bell as to inform the pedestrians, and among all, a braking system is obligatory as well. The official website for more information.
How to ship electric scooter from China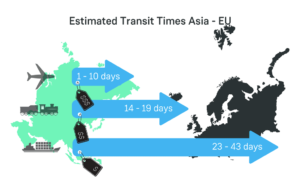 Primarily, three measures of transportation can be taken in order to accomplish an international shipment. The cost of transportation from Asia to the EU adjusts from various approaches according to the figures above: Airfreight takes the shortest time while being the most expensive one; rail freight is of average cost and time; sea freight is the cheapest one but takes around three times than air freight. With a website like Ali Express and other platforms, nowadays it can be as convenient at the same time as competitive to collaborate with a Chinese supplier. Then how can we cope with these obstacles? A perceptive company will choose a way that is both affordable as well as speedy.
Docshipper Tip: Always remember that Docshipper is here to provide professional and customized response to deal with every impediments you encounter.
Documents needed to import E-scooter from China
Import declaration form
This is a form used by importers to make an explanation to the customs about the attributes, quantities, and other details of products. Here we will go through the information in turns. 1) The quantity of e-scooters, which should inform the exact numbers in a very precise way. 2) The expense of the shipment, in which you have to figure out accurately since it concerns the taxes and the duties will be imposed when importing. 3) Freight Category. The specific freight of your e-scooters should be implied so as to be listed in different classifications of your cargo and the taxation as well. 4) Quality, since varied qualifications are expected when it comes to different countries. This will demonstrate if you achieve the determined quality standard.
Certificate of conformity
Certificate of conformity, sometimes quoted as "COC". As we mentioned above, there are certain quality standard are obligatory. As a result, importers need to provide COC to demonstrate that they have achieved the quality and safety requirements.
Packing-List
To import electric scooters from China, a packing-list is also a necessity, which should include the outer package, the weight and number in metric tons..Apart from that, the length, width and height of the coverage also needs clarifications.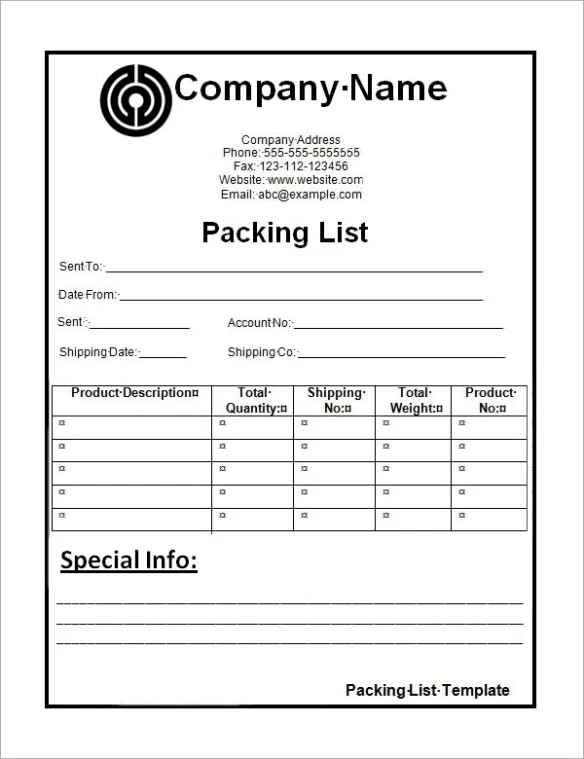 Commercial invoice
This should be complied with as packing list, supporting the packing list as well. The subtotal, freight cost and insurance cost will also be included in this file. But here is a tip for you: Just copy and paste from your packing list will be a most advantageous way to steer clear of the mistakes.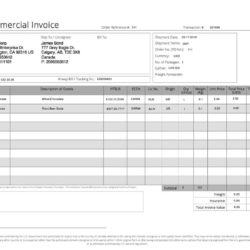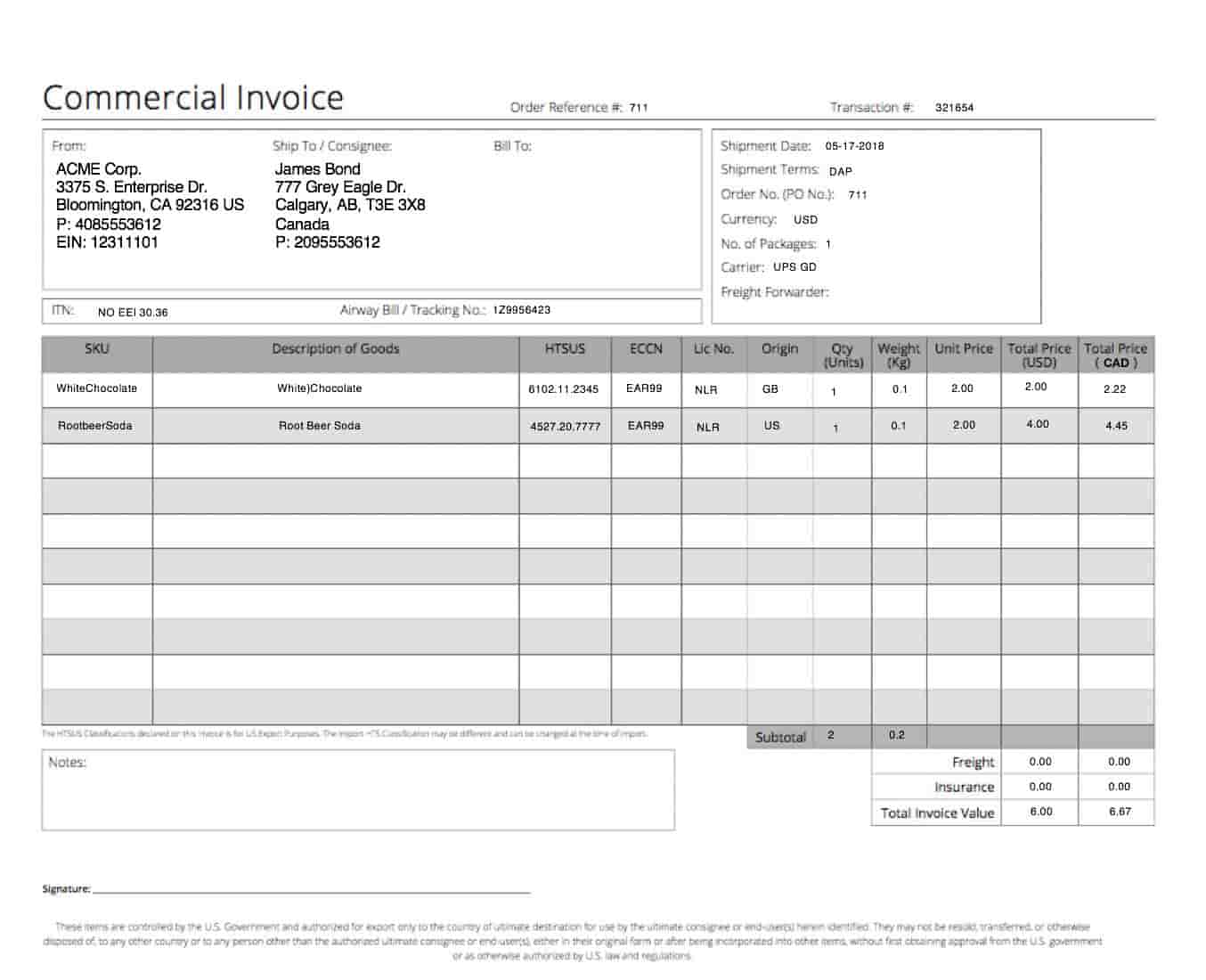 Bill of Lading
This functions as a proof between the carrier and the shipper for the purpose of dealing with the rights and obligations of the parties during the carriage, which should include the importers' name and the name of the senders as well as the destination. It is a basis for dealing with various problems in the future.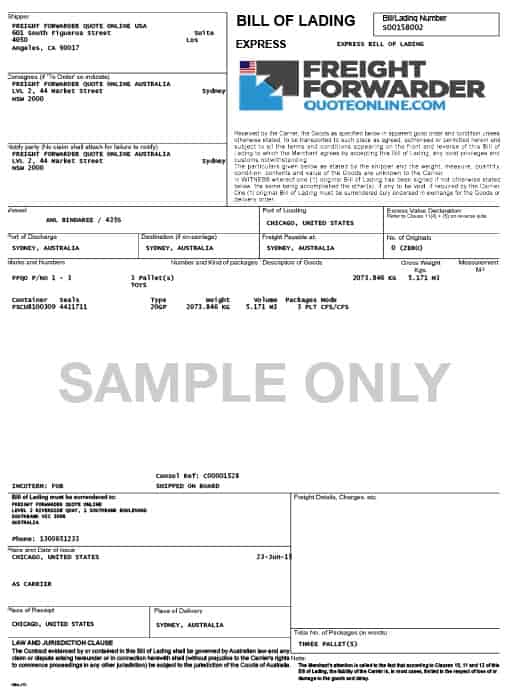 Usually, the above-mentioned fills are the main documents required, there are various others according to different counties. However, remember to check again all the details before your purchase from China. Another point is to accomplish these documents EARLIER than the deadline, find a mature and professional agent is a good option too. 💡A good agent like Docshipper will resolve all the problems you encounter during your preparatory.
FAQ | Find the best e-scooter supplier in China
🛴Why do we use e-scooter nowadays?
Since for most people who are using e-scooters, are students or workers, for them, compared with automobiles, it's more affordable and more environmental friendly. And when it comes to the e-scooter itself, it's portable and easy to maneuver in some specific conditions. Lastly, owning a e-scooter makes traveling easy as pie.
🧐 How to choose a e-scooter?
The point comes to the first will always be your demand first. Therefore, before you buy a scooter, try to figure out your purpose, whether you need a product that is lightweight and portable, or a product that is comfortable to ride, or a product that looks unique. Then we focus on the professional category. Riding distance should be an important aspect. we need to do some research about the battery, then we figure out its theoretical range. Basically, 36V1AH is about 3km, 48V1AH is about 4km, 52V1AH about 4.5km, 60V1AH about 5km (Only for reference). Without specific purposes, the suggestions is buying a range of around 30km-50km, and mainstream electric scooters are in this range. The price will be more moderate, and can also meet the needs of short distance travel.
🥇 Which are the best brands of e-scooters?
Due to the boom of this industry, there are many brands worldwide. Specifically, in China, the best brand will be Xiaomi, with the product Mi Electric Scooter winning a lot of awards worldwide. Another brand will be InMotion, which has a cooperative relationship with Huawei. In US, GoTrax will be the most prestigious brand. If you want to know more information and the comparison among them, find more information in this article.
⛔️ Which countries banned e-scooters?
In America, despite the fact that e-scooters are burst out in streets. Some cities have prohibited e-scooters, as in San Francisco, Ventura, West Hollywood and Davis. In Europe, there are as well some regulations about e-scooters. Germany considered that showing e-scooters on Google Street view are forbidden. In Uk, the government's attitude towards e-scooters is not positive but as the Covid-19 is happening, things might change. All in all, regulations are changing gradually, therefore, remember to check them before your purchasing.
🔎 How can I find the best supplier of e-scooters in China?
There are plenty of ways to find the best supplier of e-scooters in China. Firstly, find the direct suppliers of e-scooters. What's more, finding supplier in a Chinese online platform is also a solid solution. Last but not the least, the most convenient way is to contact with a professional agent: Docshipper. We built our business model about the fact to assist customers on all the product cycle and have our Chinese branch to provide you with our meticulous services. Focus on your marketing/sales, let us handle the rest.
DocShipper info: Do you like our article today? For your business interest, you may like the following useful articles :
DocShipper Advise : We help you with the entire sourcing process so don't hesitate to contact us if you have any questions!
DocShipper Sourcing | Procurement - Quality control - Logistics
Alibaba, Dhgate, made-in-china... Many know of websites to get supplies in Asia, but how many have come across a scam ?! It is very risky to pay an Asian supplier halfway around the world based only on promises! DocShipper offers you complete procurement services integrating logistics needs: purchasing, quality control, customization, licensing, transport...
Communication is important, which is why we strive to discuss in the most suitable way for you!