With the leading trend of Chinese brand smartphones in the global market, there are plenty of potential opportunities to develop the imported smartphone business in varied regions...
While, what's the exact reason to come into this competitive industry? How to find the suppliers? How to tackle the follow-up shipping, insurance, regulations and custom clearance phases? What kind of paperwork that you'll need to do?
No worries, please continue reading patiently, and we guarantee that you'll find all the answers to the above questions and even more surprises in this complete guide!
And are you looking for a smartphone supplier in China? We can help you! Our sourcing department is there to support you in your international procurement projects: supplier research, quality control, compliance, production monitoring, international transport and customs clearance... Support throughout the entire purchase process. You are not a professional international buyer, leave this mission to experts such DocShipper!
DocShipper Note:  DocShipper is sourcing company based in Hong Kong, that helps small businesses and individuals like you buy and import safely from Asia, and especially from China. Send us the product you're looking to order by filling out this form or get your questions answered immediatly by calling our experts.
Why should I order smartphones from China?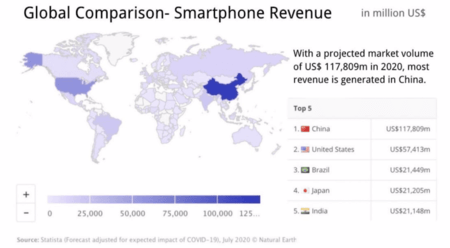 Reason n°1: Extraordinary edges regarding pricing and technology
How is this price edge happening in China smartphone industrial? First and foremost, this industry spend way much less than a result of the cheaper labor force due to China's large population. Apart from that, manufactures can conveniently put the components and the materials domestic in use, in that way, saving overheads and unnecessary costs. Most importantly, compared with other brands from different region worldwide who are paying Intellectual Property Royalties, Chinese smartphone manufactures are favoured with a series of policy which set by the government to promote the maturation of its high-tech industrials.
According to the data from Statista (see fig. 1), the latest global smartphone revenue has been estimated and most of it, the volume of US$117, 809 m, is generated in China, even despite the COVID-19 impact. Owing to the high quality and average price, it's not hard to tell why China's smartphone has won so many users' affection.
Especially given the mixed reviews towards Apple, the previous powerful giant in mobile phone industry has been facing much more threats from other rising brands. For their distinguished features: the wide range of selections and novel design on both camera lens and appearance, China smartphones seem invincible on the way to conquer more and more demanding international users with different needs.
Reason n02: China is the largest exporter of mobile phone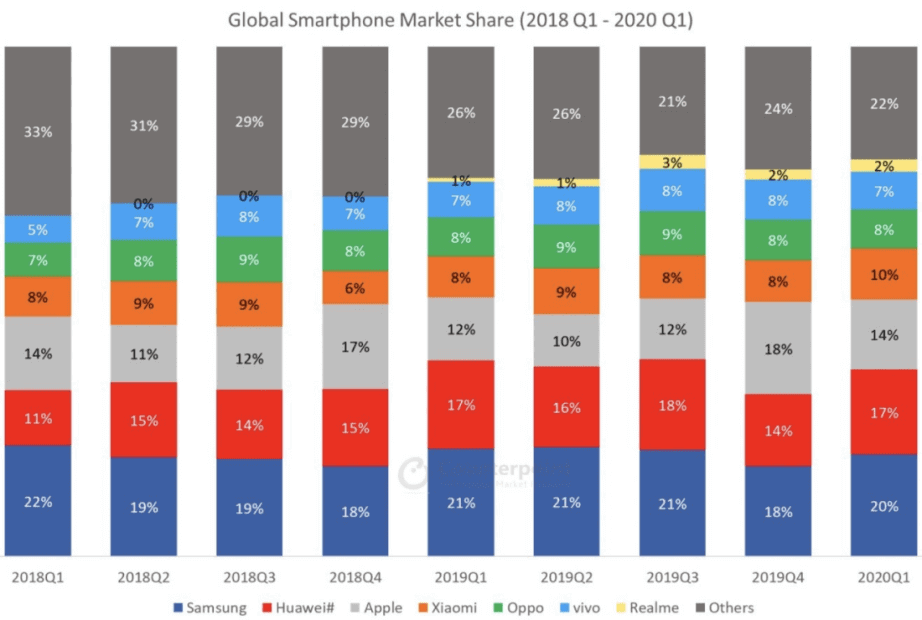 How's the performance of China's smartphone around the world? Counterpoint has organized a report for 2018 quarter 1 to 2020 quarter 1 (see fig. 2): as the diagram shows, Chinese brands including Huawei, Xiaomi, OPPO, Vivo and Realme(a branch brand from OPPO) have been taken over 40% market share globally from 2018 till the present.
Various brands of smartphones from China

Huawei
Based on the data from Libra, Huawei has been ranking in top 10 in over 40 countries and regions in Asia, Africa, Europe and America. Its exceptional performance had always been on account of the business pattern that building a successful partnership with overseas telecom operators, and this model has been admired by other Chinese smartphone brands as well: a crucial step to open more opportunities in global markets. Besides, the annual over 10 billion investment on research and development has supported Huawei holding the leading position at the overseas smartphones.
Xiaomi
As the part for India, the second-biggest global market, Xiaomi has taken the role of the mobile device users' new favourite. For the performance in 2019, Xiaomi has sold more than one million smartphones only in Indian markets. The European market is the current target for Xiaomi, according to Canalys, in Q4 of 2019, Xiaomi smartphone shipments in Western Europe (see fig.3) increased by 115.4%. Among them, the Spanish market increased by 65.7% accordingly, and the French and Italian markets increased by 69.9% and 206.2%.
OPPO
Founded in 2004, the main niche of OPPO has always been the completed entertainment experience for young groups, and it works till today. The domain OPPO has is in the Asian market particularly, excellent penetration has pushed OPPO's performance ranks at top 10 in Indonesia, Malaysia (see fig.3), Singapore, Thailand and Vietnam.
VIVO
Various product lines are one of the most competitive advantage of VIVO to fight against OPPO, the similar brand with same targeted customer groups. Besides, VIVO's high-end image has been solid in Asia Pacific area and Middle East (see fig.3), and that could be a reason that the shipments of 2020 Q1 has risen by 3% and the global market share has taken 9 % in the whole industry.
DocShipper Tip:  Definitely it's not that easy to collaborate with these popular Chinese brands directly as they already have exclusive partnership worldwide. But still, no worries, there's a wide market for other cheaper or small-size brand of Chinese smartphones, with professional agency's help, at a cost-efficient price. DocShipper offers a procurement service that takes care of the entire sourcing cycle from start to finish. Tell us more about your needs by filling out this form. Have a question? Call us now.
Top smartphone suppliers in China
If you're interested in finding some suppliers in China to get in touch and build a partnership, we've organized several listed 4 smartphone manufacturers in China below.
DocShipper Note:  Even if you manage to source a reliable manufacturer capable of producing your product, it is not guaranteed that everything will go smoothly. For this reason, DocShipper sends quality control experts on-site to check whether the manufactured products complies with specifications and international standards. Contact us to find out more or call us.
Ananda International Industrial Limited


Ananda International Industrial Limited is Alibaba's eight years gold supplier. With its 10 years of international mobile export experience, this professional manufacturer as well as trading company takes the lead role in China's smartphone industrial. Moreover, the supply of this company is diverse. It also provides with some accessories and components for phones. According to the statistics based on the previous reports, the average lead time in both off and peak season is within 15 workdays, which in a way also proves its promptness.
 Skyrise Telecom Group Limited


Adhering to the notion of "Customer First", Skyrise Telecom Group Limited has been a competent whole seller and supplier for 11 years in this industry. Located in Hong Kong, this company has covered a large overseas area, mainly including the North America, South America, Eastern Europe, Africa as well as West Europe markets. No matter which places are the customers situated in, Skyrise Telecom Company consistently embraces the clients with a win-win concept.
Xiamen Sosenkai Trading Co., Ltd.
As the subsidiary of HT Group (based in Heideck, Germany), Xiamen Sosenkai Trading Co., Ltd. covers an extensive range of products. Specialized in mechanical and electronic products, it has coopered with more than 100 countries worldwide. Furthermore, this company eagerly makes an effort to expand its operations through differing platforms as Alibaba and Made-in-china. It also collaborates with prestigious fairs, and international exhibitions. With the experienced team members and reliable professionals, it has won a renowned reputation in supply and trade industry.
 SZ USED CO., LIMITED


Despite the fact that SZ USED CO., LIMITED has a history merely 9 years, it won an extensive attention domestic and overseas. Giving considerations to the specialization, it divides the warehouse and sourcing office in different places, the former one located in Shenzhen China, and the latter one in Hongkong. The edge price and responsive attitude create a mature and skillful image for this company. It eagers to cooperate with companies and individuals worldwide.
DocShipper Advice: Are your products ready to be imported? Thanks to its unique business model, DocShipper also handles all the steps involved in transporting your goods to their destination, including customs clearance. Take advantage of a complete and reliable service, and tell us about your needs.
Built-Out Accessories for Smartphone
Smartphone holder
Smartphone holder is like a good companionship. It can be of a great benefit when you are struggling in handling two items (smartphone included) at a time. So, pick one of terrific quality and marvelous appearance for comfort.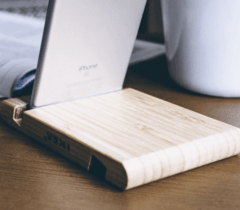 Screen protector
This definitely is THE most efficient way to cope with screen-scratching problem. Put your keys and smartphones in the same pocket? No problem, one screen protector will solve this situation. Accidentally fall your phone in the ground? Screen protector can be a save for you. Worry about others peeping your important information? Anti-peeping screen protector will defeat those "peepers".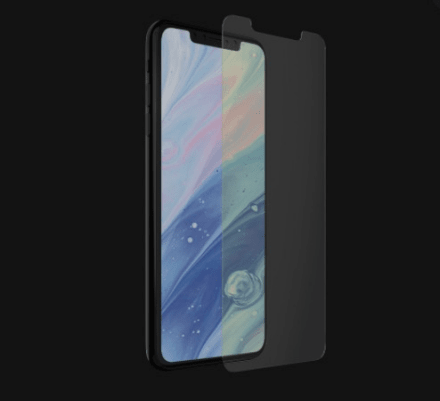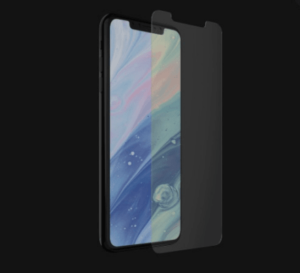 DocShipper Note:  Looking for a smartphone accessories wholesale supplier in China? Want to buy cheap smartphone holders or screen protectors to ressell them? DocShipper will take care of everything. Tell us more about your needs by filling out this form. Have a question? Call us now.
Another Business Opportunity in Smartphones Market
As the development of the technology, for each smartphone, we have tons of components inserting in it to be more efficient and superior. What's more, human's intelligence creates abundant built-out accessories to make smartphone more functional at the same time expensive. Therefore, if you have trouble in finding a cost-efficient accessory supplier, consider Docshipper to be your professional assistant who will offer you responsive and five stars services for the whole execution cycle.
How to Ship Smartphones From China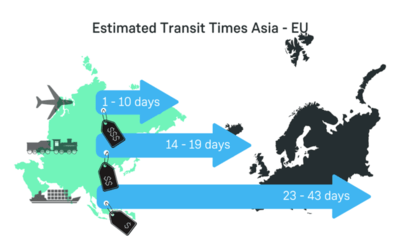 Usually, there are mainly three ways of transportation to make international shipment. According to Fig.4, the transportation time and money cost from Asia to EU varies with the approaches: Air freight costs most but arrives the fastest, then comes the rail freight in between, while sea freight will take one month and a half to arrive but cost THE LEAST.
For many companies, especially e-commerce companies, mastering logistics can make them different. Fnac, Darty, Amazon, ... provide delivery service within 24 hours or free delivery. Websites like AliExpress have been successful in Europe, and now anyone can find a supplier in China. In order to be competitive among these suppliers, European companies must ensure that quality and service reach an impeccable level. To do that, relying on reliable partners to limit the risk of loss or damage to the goods must be a wise choice.
Documents Needed to Import Smartphones from China
Given the bright scope and sufficient market demands, once you've found a supportive supplier, you may wonder: what's the next?
There's no doubt that to accomplish the imports will be a long journey to go, and that means it requires a lot of paperwork. For smartphone imports, each country would ask for different documentation. For better understanding, the following are the main list of documents for imports to nearly all the countries:
Import declaration form
An import declaration form is basically a document showing your declaration on the goods you are importing.
The documents include the following information:
The quantity of goods. It should be very detailed and precise and should indicate the quantity and each smartphone you are importing from China.
Value of the shipment. In this document, you must declare the total value of your shipment. It is necessary for the determination of duties and taxes. So please make sure you list the correct value to avoid any dispute with customs.
Classification of freight. You must indicate the classification of each of the smartphones you import. Different products tend to have different classifications which each determine their taxation. Therefore, you need to be sure of the classification of your cargo. If you are not sure where and how to find this document, consult a licensed customs broker.
Quality. In your import declaration form, you indicate whether your imports meet the expected standards. List all the attestations to which it complies.
Certificate of conformity
A certificate of conformity during import shows that you are importing smartphones that meet established quality and safety requirements. Without it, it can be quite difficult for customs to approve the entry of your imports.
Packing-List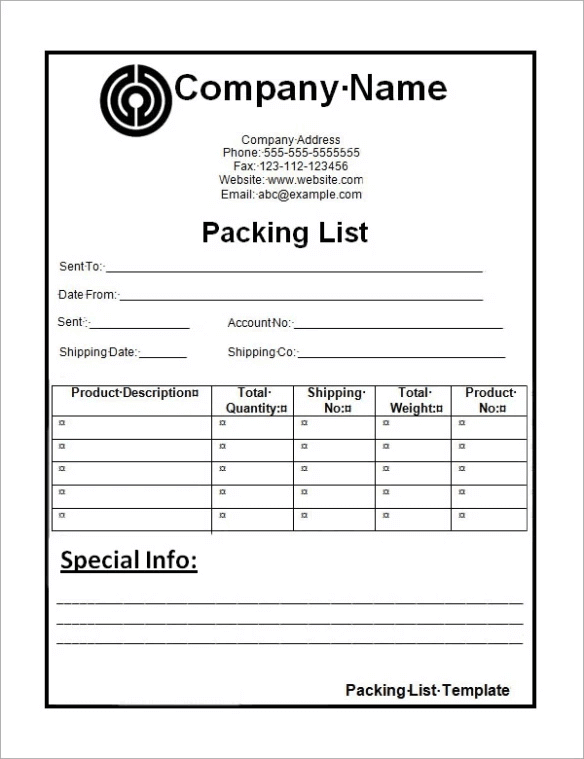 A packing list is required to show all the smartphones you import from China. It must also include the description of the outer package, the number and the weight in metric tons. The sole coverage also needs to be clarified: the length, width and height in meters, and cubic measurements of all separate packages.
Commercial invoice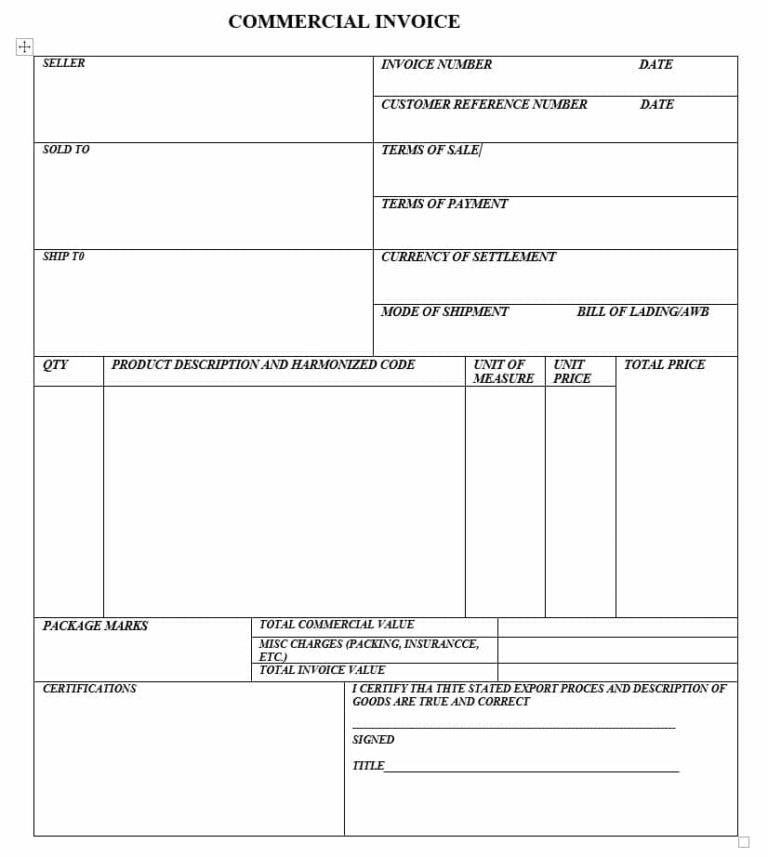 Along with the packing list, you should also have a detailed commercial invoice. The commercial invoice should conform to the details of the shipping list. The entry in this document must detail the shipment, its value, the insurance amounts, as well as the transport costs. As mentioned, the commercial invoice must support the packing list.
If necessary, to copy and paste the information from the packaging list will be a good way to avoid any inconsistency.
Bill of Lading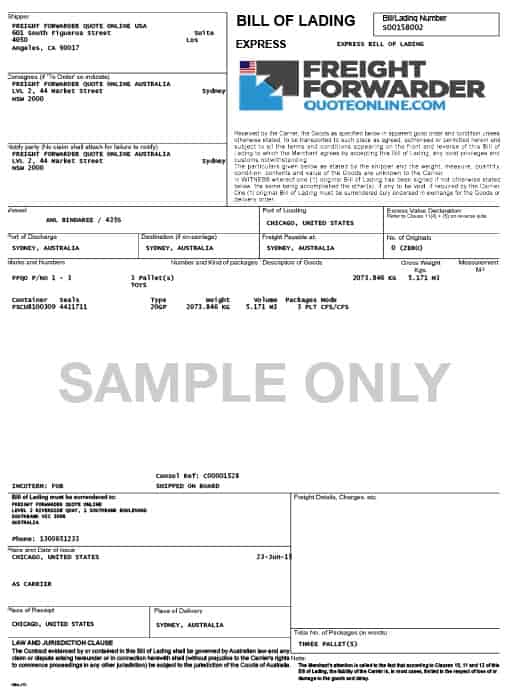 You need a bill of lading for ocean shipments and an air waybill for air freight. These documents simply serve as proof of transport between you and the shipping company and is vital as this is what you will use to claim your shipment once it arrives at the port of destination. Thus, the document must clearly indicate your name or that of the recipient, the name of the sender, the destination, among other details. Usually, these are the main documents you need to import smartphones from China.
Other documents that may be required depending on the country, such as the import permit, inspection certificate, and certificate of origin. Remember to confirm what kind of documentation will be needed to import smartphones from China to your destination successfully.
Once you've done all of this, try to send the documents on time, at least a few days before the cargo arrives at the destination port, and find a licensed customs broker can help you prepare documents.
DocShipper Advice: Are your products ready to be imported? Thanks to its unique business model, DocShipper also handles all the steps involved in transporting your goods to their destination, including customs clearance. Take advantage of a complete and reliable service, and tell us about your needs.
How to comply with the US and European regulation when importing smartphone (phone parts/ accessories) from China?
Smartphones regulation in the USA
FCC Part 15 (Intentional Radiators)
This refers to those intentional radiators which devoted to emit radio energy. In that regulation, the applied devices will include radio, WiFi, Bluetooth and broadcast enable appliances.
FCC Part 15 (Unintentional Radiators)
For unintentional radiators defining as "any electrical device "operating at over 9000 pulses per second (9 kHz) and using digital techniques", to simply understand, this regulation covers those devices coming with chips (like a USB), no matter it contains a WiFi or Bluetooth techniques.
CA Prop 65
This piece of regulation California Prop 65, only applies in California, so you must confirm if you're doing import/export business in the state, or your clients are based locally. Since it nearly regulates over 800 materials in commodities, for smartphone in particular, phone cases, earphones, hand-holders, screen and its protectors and other mobile accessories will be regulated by this.
DocShipper Tip: It might be tricky to know all the import regulations in USA,you may find more particular regulations for your situation. Besides, it's possible to save more time and enjoy faster service to have smoother process, that is to find a good agent like Docshipper would be great help to find the legit source for importing Chinese smartphones.
Smartphones regulation in Europe
RoHS
Applying to Electronic Components and Solder, this regulation pointed out that there are limitations about the specific substance in electronics as well as lead, cadmium and mercury, meaning in which aspects should be taken considerations.
LVD
This regulation suggests that regarding the directive of Phone Chargers and Docking Stations, one must evaluate that all the electronics, components, no matter for the purpose of input or output, should range between 50 and 1000 volts AC, as well as 75 to 1500 volts DC.
REACH
A pronouncement on the subject of Phone Cases, Handheld Devices, Earphones, Screens along with other Mobile Devices, in which case means that all the products imported afterwards be sold in the EU, must comply with the stipulation of REACH, the substances containing lead and cadmium.
Docshipper advice: Even if the European smartphone market has been very mature at the present, the concerns about reliable suppliers and distributors still exist. Docshipper has a set of complete professional service system, which could reassure your concern from all kinds of phases in Chinese smartphone imports to European market from A to Z. Contact us here ! 
Challenges in importing smartphones from China
Controversial 5G technology
As China is becoming the world's second largest economies, the contention among it is gradually enlarging in regard to varying aspects. 5G technology has been a controversial topic among countries since the beginning of the research and development. As is known, a few countries have already embargoed Huawei 5G deals. Concerning the facts that some series of China smartphone have not actually put 5G in practice, importers should take a consideration about this issue before deciding to bring in China smartphones.
Fierce competition among importers
As we have pointed out, according to the figures from Statista, the global smartphone market share during 2018 Q1 to 2020 Q2 reveals that almost 40% brands are from China, which suggesting that the competition among importers are rather fierce. The globalization is still in process therefore the competitors are all over the world. In accordance with the high penetration rate, the quantities of imported merchandises should be large. Suggestion is that importers should propose persuasive terms to earn the deal.
DocShipper Advice : Docshipper will help you with the above challenges! Purchase, quality control, compliance, international freight, customs clearance, distribution... All the phases to achieve a successful deal, we offer the service to manage from A to Z! Transparent process, never worry about any hidden fee when choosing DocShipper sourcing to buy in Asia! Holding to the focus of sales, marketing, and customer loyalty, we'll take full care of your supply and international transport.
Conclusion
Even though there would be cumbersome paperwork in the process to make the business settled, the promising future for smartphones from China is unquestionable. In addition, it's normal and understandable that you'll feel lost about international trade terms when you're SME (small & medium enterprises)/ individuals or new to business, then hire a trustworthy agent will be a wise choice, they can offer professional services to save the trouble and protect you from fake supplier scandals.
FAQ |How to import smartphone from China ? [FULL GUIDE]
🥇What are the best sellers of different smartphones?
Let's take the four brands we've mentioned above as examples: As for Huawei, Huawei P30 Pro has been photographers and businessmen's favorite since 2018 due to its outstanding zoom camera and notable display design. When talking about Xiaomi, it has 4 clear products branches, Redmi note 9 Pro has been known as the Battery Monster while the eye-catching feature for Xiaomi Mi 10 is the wonderful design of dual-curved screen in western European market. The A-series and Find X series of OPPO are favored by the Indian market, also the new product Find X2 has just launched in March. Accordingly, Vivo S1 pro and Vivo Z1 pro have the most fans in Asian area.
💰 What is the average price of smartphones?
For the most cost-effective product, the average price would be between 180$-200$, and the high-end smartphones will cost between 200$-300$. There would be a much lower price for wholesale if you find reliable suppliers, and an agent like Docshipper will help to find them if you have needs, after all, our objective for customers is Focus on your marketing/sales, let us handle the rest!
⭐️ Who are the best Chinese smartphone manufacturers?
Apart from the renowned Alibaba, we are provided with another platform named Made-In-China.com., in which we have dozens of suppliers to collaborate with. There are newly-setups as well as experienced companies which have worked with more than 100 countries. Prestigious suppliers which have been in the International exhibitions as well as esteemed fairs.
🧐 How does Docshipper help find Chinese smartphones to import?
DocShipper is the one (and only) French-speaking company capable of managing the entire product cycle from purchase, quality control, compliance, international freight, customs clearance to distribution. Don't worry about any hidden fee since our services are totally transparent for you.
DocShipper info: Do you like our article today? For your business interest, you may like the following useful articles :
DocShipper Advise : We help you with the entire sourcing process so don't hesitate to contact us if you have any questions!
DocShipper Sourcing | Procurement - Quality control - Logistics
Alibaba, Dhgate, made-in-china... Many know of websites to get supplies in Asia, but how many have come across a scam ?! It is very risky to pay an Asian supplier halfway around the world based only on promises! DocShipper offers you complete procurement services integrating logistics needs: purchasing, quality control, customization, licensing, transport...
Communication is important, which is why we strive to discuss in the most suitable way for you!