If you're looking to import from China, chances are you've come across Alibaba and AliExpress. As two of the largest e-commerce platforms in the world, both owned by the Alibaba Group, it can be difficult to differentiate between the two. 
However, understanding the differences between these platforms can be crucial in making informed decisions about where to buy or sell goods. In this article, we'll break down the key differences between Alibaba and AliExpress, including their target markets, product offerings, and business models. 
So whether you're a business owner or a consumer, keep reading to discover which platform is right for you.
Finding the right supplier for your business can be a challenging and time-consuming process, especially if you're looking to source products from Asia. With Docshipper as your sourcing partner, you can streamline the process and gain access to a network of reliable suppliers in Asia. Contact us today.
Presentation of Alibaba
Alibaba is a Chinese multinational technology company specializing in ECommerce.  It is one of the world's largest B2B wholesale E-Commerce platforms that connect over 150,000 suppliers to over 10 Million buyers from over 190 countries and regions. Alibaba has grown rapidly since its founding, and it is now one of the largest and most successful companies in the world 
Although the platform provides a toolbox full of resources to facilitate buyer-seller communication and payment protection and logistics solutions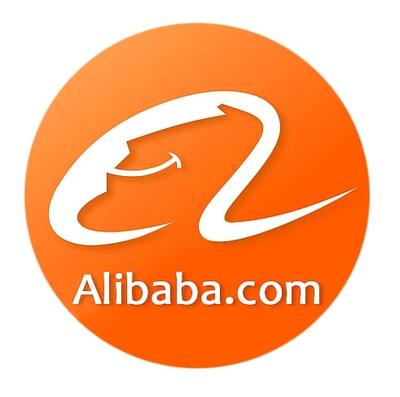 In addition to its E-Commerce businesses, Alibaba also operates several other companies including Alibaba Cloud (Cloud computer provider), Ant Group a Financial technology company, and Cainiao network 
  Advantages of Alibaba
 Alibaba is a global B2B (business-to-business) platform that connects buyers and suppliers from around the world. Here are some potential advantages that customers can enjoy when using Alibaba:
1. Wide Product Selection: Alibaba offers a vast selection of products from thousands of suppliers, providing customers with access to a wide range of products at competitive prices.
2. Competitive Pricing: With many suppliers competing on the platform, customers can often find products at lower prices than they would in traditional retail stores.
3. Direct Communication with Suppliers: Customers can communicate directly with suppliers through Alibaba's messaging system, allowing for better communication and more personalized service.
4. Customization: Some suppliers on Alibaba offer customization services, allowing customers to tailor products to their specific needs.
5. Quality Control: Alibaba offers a range of quality control services to help customers ensure that they receive high-quality products that meet their specifications.
6. Buyer Protection: Alibaba offers a range of buyer protection programs, including payment protection and trade assurance, to help ensure that customers receive the products they ordered and are satisfied with their purchases.
  Disadvantages of Alibaba
As with any company, Alibaba has some disadvantages that potential users or investors should know. Here are some of the main ones:
Counterfeit products:
 One of the biggest issues with Alibaba is the prevalence of counterfeit or low-quality products on the platform. This is due in part to the fact that many of the suppliers are located in China, where intellectual property laws are not as strictly enforced as in other countries. As a result, buyers need to be careful when purchasing products and make sure to research suppliers thoroughly.
Language barriers:
Alibaba is primarily a Chinese company, and while the platform is available in multiple languages, there may still be language barriers between buyers and suppliers. This can make communication difficult and potentially lead to misunderstandings or mistakes. This is why our Chinese speakers at DocShipper will take care of the supplier relationship for you.
Complex payment processes: 
Alibaba's payment system can be confusing and time-consuming to use, especially for first-time buyers. The platform offers multiple payment options, including credit cards, bank transfers, and online payment services, but navigating these options can be overwhelming.
Don't let sourcing from Asia be a hassle. Let Docshipper handle the process for you and start saving time, and money, and mitigating risks today. Contact us now to learn more!
Shipping and logistics:
 Alibaba is a marketplace, and it does not handle shipping or logistics directly. Instead, buyers need to arrange for their own shipping and may need to deal with multiple suppliers if they are purchasing multiple products. This can make the process of receiving and tracking orders more complicated.
Competition:
Alibaba faces stiff competition from other e-commerce platforms, such as Amazon and eBay. This competition can make it challenging for Alibaba to maintain its market share and continue to grow.
Overall, while Alibaba offers many benefits, there are also some potential drawbacks to using the platform. As with any business decision, it is important to carefully consider these factors and look for alternatives before deciding to use Alibaba as a supplier or sales channel.
Presentation of AliExpress
AliExpress, an e-commerce platform operated by Alibaba Group, offers a wide range of affordable products to consumers worldwide. The platform lists over 100 million products, including clothing, accessories, electronics, and home appliances, connecting buyers directly with suppliers and reducing costs. This approach makes products more affordable and gives consumers access to unique items from sellers located worldwide. 
AliExpress also offers buyer protection and dispute resolution processes, ensuring a safe and secure shopping experience. Payment options, such as credit cards, bank transfers, and online payment services, make purchasing simple and convenient. 
AliExpress's user-friendly interface, available in multiple languages, helps users navigate the site and find what they need. 
Overall, AliExpress's extensive product range, affordability, buyer protection, and user-friendly interface make it a popular online shopping destination for consumers worldwide.
 Advantages of AliExpress
AliExpress is an online retail platform that offers a wide range of products from different sellers across the globe. Here are some advantages of AliExpress for customers:
Wide range of products: AliExpress offers a vast selection of products in different categories, including clothing, electronics, home and garden, beauty, sports, and more.
Competitive pricing: Since AliExpress sellers come from all over the world, they offer a wide range of prices, making it easier to find the product at the best price.
Buyer protection: AliExpress has a buyer protection program that guarantees a full refund or product replacement if the item you received is not as described or is damaged.
Secure payment options: AliExpress provides secure payment options, including credit cards, PayPal, and other payment methods.
Free shipping: AliExpress offers free shipping on many items, which can save customers a lot of money.
Discounts and coupons: AliExpress often provides discounts and coupons, making it even more affordable for customers.
User-friendly interface: The AliExpress website and mobile app are user-friendly, making it easy for customers to browse, search, and purchase products.
Customer reviews: Customers can read reviews from other buyers before making a purchase, which helps to make informed decisions.
Customer service: AliExpress provides customer support in multiple languages, making it easier to resolve any issues or concerns.
Ready to access a network of reliable and ethical suppliers in Asia? Let our experienced sourcing agents at DocShipper help you find the perfect fit for your product needs. Contact us now to get started
Disadvantages of AliExpress
AliExpress has been reported to have some drawbacks by customers, such as incorrect or misplaced products during delivery, refund problems, and the sale of fraudulent products. While shopping on AliExpress, it is essential for users to be aware of these potential disadvantages and take necessary precautions to avoid any issues.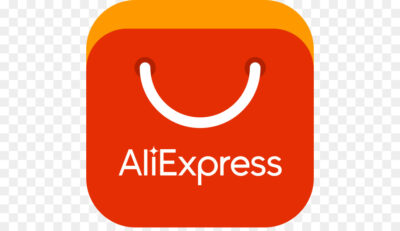 Challenges with Product Delivery Accuracy:
Customers have reported receiving incorrect or misplaced products from AliExpress during delivery. Despite numerous complaints, this issue persists and remains unresolved.
Difficulty Obtaining Refunds:
Although AliExpress acknowledges errors in product placement, obtaining a refund can be a challenging and frustrating process for customers. As a result, customers may feel like they are being scammed and struggle to retrieve their money.
Presence of Fraudulent Products:
AliExpress has been found to offer fake branded products, often at highly discounted prices. This can be tempting for customers, but it is important to avoid scammers by ensuring that products are authentic before making a purchase
Docshipper is a leading logistics and international trade company that helps businesses of all sizes ship their products worldwide. With years of experience in the field, we strive to provide efficient and cost-effective transport solutions for companies looking to expand their reach globally. Contact us now to get started
Feature
Alibaba
AliExpress
Purpose

A wholesale platform for businesses

The retail platform for individual consumers

Products

Large quantities of products directly from manufacturers

Wide range of products from various sellers

Minimum Order

Often requires a minimum order quantity

Generally no minimum order requirements

Shipping

Works with freight forwarders and logistics companies

Offers direct shipping to individual customers

Pricing

Prices are typically lower due to wholesale discounts

Prices are typically higher due to retail markups

Seller Verification

Sellers are verified by Alibaba

Sellers are verified by AliExpress

Payment

Supports multiple payment methods

Supports multiple payment methods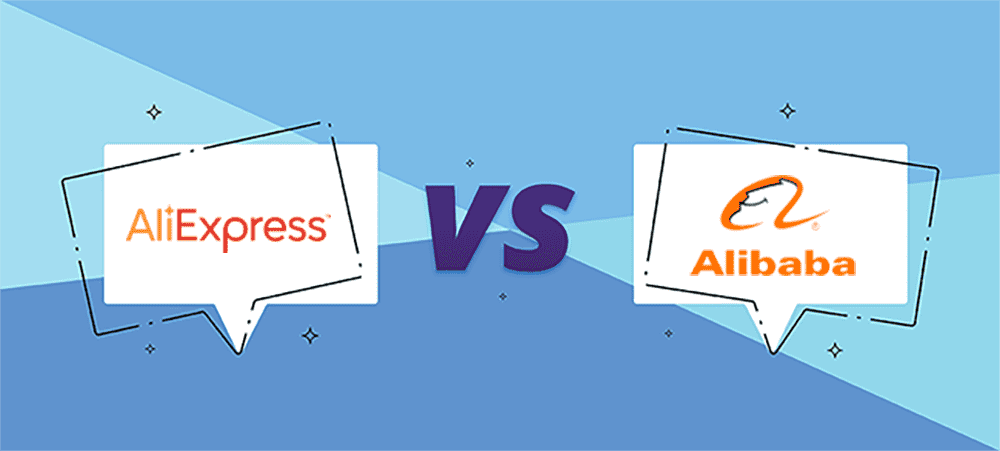 The common points between AliExpress And Alibaba
Alibaba and AliExpress are part of the Alibaba Group, which specializes in e-commerce, retail, and technology. Here are some common points between the two platforms:
Ownership: Both Alibaba and AliExpress are owned by the Alibaba Group.
E-commerce: Both platforms are primarily focused on e-commerce and allow businesses to sell their products online.
International Reach: Both platforms operate on a global scale, allowing sellers to reach customers in different parts of the world.
Payment Options: Both platforms offer various payment options, including credit cards, online payment systems, and bank transfers.
Ready to simplify your sourcing process and connect with reliable suppliers in Asia? Choose Docshipper as your sourcing partner today and let us help your business succeed! Contact us today.
Customer Service: Both platforms provide customer service support to buyers and sellers, including dispute resolution mechanisms.
Mobile Applications: Both platforms have mobile applications available for download on iOS and Android devices.
Product Variety: Both platforms offer a wide range of products, from electronics and clothing to beauty and health products.
Competitive Pricing: Both platforms strive to offer competitive pricing for their products, often offering deals and discounts to attract customers.
 Which platforms to find the best China suppliers
There are numerous platforms available to find the best China suppliers, each with its own features and benefits. Here are some well-known options:
Alibaba

: This is a leading online marketplace connecting buyers and suppliers. It enables users to search for suppliers from China and other countries, view products, and communicate with suppliers.

AliExpress:

This is a B2C platform connecting buyers with individual sellers and small businesses from China and other countries. While not a wholesale platform, it's an excellent choice for sourcing small quantities of products and testing the market.

Global Sources

: This is a B2B platform that connects buyers with suppliers from China and other Asian countries. The platform offers a broad range of products, including electronics, home goods, and fashion.

Made-in-China:

This is a popular online B2B platform connecting global buyers with Chinese manufacturers and suppliers. The platform provides a vast selection of products and includes a comprehensive supplier verification system.
     5. DH gate: This is a B2B e-commerce platform that connects buyers with suppliers from China and other countries. It offers a broad range of products, such as electronics, home goods, and fashion.
When searching for China suppliers, it's essential to research the features, reputation, and customer reviews of each platform. Additionally, communicating directly with suppliers and requesting product samples before purchasing is advisable to guarantee product quality.
 How to buy from AliExpress?
Buying from AliExpress is a simple process and Here are the steps to follow:
Sign up for an AliExpress account

: Before you can start shopping on AliExpress, you need to create an account. You can sign up using your email address or social media accounts.

Search for products:

Once you've signed in, you can browse the website or use the search bar to find the products you're looking for. AliExpress has a wide range of products, so be specific with your search terms.

Select a product:

When you find a product you want to purchase, click on it to view more details. Check the product description, price, and reviews from previous buyers.

Add to cart

: If you're satisfied with the product, select the quantity you want to buy and click on "Add to Cart." You can continue shopping and add other items to your cart.

Checkout:

When you're ready to complete your purchase, go to your cart and click on "Buy Now." Follow the prompts to input your shipping address, select a shipping method, and choose a payment option. AliExpress accepts various payment methods, including credit cards, PayPal, and AliExpress Pocket.

Confirm order

: Once you've entered your payment information, review your order and confirm it. AliExpress will send you a confirmation email with your order details.

Wait for delivery:

After you've confirmed your order, AliExpress will process it and ship it to your address. The delivery time will depend on the shipping method you selected and your location.

Receive and rate the product:

When you receive your order, inspect it to make sure it's as described. If you're satisfied with the product, you can rate it and leave a review to help other buyers.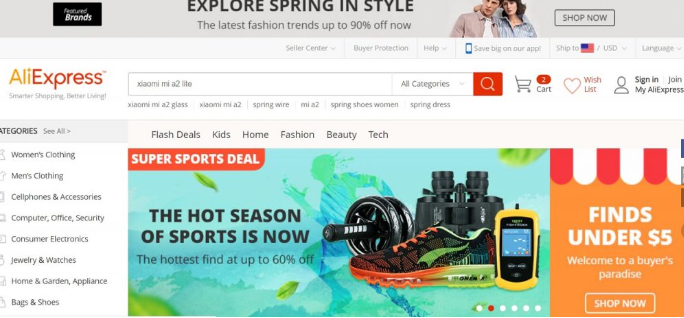 Our team of experienced sourcing agents has a deep understanding of the Asian market and can help you find the right supplier for your product needs. We conduct rigorous supplier evaluations to ensure that the suppliers we work with meet our high standards for quality, reliability, and ethical business practices. Contact us to know more about how we can help you import from China.
 How to buy from Alibaba.com?
The steps to import from Alibaba:
Register for an account: To begin purchasing on Alibaba, you must first create an account. You can do this by visiting the Alibaba homepage and selecting the "Join Free" option in the upper right-hand corner of the page.
Find products: After logging in, you can utilize the search bar to locate the products you wish to purchase. You may also browse through various product categories and subcategories to help you find what you are looking for.
Contact suppliers: Once you find a product that interests you, click on it to learn more. This will give you access to information about the supplier, including their contact details. You can communicate with the supplier to ask any questions you may have and to negotiate the price.
Place an order: After you have selected the right supplier and agreed on the price, you can proceed with placing your order. The supplier will create an order on Alibaba and send you a link to finalize the payment.
Make a payment: You can make payments through various methods, including credit cards, bank transfers, and online payment platforms such as PayPal. After the payment is made, the supplier will begin preparing your order for shipment.
Track your order: You can track your order on Alibaba to see when it has shipped and when it is expected to arrive.
Receive your order: When your order arrives, examine it carefully to ensure that it is in good condition and meets your requirements.
Provide feedback: If you are satisfied with your order, leave feedback for the supplier. This helps other buyers understand what to expect when working with that supplier in the future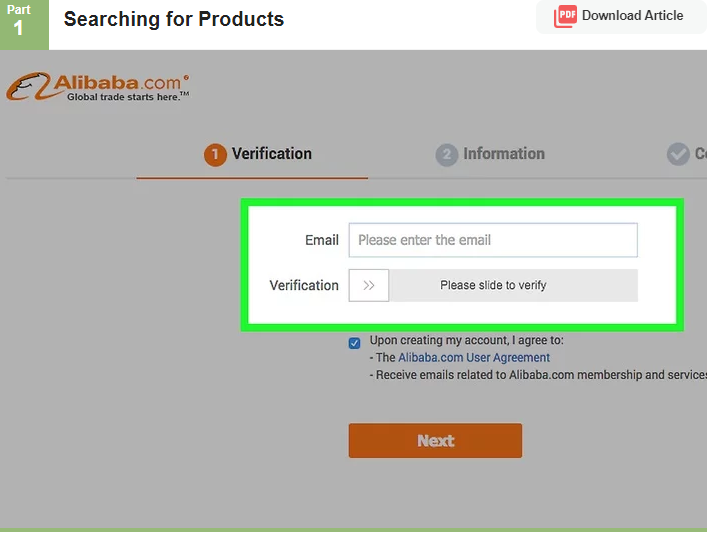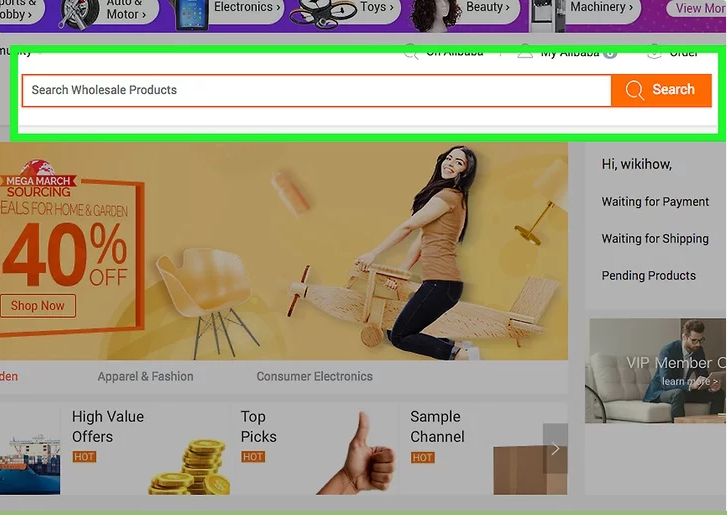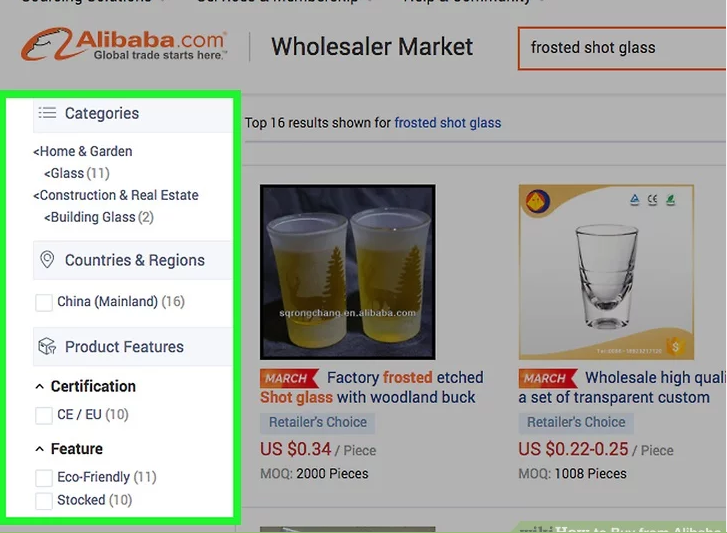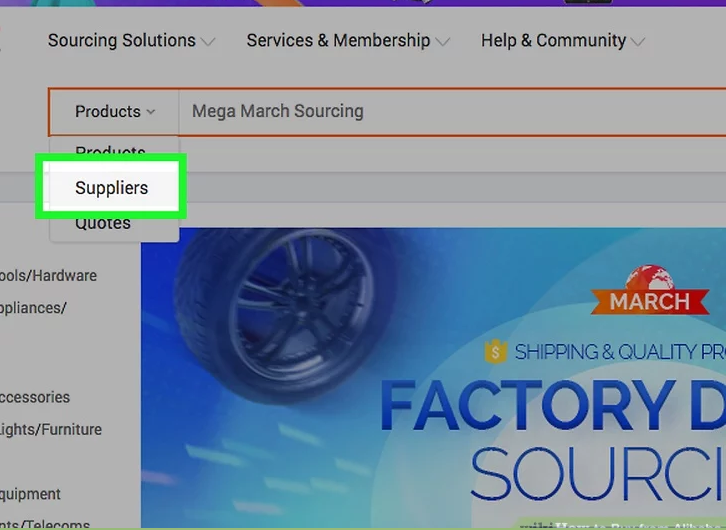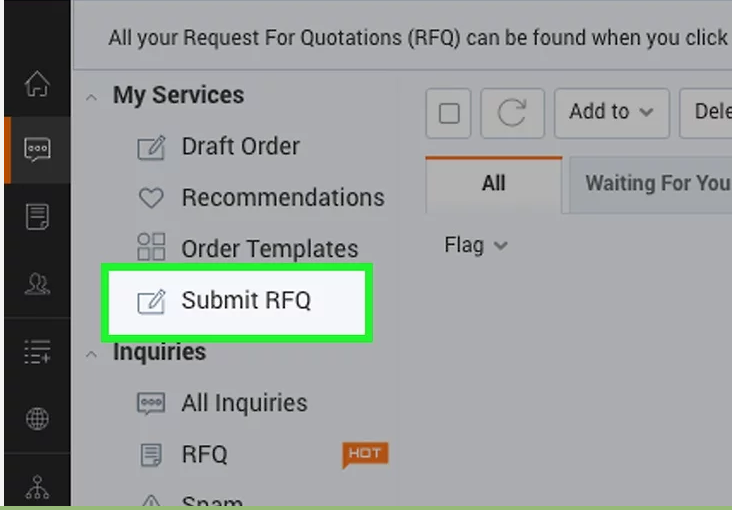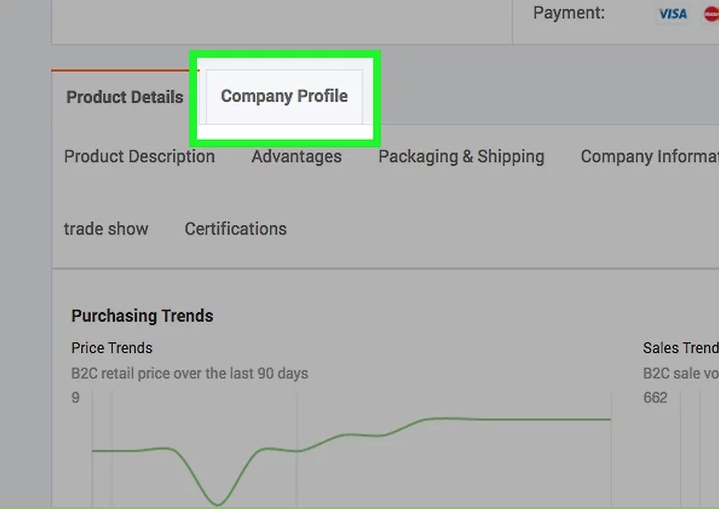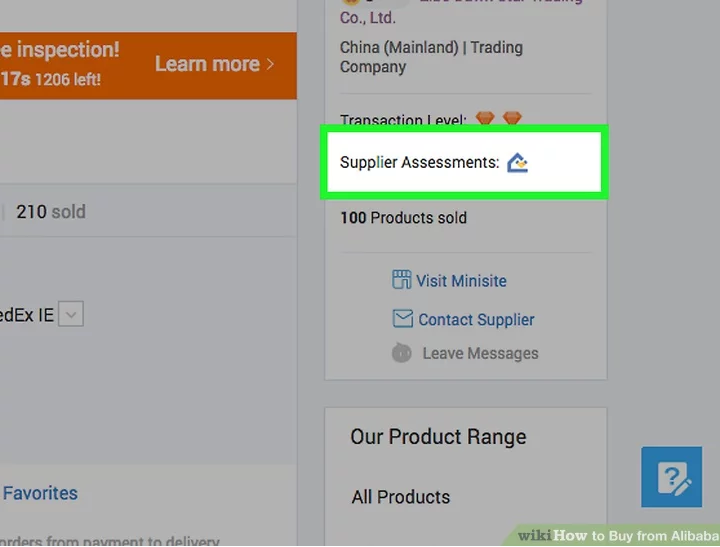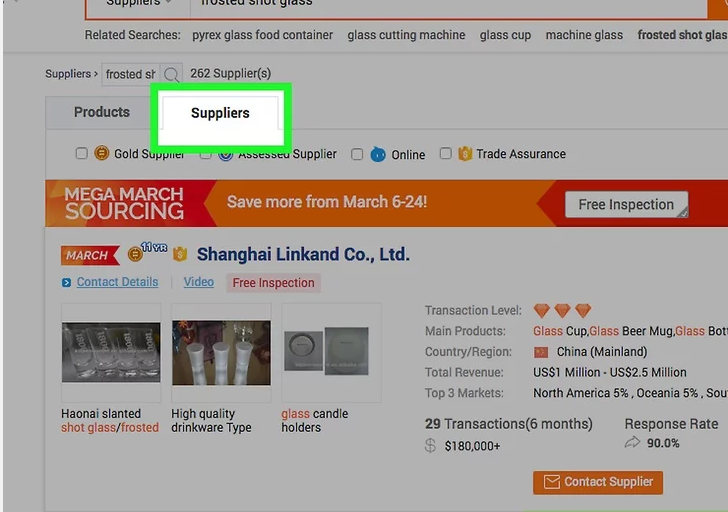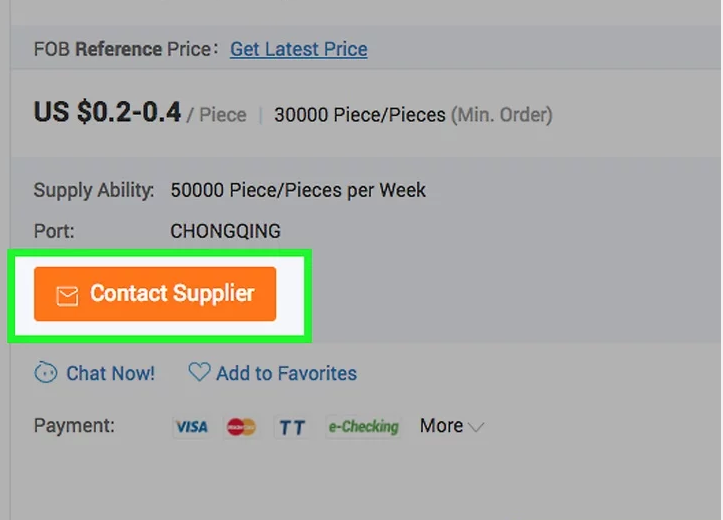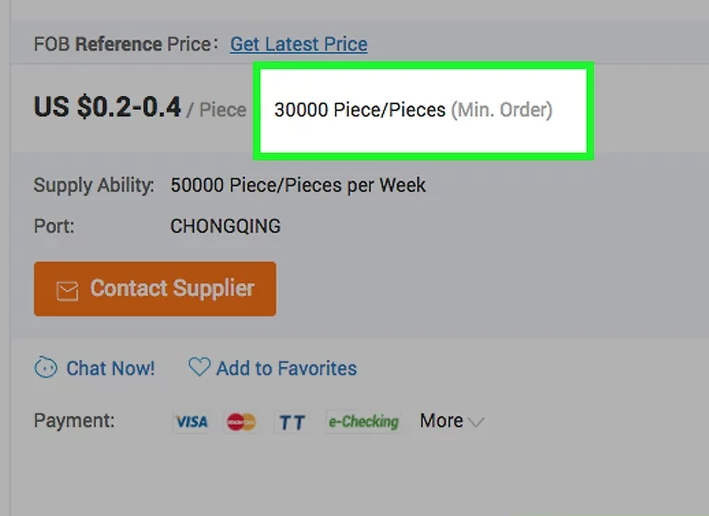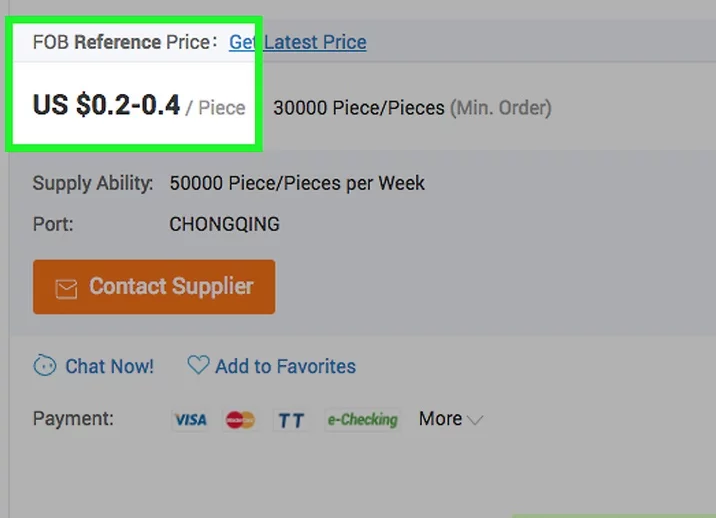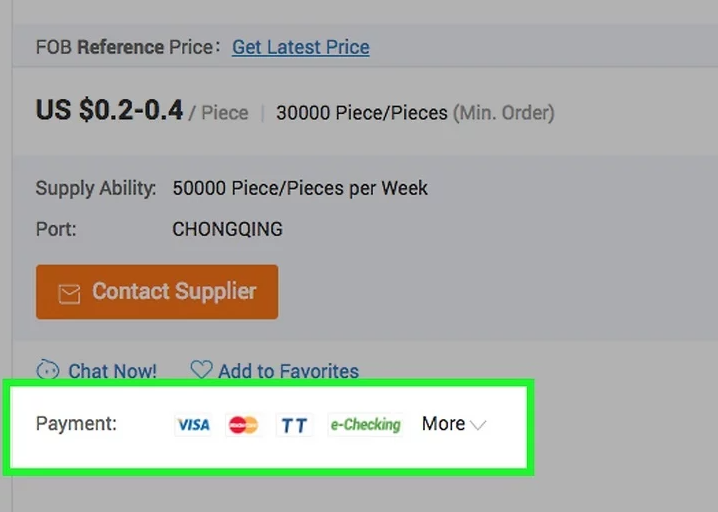 How can DocShipper help you?
DocShipper is a full-service provider that helps businesses and individuals with their global logistics and supply chain needs. Our experienced professionals are dedicated to providing our clients with high-quality services, including sourcing suppliers, negotiating contracts, sending samples, managing communications, and more.
One of the key areas where we can assist businesses is in the process of sourcing suppliers. We have a deep understanding of the international market and can leverage our network of partners and contacts to find the right suppliers that meet our client's needs. We can also assist with the negotiation of contracts and pricing to ensure that our clients get the best possible deal.
Once a supplier has been identified, we can help with the logistics of sending and receiving samples. 
We also offer communication management services, ensuring clear and consistent communication between our clients and their suppliers. This can include everything from email correspondence to conference calls and even on-site visits.
To conclude, our goal is to provide end-to-end support for our clients, ensuring that their global logistics and supply chain needs are met easily and efficiently. Our services are customizable, and we work closely with our clients to understand their unique needs and requirements.
Sourcing services
DocShipper is a sourcing and logistics company that offers a range of services to help businesses source products from overseas suppliers. Their sourcing services include supplier identification, product sourcing, negotiation, and quality control. We can assist with finding the right suppliers for your needs, negotiating favorable prices, and ensuring that products meet your specifications and quality standards.
In addition to sourcing services, DocShipper also offers logistics services such as freight forwarding, customs clearance, and warehousing. We can help businesses manage their entire supply chain, from sourcing products to delivering them to their destination
 One of the benefits of using DocShipper's sourcing services is their expertise and experience in dealing with suppliers in Asia, especially in China. We have a team of professionals who are fluent in Mandarin and have extensive knowledge of the Chinese market and culture, which can be beneficial in negotiating with suppliers and ensuring that products meet your requirements.
 Quality Control
DocShipper offers various quality control services to ensure that the products sourced from overseas suppliers meet the required quality standards of their clients. These services include:
Product inspections: DocShipper's inspectors visit the factory or warehouse of the supplier to conduct a physical inspection of the products. This includes checking the quality of raw materials, product specifications, packaging, labeling, and other relevant factors.
Pre-shipment inspections: This is a final check before the products are shipped to the client. It includes verifying the quality, quantity, and packaging of the products and ensuring that they meet the client's specifications and requirements.
Factory audits: DocShipper conducts factory audits to evaluate the supplier's production processes, quality control measures, and overall management. This helps to identify potential issues and risks and ensures that the supplier meets the required standards.
Laboratory testing: For specific products, DocShipper can arrange for laboratory testing to ensure that they meet the relevant regulatory requirements and quality standards.
Compliance checks: DocShipper also conducts compliance checks to ensure that the supplier meets the client's ethical and environmental standards, such as labor practices and sustainability.
Overall, DocShipper's quality control services are designed to give clients peace of mind and ensure that they receive high-quality products that meet their requirements. Their team of experienced inspectors and auditors can help identify potential issues and risks and provide actionable recommendations to mitigate them.
International Logistics
DocShipper offers a range of international logistics services to help businesses manage their supply chain and ensure that their products are delivered to their destination safely and efficiently. Our international logistics services include:
1. Freight forwarding: DocShipper can arrange for the transportation of goods via air, sea, or land, depending on the client's requirements and budget. We work with a network of reliable carriers to ensure that shipments are delivered on time and in good condition.
2. Customs clearance: DocShipper can handle all aspects of customs clearance, including documentation, tariff classification, and compliance with regulatory requirements. We work closely with customs authorities to ensure that shipments are cleared quickly and smoothly.
3. Warehousing and distribution: DocShipper offers warehousing and distribution services to help businesses manage their inventory and ensure that products are delivered to their customers on time. We have a network of warehouses in strategic locations around the world to facilitate the distribution of products.
Streamline your business operations and focus on growth by partnering with Docshipper for all your logistics needs! Our wide range of services, including warehousing and fulfillment, international freight, customs clearance, and supply chain management, are reliable, efficient, and cost-effective. Contact us today to learn more about how we can help you take your business to the next level!
 Customs clearance
DocShipper provides customs clearance services to ensure that goods are cleared through customs quickly and efficiently. We work with customs authorities around the world to ensure compliance with regulatory requirements and minimize the risk of delays or penalties.
DocShipper's costumes clearance services include:
Documentation: we can accommodate all the necessary documentation required for customs clearance, including commercial invoices,

packing lists

, and certificates of origin. We ensure that the documentation is complete and accurate, which can help to avoid delays or additional charges.

Tariff classification: in DocShipper we can assist with determining the correct tariff classification of goods, which is essential for calculating the correct duties and taxes. We have the knowledge and expertise to ensure that the goods are classified correctly and that the correct rates of duty and tax are applied.
Compliance with regulations: We ensure that goods comply with all relevant regulations, including safety, environmental, and health regulations. We can also provide advice on product labeling and

packaging requirements

to ensure that goods are compliant with local regulations.

Communication with customs authorities: We communicate with customs authorities on behalf of their clients to ensure that any issues are resolved quickly and efficiently. We have established relationships with customs authorities around the world, which can help to expedite the customs clearance process.
FAQ |Alibaba and AliExpress: A Comprehensive Guide
Is AliExpress cheaper than Alibaba ?
While both platforms have similarities, their target markets and pricing structures differ. AliExpress serves as a retail platform catering to individual customers seeking to purchase small quantities of products. As a result, the prices on Alibaba tend to be higher than those on Alibaba. This is because AliExpress includes costs such as shipping, packaging, and handling in its prices. Additionally, AliExpress sellers are charged a commission fee, which can also impact the pricing. Alibaba, on the other hand, is a wholesale platform geared towards businesses and bulk orders. Prices on Alibaba are typically lower than those on AliExpress because they are negotiated between the buyer and supplier, and do not include additional fees.
What are the differences between Alibaba and AliExpress?
Alibaba is a wholesale marketplace connecting businesses with manufacturers and suppliers, while AliExpress is a retail marketplace connecting consumers with sellers offering a wide range of products at low prices.
What is the most reliable platform for foreign customers?
Foreign customers may evaluate the reliability of a platform based on several factors, including the platform's security measures to safeguard customer data and financial transactions, its reputation determined through online reviews and ratings, its availability of customer support to address concerns or queries, its transparency in policies, fees, and terms of service, the availability of multiple secure and convenient payment options, and the presence of international shipping and delivery options. Popular and trustworthy platforms for foreign customers include Alibaba, Amazon, eBay, Shopify, and AliExpress. Nevertheless, it is vital to conduct personal research and assess each platform based on individual needs and preferences.
Which of the two platforms is more suitable for small businesses?
Small businesses can consider either AliExpress or Alibaba, depending on their unique requirements and objectives. AliExpress provides a retail platform that empowers small businesses to sell their products directly to customers, offering a user-friendly interface with low barriers to entry. This platform is ideal for small businesses that seek to expand their customer base or test their products in a new market. Meanwhile, Alibaba is a wholesale platform that connects small businesses with manufacturers and suppliers, providing a range of products and services such as sourcing, quality control, and logistics. Startups interested in purchasing products in bulk or at lower prices can benefit from this platform. In conclusion, small businesses should choose the platform that aligns with their specific needs and goals.
Is there a function similar to Alibaba Trade Assurance offered by AliExpress?
Yes, AliExpress offers a similar function to Alibaba Trade Assurance called Buyer Protection. This program is designed to protect buyers in case they encounter any issues with their orders, such as late delivery, damaged goods, or incorrect items. Under the Buyer Protection program, buyers can request a refund or return of their order within a certain time frame, and the seller is required to comply with these requests. If the seller fails to fulfill their obligations, the buyer can file a dispute with AliExpress and seek a resolution through their dispute mediation process.
What is the transaction currency on Alibaba and AliExpress?
Alibaba and AliExpress facilitate transactions in various currencies, although the default currency is typically USD for both platforms. Users can choose to transact in other currencies, such as EUR, GBP, or JPY, depending on their location and currency settings. However, buyers should be aware of exchange rates and potential fees from their payment provider when using a currency other than USD.
DocShipper info: Do you like our article today? For your business interest, you may like the following useful articles :
Conseil DocShipper : Nous vous aidons sur l'ensemble de la procédure d'approvisionnement alors n'hésitez pas à nous contacter si vous avez la moindre question !
DocShipper Sourcing | Approvisionnement - Contrôle qualité - Logistique
Alibaba, Dhgate, made-in-china... Beaucoup connaissent des sites internet pour s'approvisionner en Asie mais combien tombe sur une arnaque ?! Il est très risqué de payer un fournisseur Asiatique à l'autre bout du monde en se basant uniquement sur des promesses ! DocShipper vous propose des services d'approvisionnement complet intégrant les besoins logistiques : achat, contrôle qualité, personnalisation, obtention des license, transport...
La communication est importante, c'est pourquoi nous nous efforçons de discuter de la manière la plus appropriée pour vous!